An oculus is a circular opening in the center of a dome or in a wall. Originating in antiquity, it is a feature of Byzantine and Neoclassical architecture. It is also known as an œil de boeuf from the French, or simply a "bull's-eye". The Rugged Suppressor Oculus is a bullseye for rimfire suppression.
U.S.A. –-(Ammoland.com)- While virtually every concentric suppressor could fit the first part of that definition, Rugged's name for this rimfire can aptly fit the latter part.
Rugged Suppressors made their bones with modular rifle cans and earlier this year they rolled out their first modular rimfire suppressor with a user-serviceable unit in the Oculus.
Built with tough 17-4 stainless steel, the modular Oculus provides durability in both long and short mode while eliminating the first-round pop that plagues all rimfire silencers.
While we were talking silencers with the folks at Silencer Shop, particularly in the realm of rimfires, we mentioned how two other modular rimfire cans had impressed us, specifically in the shorter configurations (the Q Erector and the AAC Halcyon).
Silencer Shop told us to try out the Rugged Oculus to see yet how another modular rimfire could change the way we felt about suppressed rimfires.
Why would I want to run it short?
A 7 ounce stainless steel suppressor does not sound excessive in weight or length. Common sense would say that knocking 2″ (especially the baffles) off the end does not make sense. If we were talking for use on a pistol or semi-auto 22 rifle, we might agree. However, as we have discovered with previous rimfire suppressors that we have used in the past: that all changes when you mount it on a closed action such as a bolt-action, lever-action or single shot rifle.
If there were no $200 tax involved, short rimfire suppressors would be more available and in many cases more desirable.
Shooting rimfires suppressed has a few quirks. If the barrel is too long, even subsonic rounds can go supersonic if they pick up enough velocity. The nature of the ammunition makes the inside of the can get very dirty and on a semi-auto, the bolt noise and gasses take away much from the pure suppression you get from a sealed or closed action firearm.
We ran the short version of the Oculus on a number of firearms, but found it to be damn near perfect on our Savage 22 bolt-action.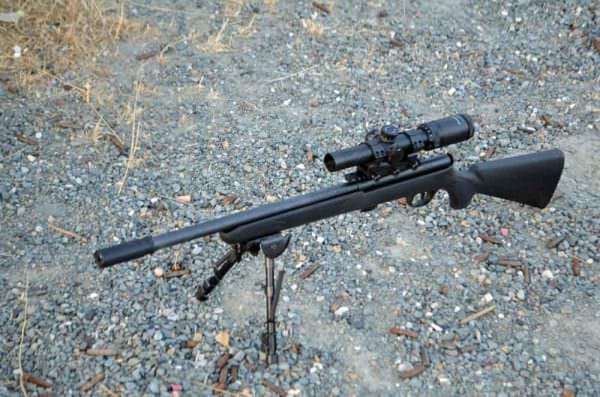 Scarcely longer than a flash suppressor, the rifle was so quiet that someone at the range asked if we were shooting a pellet gun.
---
---
The Good
Aside from the negation of first-round-pop and the ability to run it long or short, the Oculus is a very accurate suppressor that does not let the point of aim shift.
This is because the baffles are keyed to each other and just as important, keyed to the tube. Construction such as this begets consistency. Every time you disassemble the suppressor to clean it, service it or even move it from one host to another; it is aligned exactly the same way every time. Consistency is the foundation for accuracy.
In long mode, the Oculus measures 5.25" and weighs 6.9 ounces. The shorter configuration is a mere 3.25" in length and 4.3 ounces in weight.
It truly gives you two silencers in one and it is rated for full auto with 22 lr and can handle 22 Magnum, 17 HMR and even FN 5.7, albeit not in full auto mode.
Although it comes with a tool to remove the front end cap, you really do not need one. if you have strong fingers. This makes the Oculus simple to disassemble, clean and maintain. More importantly, it allows the shooter to switch between long and short configurations.
The Bad
There is nothing really wrong with the Oculus. A minor pet peeve might be the use of the takedown tool. We did not need it, but as it is recessed into the front of the tube, we could see how carbon build-up could make it a pain to take apart.
You really don't start to hate on tools until you lose one in a range bag or have it fall out of its pouch or what not. A tool-less assembly and disassembly process could make this the perfect 22 suppressor!
Final Thoughts
If you are looking for a first suppressor or a first rimfire suppressor (or even a second, third or fourth, etc.); this might be a good one to look into. It runs the full spectrum of rimfire ammunition and can handle FN 5.7 as well.
Plus being able to adjust the length makes it more versatile than most.
Specifications
Caliber Rating:  .17 HMR, .17 WSM, .22 LR, .22 MAG, 5.7×28 FN
Thread Pitch: 1/2×28″
Color: Black
Finish: Cerakote
Manufacturer: Rugged Suppressors
Build Material: 17-4 Stainless Steel
Standard Configuration Length: 5.25″
Short Configuration Length: 3.25″
Weight (Standard Configuration): 6.9 oz
Weight (Short Configuration): 4.3 oz
MSRP: $499
https://www.silencershop.com/rugged-oculus.html
---
About Mike Searson: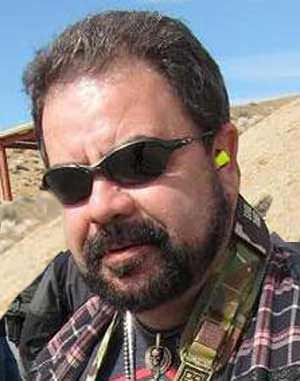 Mike Searson's career as a shooter began as a Marine Rifleman at age 17. He has worked in the firearms industry his entire adult life as a Gunsmith, Ballistician, Consultant, Salesman, Author and was first certified to teach firearms safety in 1989.
Mike has written over 2000 articles for a number of magazines, websites and newsletters including Blade, RECOIL, OFF-GRID, Tactical Officer, SWAT, Tactical World, Gun Digest, Examiner.com and the US Concealed Carry Association as well as AmmoLand Shooting Sports News.