TAMPA, Fla. -(Ammoland.com)- Meopta is pleased to introduce the new MeoMag 3x magnifier. Designed for use with red dot sights, it can also be used as a monocular.
This new generation Meopta magnifier features supreme optical performance, dioptric correction and can be used with any red dot sight on the market today. An added benefit of the MeoMag is its ergonomic body shape which fits comfortably into the user's palm when used as a monocular.
"The MeoMag 3x is ideal for use with our MeoRed T, MeoRed T-mini, MeoSight III, M-RAD and all other red dot sights on the market today," said Reinhard Seipp, general manager of Meopta USA. "When extra magnification is required for longer shots, the MeoMag 3x can be swiftly attached with the quick release mount and removed when additional magnification is no longer needed. A hinge mount is also available that allows the user to quickly flip the magnifier to either the right or left and out of the line of sight at a moment's notice."
Meopta's proprietary MeoBright lens multi-coatings eliminate glare and reflections while the hydrophobic MeoDrop lens coatings ensure the highest level of visual clarity in adverse weather conditions, easily repelling rain and snow in addition to skin oils and dirt.
The MeoMag 3x is also waterproof, shockproof and fog proof and comes with Fast Opening Lens Covers (FOLC).
| Magnification | 3x |
| --- | --- |
| Objective Diameter (mm) | 20 |
| Exit Pupil Diameter (mm) | 6.5 |
| Eye Relief (mm) | 60 |
| Resolution (" or SOA) | ≤12 |
| Field of View (°) | 7 |
| Dioptric Correction | -4/+3 |
| Integral Transmission Daylight (%) | 86 |
| Integral Transmission Twilight (%) | 83 |
| Recoil Resistance (g) | 500 |
| Operational Temperature Range (°F) | -40 +140 |
| Waterproof (m/hours) | 2/2 |
| Max. Length | 4.65 in /118 mm |
| Max. Height | 1.85 in /47 mm |
| Max. Width | 1.93 in /49 mm |
| Weight (oz) | 7.48 |
MSRB: $999.99
Optional Accessories:
Fixed Mount
Quick Release Mount
Hinge Mount (moves to left and right)
Nylon Tactical Pouch
Hard Case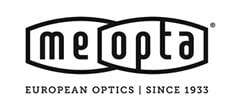 About Meopta:
Meopta is an international company with a long rich tradition of developing, manufacturing and assembling world-class optical, optomechanical and optoelectronic products.
Meopta's state of the art design, engineering, manufacturing and assembly capabilities enable it to provide the highest quality products and services to the industrial, military and consumer markets.
We offer our customers complex solutions to meet their requirements.
We are a company with a broad global reach, Meopta operates state of the art facilities in both the United States and the Czech Republic. This unique presence allows Meopta to respond to the needs of its customers quickly and effectively.
Boasting one the best trained and most highly skilled workforces in the industry, Meopta develops and manufactures the most technologically advanced, high-performance products and sub-assemblies in the world.
From precision medical and scientific instruments to digital cinematic projectors, aerospace technologies, military weapon systems and consumer sports optics, Meopta's unparalleled experience allows it to design, engineer and manufacture a diverse array of high-quality products across a broad spectrum of markets and industries, making it a global leader in the optical field.
The Meopta Group is a U.S. family-owned, multinational company with facilities in the United States and Europe. Founded in 1933 in Czechoslovakia (now the Czech Republic), Meopta is a leading manufacturing partner to many of the world's finest optical brands. Meopta conceives, develops and manufactures precision optical and electro/optical systems for semiconductor, medical, aerospace and military industries as well as for consumer markets.
For more information regarding Meopta, please visit their website.