Dr. Jim and Mary Clary review the MeoPro 80 HD Spotting Scope and find out once again why they are such fans of Meopta optics.

USA –-(Ammoland.com)- Meopta (then Optotechnika) was founded in Czechoslovakia in 1933. The Company, which specialized in producing high-quality optical lenses, quickly expanded into producing high-quality binoculars, cameras, and projectors. They were a thriving company when the occupying German Wehrmacht compelled them to make riflescopes and other optics during WW II.
While Swarovski and Leica were fortunate to fall under U.S. occupation after the war ended, Meopta was locked into Communist Soviet occupation. There, because of their ongoing ability to produce excellent optics, they became the principal supplier to the Soviet military for periscopes, riflescopes, night vision devices and anything optical.
With the fall of communism and the breakup of the Soviet Union, Meopta was finally free to develop and market their products without political domination. In 1992, a family of Czech descendants returned to their homeland in the hope that they might be able to buy Meopta. The Rausnitz brothers, who had immigrated to the United States in 1946, successfully purchased the company in the early 1990s. With a considerable investment in facilities and R&D, Meopta expanded rapidly to become a significant supplier of optics to many European companies.
By 1994 Meopta's U.S. owners had incorporated the Meopta sports optics knowledge into their U.S. headquarters where it was producing riflescopes for a leading European brand. In 2013, they expanded their Meopta branded optics to the U.S., launching a complete line of high-quality binoculars, riflescopes and spotting scopes to the U.S. market. At this point, we would like to point out that Meopta, USA is strictly focused on the American market. They are not a European company with an American branch. They are purely American, and their products have been developed to meet the full range of unique American needs and wants. Their glass is produced at their factory in the Czech Republic (where it has been since 1933).
It is no secret that Mary and I are a bit partial to Meopta products, owning their MeoPro 8×42 binoculars and the MeoPro 3-9×50 riflescope. However, that won't hold us back from conducting a thorough and in-depth review of the Meopta 80 HD spotting scope. Especially since we have had a lot of experience with spotting scopes on 600 – 1,000-yard F-Class shooting lines. Over the years, we have seen some of the worse scopes ever dumped on the American consumer to some of the best.
Our question will be….. where does the Meopta MeoPro 80 HD Spotting Scop fit in?
We own and have used a variety of spotting scope brands over the years, from the entry-level Meade TravelView 20-60×60 mm scope to a high-end Leopold Mk4 12-40×60 mm tactical spotting scope that came to us right off the battlefield in Iraq. As such, we have a reasonably good frame of reference with which to compare the MeoPro 80 HD spotting scope for this review.
We will say this right up front… if you are not willing to spend the money on a quality and well-designed spotting scope, you are better off buying a high end set of binoculars that you can use on the range and in the field. Our MeoPro 8x42s come to mind. In fact, on more than one occasion, we have taken them to the range, instead of a spotting scope.
Unique Meopta's MeoPro 80 HD Spotting Scope Features:
MeoBright – A proprietary ion-assisted lens multi-coating applied to all air-to-glass optical surfaces. Developed by Meopta, MeoBright ion- assisted multi-coatings to eliminate glare and reflections and delivers an industry leading 99.8% light transmission per lens surface. In fact, that is the highest transmission possible with today's technology.
MeoShield – MeoShield ion-assisted coating protects external lens surfaces and delivers enhanced resistance to scratching or abrasion in extreme conditions. MeoShield meets military specifications for durability and surface hardness.
HD Lens Elements – High-definition, extra-low dispersion, fluoride objective lens elements eliminate chromatic aberration (CA) or color fringing in challenging lighting conditions and deliver pin point resolution, increased contrast and vivid color fidelity.
CentricDrive – An oversized, mid-body focus control features a sizeable rubberized wheel that is easy to manipulate when changing rapidly from close subjects to extended distances. It would be beneficial if this scope had separate fine-focus control. The absence of independent fine-focus adjustment control requires some getting used to with magnifications higher than 30x. However, with a bit of practice, we had no difficulty focusing at magnifications up to 40x. It was harder at the higher magnifications, 50x and 60x, to obtain a sharp focus. That being said, the "sight-picture" was still bright enough for practical use.
Integrated Sun Shade – Integrated, retractable anodized aluminum sun shade keeps moisture and stray light from lenses in challenging lighting conditions.
Meopta's MeoPro 80 HD Spotting Scope Specifications:
Magnification Range: 20x – 60x integrated variable eyepiece
Twist-up eyecup to accommodate all users
Objective lens: 80 mm
Optical Elements: 8
Daylight Transmission: 91% (14% increase over previous models)
Twilight Transmission: 87%
Exit pupil diameter: 4.05 mm (20x) to 1.4 mm (60x)
Field of view (degrees): 2 (20x) to 1.2 (60x)
Apparent field of view (degrees): 40 (20x) to 65 (60x)
Eye relief: 18.5 mm
Close focus: 19.69 feet
Dioptric correction (D): -3 to 3
Tripod foot fits all quick release plates with ¼"-20 threads
Length: 14.36 inches
Weight: 68 ounces (4.2 pounds)
Waterproof: protected against humidity, rain, and snow
Fogproof: Purged and sealed with inert Nitrogen gas
North American Lifetime transferable warranty
Accessories Included: User Manual, lens caps, and cleaning cloth
2017 MSRP: $1,839.99 ($1,599 discounted)
Our conclusions and observations:
1. At first glance, due to the 45-degree eyepiece, it would appear that this unit would be uncomfortable to use with a tabletop tripod. Granted you want to make sure that you have a solid tripod, but that is a given with all spotting scopes. The 80 HD tripod collar rotates (360o) for viewing in any orientation, including a bench rest table. After rotation to the desired position, it securely locks into place. That translates into no "hunching over" the scope or straining of the back muscles.
2. There is no question that the Meopta 80HD is manufactured to the highest quality standards possible with today's technology. The controls operate smoothly, without ever sticking. The zoom ring is marked at 20x, 30x, 40x, 50x and 60x intervals. And, the potential for over-rotation of the 20x lower range or 60x upper range has been eliminated with positive internal stops.
3. The tough magnesium alloy body is typical of all Meopta optical products. They are built to withstand just about anything "thrown" at them. No, we are not recommending that you throw something at the scope to test it out. That is just our way of saying that Meopta products are tough. Remember, Jim dropped our MeoPro 8×42 binoculars from his hunting blind in Texas last year (a distance of about 20 feet), and they were just fine. Not even a scratch. The olive-drab green and black rubber armored "coat" on Meopta products (including the 80 HD Spotting Scope) is the toughest in the industry.
4. A lot of folks don't recognize or appreciate one of the more superior features of the Meopta 80 HD: The interior of the 80HD and ALL Meopta riflescopes features a flat black finish to eliminate unwanted reflections and/or aberrations from the side-walls. We won't say that it is unique to Meopta, but suffice it to say that none of our other spotting scopes have that feature and some of them are very pricey.
5. It goes without saying (but we're saying it anyway) that this scope is far superior to anything that one could buy in the large warehouse stores. There is absolutely no comparison in quality. The colors are perfect with the resolution and contrast of the images being almost flawless. There is some drop-off in contrast at the highest magnifications (50x & 60x), but that is a function of physics and the size of the scope. That is typical of all zoom scopes and not unique to Meopta. The edge sharpness on the 80HD is superior to all of our other spotters, including our tactical model from Iraq.
6. We are great fans of the 20x setting for 100-200 yards. Resolution, contrast, and sharpness were perfect. When we stepped it up to 40x for ranges of 300-400 yards, there was a slight loss of contrast, but not significant. We reserved the 50x and 60x settings for 600-1,000 yard distances. At these higher magnifications, the mirage (boil) effect becomes a significant factor in ALL spotting scopes, As such, many shooters limit the higher magnifications to calm and cool atmospheric conditions.
7. The built-in aiming element, located behind the sunshade was pretty much useless. It did not allow us to locate the target any faster than by just "eye-balling" the target. We recommend that Meopta eliminate this "aiming element" and replace it with a small, inexpensive finder scope mounted on the side of the main body.
8. Some folks consider the weight of the Meopta MeoPro 80 HD Spotting Scope to be a drawback. At just over 4 pounds, it is heavier than most of its competitors. The robust and durable design of the HD80 comes with a little more heft, but when compared to other premium hunting and range spotters, the difference in weight is negligible. If you have ever used lighter scopes on the range and became frustrated with them moving off target at the slightest touch or wisp of wind or accidentally knocked your spotter while trekking to your tree stand, you will appreciate the robust design of the Meopro HD80.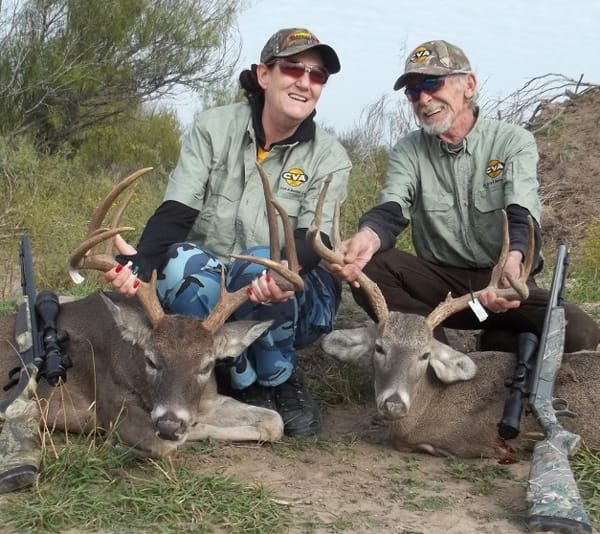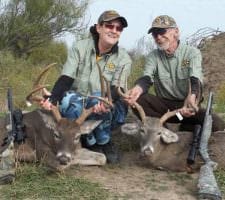 Where does the Meopta MeoPro 80 HD Spotting Scope fit in with the other spotting scopes that we have used? There is no comparison! The 80HD is superior in quality and performance to every scope we have ever used. Our other spotting scopes will now be loaners to "friends" and/or dust collectors in the gun room.
About Jim and Mary Clary:
Jim and Mary Clary have co-authored over six hundred published articles (and counting) on shooting and hunting. You can read many of them on AmmoLand News.