USA -(Ammoland.com)- This week I wanted to do something a little out of the norm. I wanted to cover some of what I saw at the SHOT Show. Wow, no doubt there's no way that I can cover it all but let's hit the highlights.
In case you don't know what the SHOT Show is, it's the Shooting Hunting Outdoor Trade Show. Everyone that is anyone in the outdoor world is there.
It starts off Monday with the Industry at the range day. In the morning the Outdoor writers attend and in the afternoon the manufacturers and buyers. Everyone rolls out their new ammo, rifles, crossbows and such.
Tuesday – Friday is the actual show. There are firearms, clothing, ammo and more on display. I go to work deals for the upcoming year.
Since I write a weekly Product Review for Ammoland Shooting Sports News I wanted to check out a lot of the new knives for 2018 and ones that I hadn't covered yet.
I had so many meetings that there was no way that I could hit all of the knife booths but we will cover the highlights. First off let's talk about Leatherman. It is their 35th anniversary this year. I had a meeting set up with Amy at their booth, but it turned out that their presentation was given to me by their whole team.
They were obviously proud of what they have achieved. And rightfully so. Think about it for a minute. Thirty-five years ago we didn't have the now famous Leatherman. Even my daughter, who went to school to be a librarian, carries a Leatherman! I'm going to write an article in the near future on the history of the Leatherman. I think it will be a great topic.
Next, let's visit the Buck booth. Wednesday night I attended a dinner put on by Buck Knives. I met their Marketing Mgr., Stephanie, years ago at my first Professional Outdoor Media Assn. Convention. It's good to see that she is still with them and has progressed.
Their iconic 110 folder, that put Buck on the map, has now been updated into an assisted opening knife. I'll get one soon and be testing it.
Also, I want to test out their throwing knives. I think they'd provide entertainment for kids around camp.
As a college kid, I loved Puma knives. There are now two brands. The old German Puma, and the Puma SGB, which is the American version, but they are made in China and are obviously not of the same quality as their German cousins.
I dropped by the booth of the German flavor. In talking to their Marketing Mgr., it turned out that he had attended my KNIFE SHARPENING/CHOOSING THE PROPER KNIFE Seminar at the Safari Club Int'l Conv. in Vegas last year. He wanted me to drop by tomorrow and pick up a knife to test and do a product review on. Can't wait.
This afternoon I dropped by the Hogue booth, and they have two,  four knives that I can't wait to test out. Soon I'll be getting them and doing some Product Reviews.
In the past, some of you have complained that I didn't include the old Swiss Army knife in my list of great knives to carry. I stopped by their booth for a meeting with their Marketing Mgr. and went over some of their products.
They feel that they have some good options and don't feel compelled to re-invent the wheel every year. But to keep the reading public happy, and so they don't lynch me, I'm going to test out their old standby Swiss Army Hunting knife.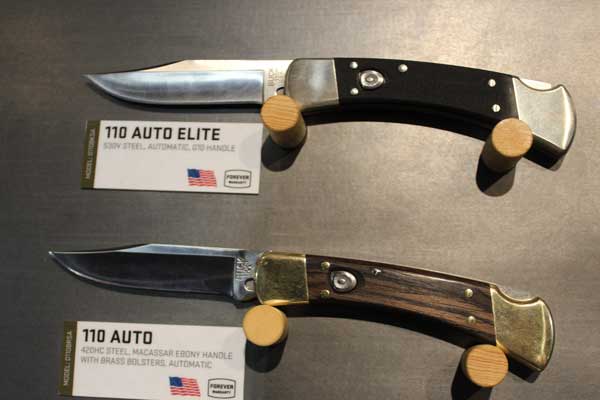 Then what about Case XX knives? They seem to reproduce old versions every year for the discriminating knife collector. They have a loyal following. Every year they seem to come out with limited editions of past models. They also Produce a knife designed by Mr. Tony Bose, who is a famous knife maker.
There were numerous other knife companies that I visited, that I've never dealt with in the past, and I want to start testing some of their knives.
But, one thing that I'm super excited about, I talked to a company today and they want to come out with a new outdoor knife line and want me to design all of their knives for them.
Hopefully, we have things finalized and make the debut at the 2019 Shot Show. Hold tight. More details coming in the upcoming months.
So, this year we should have a lot of exciting Product Reviews coming up.
About Tom Claycomb:
Tom Claycomb has been an avid hunter/fisherman throughout his life as well as an outdoors writer with outdoor columns in the magazine Hunt Alaska, Bass Pro Shops, Bowhunter.net and freelances for numerous magazines and newspapers.
"To properly skin your animal you will need a sharp knife. I have an e-article on Amazon Kindle titled Knife Sharpening for $.99 if you're having trouble."
Some of the links on this page are affiliate links, meaning at no additional cost to you, Ammoland will earn a commission if you click through and make a purchase.