U.S.A. –-(Ammoland.com)- Clay Tippins attended the elite Stanford University on a swimming scholarship. After finishing college instead of taking a high paying job, Tippins joined the US Navy. He would go onto become a Navy SEAL.
In 2000 he was discharged from the Navy and worked for several high-profile companies. He was an executive vice president for one of these company, but he wanted to make a difference in the War on Terror.
He once again traded a suit for a gun and deployed to Iraq as a Lieutenant Commander in the SEALs. Along with his team, he carried out counterterrorism operations targeting ISIS cells. Now he wants to make a difference in another way.
Tippins is running in the Georgia Republican primary for Governor. He claims to be the most pro-second amendment candidate on the ballot. I had a chance to speak to him about the issues and what separates him from his revivals.
---
John: Why do you want to be Governor of Georgia?
Clay: I grew up religious, do you remember the story in the old testament where Joseph is called before the pharaoh, and he talked about seven years of plenty followed by seven years of famine?
John: Yeah, I do
Clay: I don't think that is just a good picture just for Georgia. I think that is a pretty good picture for America. I think my state is there. Right now, we are economically in good shape, but I think if you look our national debt there is 0% chance we get five or ten years down the road without a real pinch that comes from that.
I will tell you a little bit about my background in a second, but I was a successful technology business guy. Most everything about our world has improved in the last ten years as far as how we work, how we learn, and how we live with the power of technology. In my view, the government is not a lot smarter, cheaper or faster than 50 or 60 years ago when the Greatest Generation came back from the Second World War.
My belief is that the 2020s are going to be one of these decades that historians look back at and say, "That is when the government had to get a lot better."
I think debt will make it be so, and I think technology will enable it. I think in a moment time like that if you have someone that has been in politics for a long time; they have a locked in view on what's possible or what is in bounds.
I was a businessman, and I was a Navy SEAL. It is a different mindset. It is a different urgency. It is a very unconventional approach, and I feel like that is where my state is and this in this next decade. I got a very good and unique skillset for that.
That is why I jumped it.
John: How does a Navy SEAL end up in politics?
Clay: I turned 45 recently. I went to Stanford. My coach that I swam for was a Marine Corp sniper from Vietnam. That is sort of an anomaly, a guy like that at Stanford. He really was a shaping impact on my life. I went into the Navy after that. I was a SEAL from 1996 to 2000. This was all pre-9/11.
I did a technology business career for 15 years. Then I went back into the Navy reserves in 2010 to the end of 2016. I volunteered to go to Iraq in 2015 because the 1990s was a pretty quiet time. I hadn't fought, and I really felt like I owed more. I went back to do my part, and I was involved in some neat things over in Iraq.
I got back in late 2015 and went back into business. I sort of looked around in the spring of last year. I looked at our field, and I felt like on the Republican side it wasn't the right candidates.
John: Why did you decline to pledge to sign legislation similar to the Georgia Religious Freedom Restoration Act?
Clay: I have been a Christian since I was five years old. That is the cornerstone of our family and our life. What I am never going to do is pledge to sign a piece of legislation I haven't read. Especially something as important as values and rights.
When these bills move through the legislature, they morph and change a lot. I fought to protect our rights. Religion being on the top of that stack. I will do whatever it takes to fight for religious freedom.
There are several things I have committed to do in my state. Appoint conservative justices that believe rights come from God; Detailed legislation that prevents lawsuits against people of faith.
Right now, there is a Supreme Court case that will probably will determine what religious freedom will be. I am not going to take a pledge and say, "here's what we are going sign without know what that Supreme Court case is."
It would be like as a SEAL you asked me, "Hey Clay, how are you going to take down this village?" I am not going to answer the question until I see the intel report and the map of the village.
It is sort of my leadership style of being very upfront and factual. I will not promise to sign stuff I haven't read. I will protect religious freedom 100%, Uncompromisingly so.
John: My wife is a doctor and would agree with your proposal to expand the availability of medical marijuana. Why is there a resistance to increasing the availability of medical marijuana?
Clay: I actually think that is a false narrative that there is a lot of resistance to it. I think it is people lacking the courage to act on what the data says, and what real experience says.
I will give you an example of data. There is something like 11 states that made medical marijuana legal. In each of those 11 states, you average 25% less deaths from opioids overdoses.
Opioid and heroin overdoses in our country are one of the most deadly challenges that we face right now and here is something time after time that is proven to reduce it by 25%. Those are facts.
Then to make it something on the personal level, my wife and I have met with several of the families in Georgia. These children will be having 100, 200, 250 seizures a day while taking a number of pills that will not fit into a grown adults hands. Then they use a non-psychotropic medical Cannabis oil, and that reduces it to zero to two seizures a day. The hand full of pills that don't fit into the hand will go down to one or two.
John: How would you combat sanctuary cities in Georgia?
Clay: It is absurd and wrong that people think they should be able to make up their own laws in specific cities. I would seek to prevent sanctuary cities. I would seek to defund sanctuary cities.
Another thing I would do as governor is have the national guard here in Georgia is to have their training rotations in support of Presidents Trump's efforts to secure the border.
When I was in training, and when I was in units we would conduct training in those sorts of areas. It is just not good to secure the border it's a good two for one that you can get training value out of it as well. Especially if you are preparing to go to environments like the middle east.
John: What is your opinion on another "assault weapons ban," and would let that happen in Georgia?
Clay: I would not. I am a strong, unabashed Second Amendment supporter. You will see me use data over and over again because I have spent the time on how to advocate and press forward with our worldview, the conservative worldview.
Georgia has roughly the same number of gun deaths per capita as Illinois. Illinois has extraordinary tight gun control measures. I just don't believe it works.
Forget the fact it is the violations of our rights. Bad guys are going to have guns, and good guys not having guns doesn't help solve that. So, it is just not consistent with my worldview.
John: What is your plan to push back against anti-gun groups like Mom's Demand Action and Every Town For Gun Safety?
Clay: There is a few things. If you want to know policies of mine to extend gun rights in Georgia, I think we should have an Air Marshall type model in education. Educators who know how to use guns and wish to do so in schools and coordinate with their principal I think that makes our schools safer. That is a big thing for me.
John: Would you support getting rid of gun free zones in Georgia?
Clay: Right now, one of the things we have with gun free zones is that we have a campus carry law which I am supportive of. Next gun free zone I would seek to tighten safety on from a gun carry perspective and also a safety for people perspective is like I said, enabling an opt-in Air Marshall type system in our schools for teachers that are comfortable, competent, and able to do so.
John: What would you say the biggest difference between you and your opponents?
Clay: There is a different spectrum of people that understand guns and support guns.
There are people that say, "I hunt."
There are that say, "I shoot."
There are people that say, "I support gun rights."
There is a big difference between a politician that poses for a picture with a broken action double barrel over their shoulder on a fall afternoon and someone who carried a gun. As a SEAL I understand guns intimately. This is something I have trained at the highest level of training that you can provide in the world.
You tell me, John. What do you think is the bigger risk to folks like us, the conservatives that believe guns are a sacred right, is it the "Elizabeth Warren" that is upfront about it, or is it the wolf in sheep's clothing that says I am a conservative and not only are they going to cut in run the first time that the right is tested, but they actively misrepresent their record?
John: The wolf in sheep's clothing.
Clay: That is exactly right. I learned as a SEAL that there are three types of people in this world. There are wolves, sheep, and there are sheepdogs. I ask my kids all the time, "which one are you?"
I think liberals believe that the world doesn't have any bad people in it. I think it does, and I think our founding fathers gave us the Constitutional rights to bear arms not just to protect us from government, but failures of government. That is why I believe it is important that we protect this god given right.
The second dimension of that is leaders have got to protect citizens from wolves in sheep's clothing leaders. I am running against a guy, Hunter Hill, who cuts an ad saying he is an Army Ranger, saying he is for constitutional carry, saying he is for campus carry, saying he won't give an inch, and saying that you should only have to be 18 in Georgia to carry a pistol.
Every single one of those things is the opposite of his record. He sat six or eight weeks ago in a forum with a Democratic nominee for governor and basically said, "I believe in parity. You have to be 21 to have a pistol then you have to be 21 to have a long gun."
The guy has a C rating with the NRA. He gutted the bill on safe carry. He has never ever voted in support of constitutional carry.
So, for me, I looked at this race, and I saw guys that talked like they're tough guys and talked like they are conservatives and they're the wolves in sheep's clothing. You might not like what I say, but you know where I stand. I am who I say I am.
That is a huge difference. In my race, there are two guys that have military backgrounds. One of them is a wolf in sheep's clothing and the other is going to do what he says he is going to do.
I carry a weapon. My wife has two pistols. We trained our children on this. I am an active carrier. This is very imported to my family, and I am running against a guy who is a wolf in sheep's clothing. I really encourage you to look into that.
More about the Clay Tippins campaign can be found here.
---
About John Crump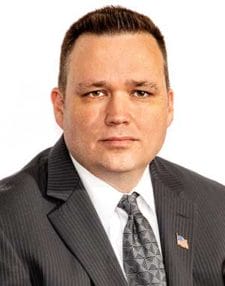 John is a NRA instructor and a constitutional activist. He is the former CEO of Veritas Firearms, LLC and is the co-host of The Patriot News Podcast which can be found at www.blogtalkradio.com/patriotnews. John has written extensively on the patriot movement including 3%'ers, Oath Keepers, and Militias. In addition to the Patriot movement, John has written about firearms, interviewed people of all walks of life, and on the Constitution. John lives in Northern Virginia with his wife and sons and is currently working on a book on leftist deplatforming methods and can be followed on Twitter at @crumpyss , Facebook at @realjohncrump ,or www.crumpy.com.