Tom reviews the Dexter Russell 3 Pc. Big Game Knife Combo
USA – -(Ammoland.com)- I've known about and used Dexter Russell knives on a professional level since 1978.
The company has been around since 1818, that's a long time. I knew they made numerous knives and products for the professional meat cutter. What I didn't know is that they also have an Outdoor line.
For years I've liked their Don't Tread On Me 6-inch boning knife for boning out big game. In dealing with them it was brought up about their Outdoor line and they asked me to test out some of their hunting knives so one thing led to another and I'm testing their 3-pc. Big Game Combo set.
At the time, we're in-between hunting seasons, although it is only 12 days until bear season opens, not that anyone is counting. Of course I can't get into the backcountry to my favorite spot until the end of April so I'm going to have to wait to actually get to test it out but will in the meantime judge it on my past knowledge of what designs are functional or not.
That is unless the dog scratches at the door once more for the fortieth time today to be let out and then I'm going to be making my wife a Fido stole.
At first blush my immediate thought was, this is a nice combo kit. The Dexter Russell 3 Pc. Big Game Knife combo has a caping knife which you could use to cut the pattern on your animal, cape it out with and skin the feet/toes on bears. The caping knife has a 2 ¼-inch cutting surface and is ¾-inches wide. That's the dimensions that I like on my caping knife.
Many manufacturers make the handles on their caping knives too short. I guess their thinking is, you need a small knife to do the intricate cuts which is true but no matter how intricate of cutting that you're doing, you still need a large enough handle so you have control. By large enough I'm not so much talking about in width but in length.
My favorite caping knife's handle is 3 5/8-inches long and this one is 4 1/8-inches. So the handle on this one is good. So it took me a second to figure out what was awkward about it though. On most caping knives the spine is divoted down 3/16-inch to put your thumb on the spine and on the bottom side is a finger groove for your pointer finger so you can choke down on the blade.
On this knife it is all ¾-inch too far down the blade. And on the bottom the edge where you'll place your finger the blade needs to be thicker, about double.
The blade on the included Dexter Russell skinning knife is about 3 7/8-inches long which fits in the range that I like. I like 3 ½ to 4-inch blades. Of course, that's a matter of preference and not a right or wrong. The blade has a big curvature on the cutting end which a lot of people like.
The top of the spine by the handle has grooves to stabilize your thumb if you choke down on it a little. It has a full-sized handle and is comfortable to hold. It has a semi large handle on it so if you have a large hand you'll like this one. And if you like gut hooks, take heart. This one has one.
The combo comes with a Dexter Russell bone saw. I remembered that we had eaten some spare ribs at lunch so I grabbed a bone and went outside to test it out. Wow, it cut through the rib bone like hot butter. So it is a sweet bone saw and does what it was designed to do.
The Dexter Russell 3 Pc. Big Game Knife Combo set comes with a reinforced nylon sheath that has a loop to hook onto your belt. I thought with the loop it would swing clumsily while walking but after wearing it, it was fine. I was pleasantly surprised.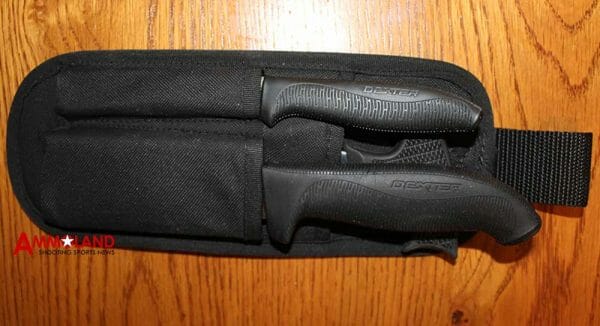 And let's look at one last feature. The Dexter Russell handles are constructed of a soft grip type rubber material and comfortable to hold. Plus, they are slip resistant.
So here's my verdict on the Dexter Russell 3 Pc. Big Game Knife set. If you're looking for a functional combo set to gut and skin your big game animals (and you can use the caping knife on birds) I think you'll be more than happy with this knife set.
---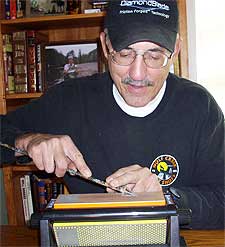 About Tom Claycomb
Tom Claycomb has been an avid hunter/fisherman throughout his life as well as an outdoors writer with outdoor columns in the magazine Hunt Alaska, Bass Pro Shops, Bowhunter.net and freelances for numerous magazines and newspapers. "To properly skin your animal you will need a sharp knife. I have an e-article on Amazon Kindle titled Knife Sharpening for $.99 if you're having trouble"
Disclosure: Some of the links below are affiliate links, meaning at no additional cost to you, Ammoland will earn a commission if you click through and make a purchase.