U.S.A. –-(Ammoland.com)- Two of the hottest trends in the firearm industry right now are pistol caliber carbines and firearms chambered in 10mm and Hi-Point firearms have merged those two with the release of their 10mm carbines named the 1095TS and 1095TS Edge.
As for the pistol caliber carbine (PCC), its one of those firearm types that people either love or hate. Outside of going to the range, most of the time if I grab a carbine or a rifle, I want it in a rifle caliber. It's not 1876, any more and I don't necessarily feel the need to carry a handgun and rifle in the same caliber. I'm not 300 miles off the Oregon Trail shooting it out with banditos and rustlers. My supply chain isn't 30 days out and rifle calibers pack a lot more punch these days.
Then, that other side of me says, maybe I need something a little quieter out of a long gun or maybe I am shooting in an area where a full sized rifle cartridge is overkill or stray shots may be a danger within its effective range. I don't want to drop down to a 9mm in power levels, but don't care to step up to 45-70 either.
Hi-Point's 10mm Carbine seems to fill that niche and it may have potential for hunters in certain states restricted to straight-wall cartridges for hunting.
We Got the Edge
MKS Supply sent us a carbine chambered in 10mm finished in a hydro-dipped Real Tree Edge Camo scheme. We wanted to give this carbine a good work out.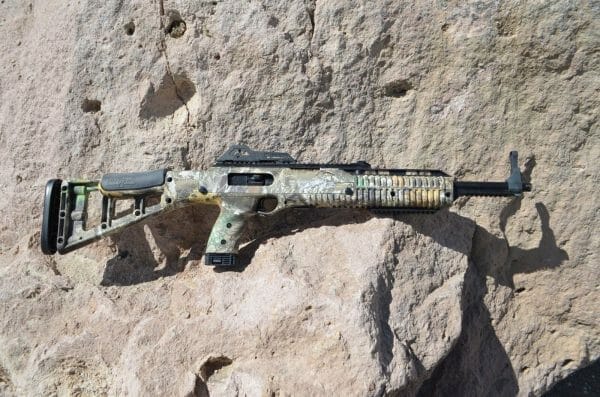 The camo paint job may be more of a hunting scheme than a military tactical one, but it seems more fitting on a 10mm carbine that could see use as a hunting rifle.
We were a bit apprehensive at the thought of a blowback operated 10mm. However, hefting this rifle gave us the feeling of more substantial construction than any previous Hi-Point carbine we have ever tested. There is a recoil buffer inside the stock that is said to aid in recoil reduction and a padded cheek rest.
Other features were familiar to us from past reviews of Hi-Point carbines. The factory sights are adjustable and robust. The top rail allows the mounting of optics but most importantly for us there is a threaded barrel on this one.
Some folks may want to add a muzzle brake here we decided to try a pistol silencer and a call to SilencerShop.com got a Dead Air Ghost 45M can in our hands.
The other major upgrade we noticed was a true Picatinny rail system instead of the Weaver that they used in the past.
Dead Air Ghost 45M Suppressor
If you take a good look at a modular suppressor like Dead Air's Ghost M, you will see it as at least two silencers in one. Primarily because you can change the overall length: It can be run long or short.
That's only half of the story, though. This silencer is full auto rated and can be used across multiple hosts other than as a .45 ACP muffler. It can handle 9mm, .40 S&W , 10mm, 300 blackout Subsonic, or even .22 long rifle.
According to Silencer Shop, the Dead Air Ghost M is "…full auto rated and features a unique patent-pending modular design. Break it down to the short configuration and you have the smallest and quietest .45 can in its class. When it's time to be scary quiet, the Long configuration is the way to go."
The Ghost is constructed of a combination of 17-4 stainless steel, titanium, and anodized 7075 aluminum. We were able to break ours down and reassemble it by hand without tools, although a spanner to remove the front end cap is included.
So we tried it on the Hi-Point 10mm carbine.
We were sure the extra boost from the can would bump up the felt recoil, but in both configurations, it was not only quiet but just as soft shooting as it was unsuppressed.
Much of that has to do with the 16" barrel, but both versions sounded the same on the noise level.
Performance
We had half a case of SIG Sauer 10mm ammunition sitting in the garage so we pulled a few boxes of 180-grain Elite Performance FMJ.
According to our chronograph, we were averaging 1484 fps. This is comparable to the ballistics of a 6-8″ 41 or 44 Magnum revolver. The 10-round single stack magazines functioned flawlessly At 50 yards we were getting one-hole groups with iron sights. We found the sights quick and easy to pick up.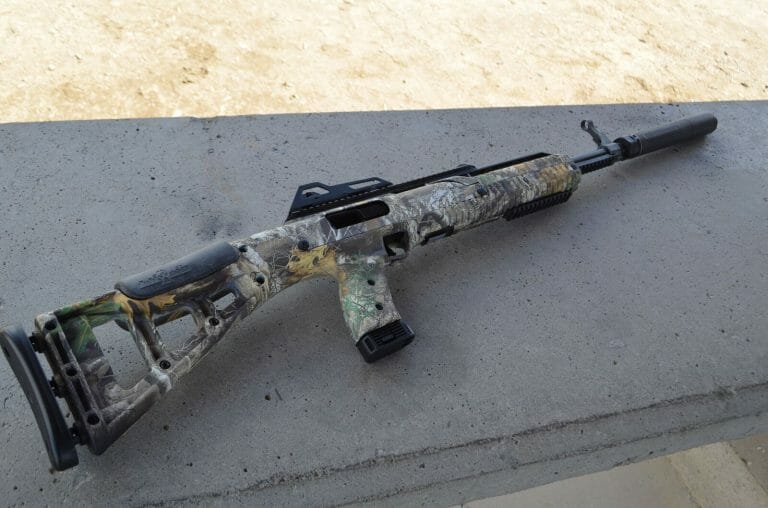 Downsides
The only real issue we found was with the magazine. That is not to say that it did not function flawlessly or aftermarket magazines are too expensive, but it's a single stack. This is one carbine where we would really like to see designed to accept double stack 10mm Glock magazines. We have a pair of dedicated 10mm Glocks and if we were to go to the field with this carbine, we would like 15 rounds of 10mm in the same magazine for our sidearm to fit it.
However, I get it. It's their company and their rules and with the low cost of their magazines, not to mention this rifle, 10mm shooters can afford them easily.
Final Thoughts
Shooters looking for a good quality and highly reliable carbine for a reasonable price in 10mm will find a lot to like about this model.
We like it enough that we are thinking about buying one. This time out Hi-Point seems to have outdone themselves with a very solid feeling carbine in a potent caliber. If you get a chance to see them side by side with a carbine in 9mm, 40S&W 45 ACP or even their 380; those rifles seem worlds apart in construction.
If the camo finish is not your thing, Hi-Point offers it in basic black as well.
SPECIFICATIONS:
Barrel: 17.5 inches, threaded barrel (0.578x28TPI)
Caliber:10mm Automatic
Sight: Iron with ghost ring
Overall length: 32 inches
Weight:7 pounds
Capacity: One 10-round magazine with each carbine.
Trigger: 6-pound single-stage
MSRP: $439 Realtree's new Edge Camo pattern
MSRP: $390 Standard all black color.
---
About Mike Searson: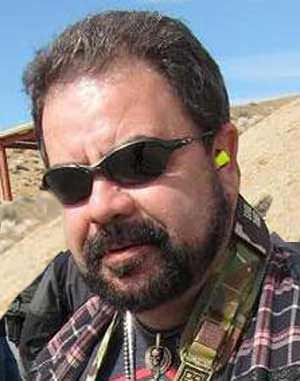 Mike Searson's career as a shooter began as a Marine Rifleman at age 17. He has worked in the firearms industry his entire adult life as a Gunsmith, Ballistician, Consultant, Salesman, Author and was first certified to teach firearms safety in 1989.
Mike has written over 2000 articles for a number of magazines, websites and newsletters including Blade, RECOIL, OFF-GRID, Tactical Officer, SWAT, Tactical World, Gun Digest, Examiner.com and the US Concealed Carry Association as well as AmmoLand Shooting Sports News.