U.S.A. –-(Ammoland.com)- Once a common contender in the shotgun/rifle community, the recent sanctions imposed by the USA has disallowed further imports of the Molot Vepr. Originally from Russia, these products were introduced to the USA by passing compliance fulfilled by FIME Group. Vepr 12 shotguns are semi-automatic designed for self-defense, hunting, and 3-gun competitions. Based on the RPK standard, the Vepr 12 shares the same legendary characteristics of extreme reliability in harsh conditions as the RPK.
The fire control group allows for semi-automatic shooting and the safety is an improved version of the standard AK safety selector, which has levers on both sides of the receiver to operate the safety.
Additional features include: The ability to insert magazines straight into the magazine well (AR style) without the need to cant the magazine (AK style); RPK style Windage adjustable rear sights; Windage and elevation adjustable front sights integrated to the gas block; Picatinny rail incorporated into the hinged dust cover (allows optics mounting); and chrome lined chamber, barrel, gas block, and bolt carrier operation rod for increased corrosion and wear resistance.
Featuring a short barrel, left-side folding tubular buttstock with cheek rest and sling loop, competition magazine well, one 5-round and one 8-round magazines, RPK style windage adjustable rear sight, hinged dust cover with a Picatinny rail, original AK enhanced safety lever (single finger operation), chrome lined barrel, chamber, receiver shaft, and gas chamber, last round bolt hold open, threaded barrel, machined bolt assembly, and gas blocks. US made parts include: polymer lower handguard and upper handguard, pistol grip, trigger, hammer, disconnector, removable flash hider and gas puck.
VEPR 12 is shipped with one 5-round and one 8-round magazine(s). VPR-12-04 is 922r compliant even with high capacity Molot factory magazines.
---
ABOUT FIME GROUP, LLC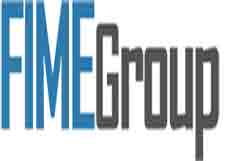 FIME Group, LLC is a manufacturer, importer, and exporter of the finest, high-quality firearms from around the world. Founded with the mission to manufacture the finest firearms and establish long-lasting business relationships with multiple manufacturers, FIME Group, LLC seeks to provide all of the customer favorites among rifles, handguns, and shotguns.
FIME Group, LLC.'s partnerships include:
Arex from Slovenia – the manufacturer of the Rex Zero 1 pistols, with a proven track record of over 20 years for manufacturing highly competitive products with premium quality and precision;
Molot from Russia – the manufacturer of the Vepr rifles and shotguns, one of the most rigid, toughest systems in the world;
Zastava Arms from Serbia – the manufacturer of the rifles based on the famous Mauser system.
FIME Group, LLC. is headquartered in Las Vegas, Nevada and may be found online at http://www.fimegroup.com