USA – -(Ammoland.com)- Long range shooting requires some specialized gear or long range shooting accessories to accomplish the task at hand as painlessly and as efficiently as possible. Here are my go-to items that I need to have on me at the range and in the field when targeting long distance game or targets.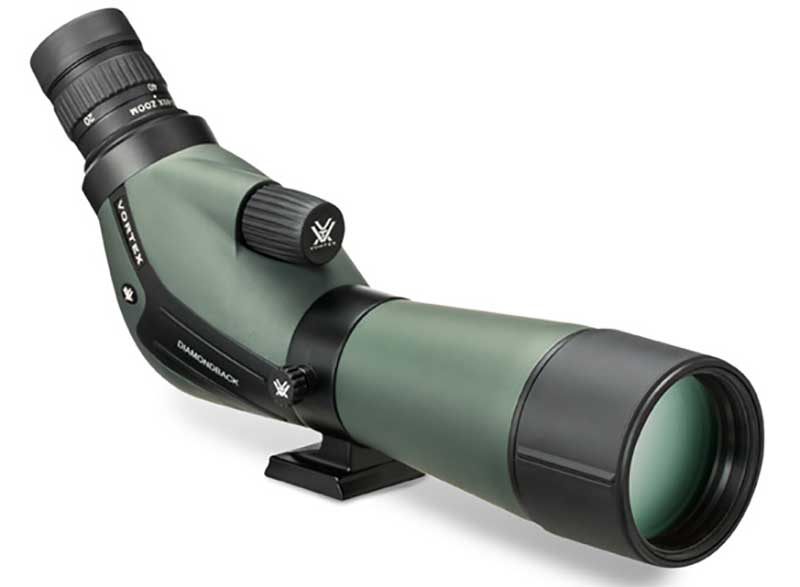 First and foremost beyond your rifle and mounted optics is a proper spotting scope. Depending on how far you're going to push bullets, in most cases, a scope like the Vortex DiamondBack Spotting Scope at 20-60X60 can get the job done at an incredibly low price to similar gear. The Vortex Diamondback Spotting Scope does not break the bank, is lightweight and compact at its current price under $400, it beats out many optics twice the price.
If you need more range extension, say beyond 400 yards, then more optical spotting power and lens quality would be required. In general shooting beyond the stated range indicated above will cost the shooter about $50.00 per each additional 100 yards added in down range extension regarding the accusation of adequate spotting, and related equipment.
Knowing your exact distance to the target is mandatory. In this case, obtaining a rangefinder is an absolute requirement of the long-range shooter.
Nikons LaserForce binoculars and rangefinder can be regarded as state of the art today. I have reviewed the Nikon LaserForce Rangefinder Binocular here at AmmoLand News before this best of coverage, and as a result of that work I have spent many hours on my 1000, 1400, and one mile (1,760 yards shooting ranges) with them during the past summer. While some general conditions will limit their exact ranging ability, I was able to clearly effect range measurements out of the Rose Bud Indian reservation with a group of shooters using lesser equipment this past summer.
The Nikon LaserForce Rangefinder Binocular unit ranges up to 1,900 yards ( under good field conditions, ) and retains a 10X42 total size magnification ability. Weight 30.9 ounces this unit is a bit heavy but tough as nails.
At an MSRP $1,199,99, what the Vortex above makes up for in price vs performance the Nikon is the other end and is what top of the line performance gets you at a price. This substantial is part of what it costs to drive bullets into the next zip code with accuracy. If you can't see it, range it, or sight on it, you can't shoot it.
Kestrel Model 5700 is a weather station and a ballistic calculator all in one unit. Also available as an app and wind meter combo for less money the two combined take all the guesswork out of shot placement.
Know bullet behavior as in exact drift and drop is required for the shot. The Kestrel system in the advanced unit can factor ballistics for the shooter. Be advised that the basic cell phone with correct apps can and will do this for the shooter as well. I have five apps on my phone and a complete weather station as well.
The Kestrel Elite combines sophisticated environmental sensing features with long-range shooting ballistics information in one powerful hand-held device, delivering proven elevation and windage solutions for extended long-range shots with unprecedented accuracy.
It employs the Applied Ballistics bullet library of custom drag models, an exact measurement of your bullet's drag profile plus corrections for Aerodynamic Jump, Spin Drift, Coriolis, and Drop Scale Factoring to achieve accurate extended long-range shots.
The Kestrel Elite measures up to 15 environmental parameters including wind speed/direction/chill, crosswind/headwind/tailwind, temperature (air and wet bulb), humidity, heat stress index, pressure, density altitude, dew point, and altitude.
The rugged design is fully waterproof, floats, and features a large high-contrast backlit screen with a night vision preserving light for easy viewing in all conditions.
The Kestrel 5700 Elite Wind Meter with Applied Ballistics system uses both G-1 or G-7 ballistics coefficients. Based on over 200 current long range bullets, and will link with Bushnell scopes CONX Range Finder. Speaks to Bluetooth technology, as well as I-Phone or MAC/PC systems with LINK option.
---
---
---
---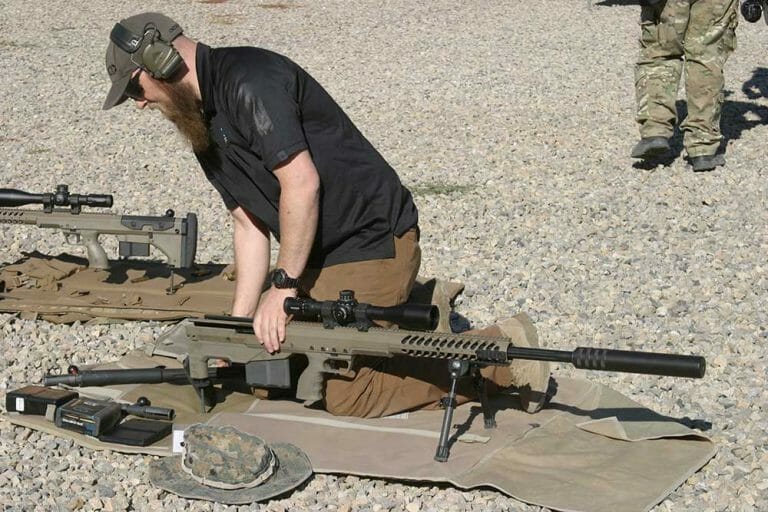 A very commonly used piece of equipment required to shoot long range with a high degree of accuracy is a stable shooting platform. In this case, a shooting mat when shooting from the prone position allows the shooter to use one of the most effective methods when sending a bullet to some extended range limits. An example of a quality shooting mat is offered by US Peacekeeper Products; this portable shooting mat has thick closed cell foam for hours of shooting comfort.
Made with a non-slip surface treatment, a folding carry case with straps, and retaining storage pockets for ammunition or additional accessories make this a complete unit for shooting from the prone position.
When the plan is to get up and off the ground, while on the hunt, for both comfort and better vision down range the portable bench rest comes into play. Here a system like the Caldwell Stable Table is a great example of a shooting bench. This style of bench allows the shooter to rotate a full 360 degrees when shooting prairie dogs, or on static targets being steel or paper.
The Caldwell Stable Table is purpose-built to be the "finest value-priced shooting bench" in the market. The shooting bench breaks down into seven pieces and weighs a total of 60 pounds when assembled. It is very comfortable and adjustable. When large amounts of time are spent shooting from the prone position by way of example, the end product can be some less than effective outcomes down at the target. Shooting from a stable platform in a sitting position can allow the shooter to spend far more time on the firing range.
The Caldwell Stable Table makes use of a tripod design and is a value based shooting bench table. The table top measures 34X23 inches and is made of a heavy plastic reinforced by metal supports on the underside of the unit.
This bench is built to be fully adjustable regarding hight and shooting angles. Shooting on a prairie dog town or established range setting fits the design of this table.
This second bench rest table is a classic design and made under many brands across the world. I have this very bench on my range in western South Dakota that is designed by an Australian custom bench builder. I like heavy duty benches as in the Caldwell Pivot Butcher Block Shooting Bench model when shooting precision long range events or testing. By example when accuracy at 1000, to one mile, is the norm every possible level of advanced preparation is critical. That includes a rock-solid shooting platform.
Designed with a butcher block wood tabletop measuring 45 X26 inches this heavy and stable shooting platform is the clear ticket when setting up shooting stations on a commercial range, or when using a better grade system at a private shooting house or station. This unit is a high-end product, and it is built with heavy metal parts for years of continuous use.
As you can see a whole host of shooting gear is instrumental at long-range distances including spotting scopes, shooting mats, rangefinders, secondary spotters glassing, but that is what you need if you want to consistently hit something in the next zip code down-range.
---
About the Author L.P. Brezny:
With more than 50 years experience in the field and the testing lab, author L.P. Brezny is one of today's most recognized shotgun experts and authors. He is a contributor to dozens of firearms publications, such as Wildfowl, Shotgun Sports, and Varmint Hunters, and he is a regular columnist in the Gun Digest annual. Be sure and check out his newest book: Long Range Shooting, Second Edition.