Mike takes the Palmetto State Armory Stainless Two-tone Premium 1911 to the range in this firearms review.
USA – -(Ammoland.com)- Palmetto State Armory is best known for their reasonably priced AR-15s, AK-47s and of course their popular build kits for said rifles. However a few years ago they shifted gears and began offering a US-made M1911-A1 pistol.
The M1911-A1 is one of our favorite pistols and we have owned at least a dozen over the years. It was the pistol that we cut our teeth on as a 17-year-old Marine and one we carried for almost two decades. We may not carry one outside of Memorial Day, Independence Day or Veteran's Day (when we pack a US Military issued Colt 1911 made in 1917); but we still enjoy shooting and collecting this pistol.
So when Palmetto State Armory asked us if we wanted to try any of their firearms, we had to scoop one of these up.
The PSA Stainless Two-tone Premium is a full size .45 ACP Government model with a 5″ barrel. It is called the Premium because of the tight tolerances and hand fitting of parts in this pistol.
It was a bit different from the 1911s we own or have owned in the past in regard to the fact that this is a two-tone pistol. We've had them in blue, Parkerized, stainless, nickel, oil rubbed bronze, but never in what was the IPSC standard for most of the 1990s.
We ordered a blemished 1911 model. These sell for about $200 cheaper than their standard versions and buyers are warned that the pistol will have various degrees of cosmetic imperfections. These issues are cosmetic only and do not effect functionality or safety. Some "Blems" can have almost no visible flaws up to quite obvious ones. We went over it numerous times and saw no indication of any flaw with this pistol beyond a slight mark on the rear sight.
We disassembled and degreased the pistol from the factory oil. After examining all the parts we reassembled it, lubed it and headed out to the range with 250 rounds of Freedom Munitions 45 ACP 230 Grain ammunition.
Palmetto State Armory Stainless Two-tone Premium 1911 – The Good
If I was writing this article 20 years ago, I would have said it's "loaded with all the bells and whistles that customers pay hundreds of dollars to upgrade" but the truth is that many of those features are standard on 1911 pistols these days.
The extremely well-fitted beaver tail safety with a memory groove is upswept and very reminiscent of a custom design I paid quite a bit for as a young aspiring gunsmith. The skeletonized hammer and enlarged safety are finished in the same coloring as is the adjustable trigger. The sights are Novak pattern and perhaps the most proven sights on a competitive 1911.
As for the forged 4140 carbon steel slide, we liked the placement of PSA's logo in the matte blued finish. The flats are polished and the slide sports front and rear cocking serrations.
The stainless steel frame is machined and has a nice soft look to it. While we typically prefer an arched mainspring housing, the flat and serrated one has a nice feel to it. Grips are hardwood and double diamond checkered.
In the looks, quality of parts and overall build departments we were really liking this pistol before we loaded up our first magazine.
Palmetto State Armory Stainless Two-tone Premium 1911 – The Bad
When we emptied our first magazine at our target at 50 feet, we had a nice tight group with big ragged holes forming some nice sized groups. Unfortunately, they were about 6″ below our point of aim.
We had been firing striker-fired 9mm pistols prior to the PSA 1911, so we suspected that could be the culprit. We fetched one of our other 1911s of a similar configuration and were shooting true to point of aim. Yet we noticed the trigger felt different so we broke out our hex wrench kit and adjusted the overtravel screw in the trigger on the PSA and fixed our "low shooting issue". Apparently, it was affecting our follow-through and why we ended up shooting so low on the target.
Palmetto State Armory Stainless Two-tone Premium 1911 – The Reality
If you are looking for a classic 1911 faithful to it's military origins, there are other 1911s out there. On the other hand if you want a classic that is more faithful to the models that prevailed in IPSC and USPSA from the 1990s that made new generations fall in love with the "45", this one will serve just fine.
Best of all, the PSA Stainless Two-tone Premium 1911-A1 is backed by an Unlimited Lifetime Warranty, which means that PSA firearms and parts are warranted to be free from defects in materials and craftsmanship for the serviceable lifetime of the firearm or part.
Barrel Length: 5″
Barrel Steel: Stainless Steel
Barrel Finish: Polished
Caliber: .45 ACP
Capacity: 7+1
Frame Material: Stainless
Frame Finish: Polished & matte
Slide Material: 4140 Forged Steel
Slide Finish: Hard Chrome, polished sides
Overall Length: 8.75″
Overall Width: 1.25″
Overall Height: 5.5″
Weight as configured: 39.2 oz. (Unloaded)
Magazine Type: Single Stack
Magazine Finish: Stainless
MSRP: $ 599.99 (Non-blem $799.99)
---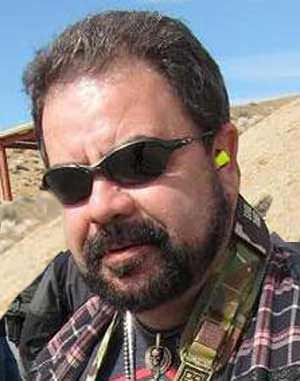 About Mike Searson
Mike Searson's career as a shooter began as a Marine Rifleman at age 17. He has worked in the firearms industry his entire adult life as a Gunsmith, Ballistician, Consultant, Salesman, Author and was first certified to teach firearms safety in 1989.
Mike has written over 2000 articles for a number of magazines, websites and newsletters including Blade, RECOIL, OFF-GRID, Tactical Officer, SWAT, Tactical World, Gun Digest, Examiner.com and the US Concealed Carry Association as well as AmmoLand Shooting Sports News.
Home page: www.mikesearson.com
FB: www.facebook.com/mike.searson
TWITTER: www.twitter.com/mikesearson
Disclosure: Some of the links below are affiliate links, meaning at no additional cost to you, Ammoland will earn a commission if you click through and make a purchase.