North Carolina – -(AmmoLand.com)- NC House Representative Larry Pittman (District 82, GRNC 4 Star), has been the most reliable, hard-fighting ally that gun owners have in the North Carolina General Assembly. He has sponsored and supported bills responsible for many of the advances that gun owners have made in our state, and he has never wavered. Larry has fought for North Carolina gun owners, and now he needs your help.
Larry Pittman's Campaign Needs Your Help
The campaign could use contributions, but equally so, volunteers are needed to keep an anti-gun candidate from replacing a pro-gun stalwart in the NC House. Larry Pittman is currently up against an opponent financed by wealthy, out-of-state interests. These outside groups are financing anti-gun candidates in key races around the country, and North Carolina is in their sights.
Below you'll find information about how you can chip in. Please contribute or volunteer. If you can do both, even better!
IMMEDIATE ACTION REQUIRED!
VOLUNTEER FOR LARRY PITTMAN'S CAMPAIGN: To contact the campaign about volunteering, use this email address: [email protected], call 704-782-3528, or CLICK HERE to go to a volunteer web form. The campaign needs your help with one or more of the following:
Calling voters
Hosting house parties
Stuffing envelopes
Walking neighborhoods
Serving as a precinct captain
Serving as an intern
Displaying yard signs
CONTRIBUTE TO LARRY PITTMAN'S CAMPAIGN: CLICK HERE to go to the donation page.
---
About Grass Roots North Carolina: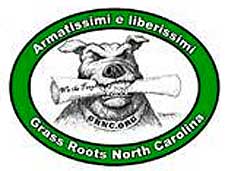 Grass Roots North Carolina/Forum for Firearms Education is a non-profit, all-volunteer organization devoted to educating the public about trends which abridge the freedoms guaranteed by the Bill of Rights, and engaging in grass roots activism to preserve those freedoms. Formed in 1994 to conduct a highly successful rally for the Second Amendment, GRNC has gone on to conduct projects like "Remember in November: A Gun Owner's Guide to Voting," bringing concealed carry to North Carolina. Visit:www.grnc.org