U.S.A. –-(Ammoland.com)- If you have not read of the first part of the tour be sure to click below and find out about Palmetto State Armory's impressive assembly process of their AR-15s and AK rifles.
Talking With The Engineers
Probably my favorite stop of the Palmetto State Armory trip was a visit with the madmen that bring the top brass' visions to life. These are the folks behind the upcoming PSA MP5 clone as well as the guys that are behind the PSA AKV 9mm AK. The collection of parts all over their office was something that I could spend a week digging through and finding inspiration, knowledge, and even some cool content ideas from.
They had the prototype AKV laid out on their table for us to check out when we arrived. Duncan had already had some time with the 9mm AK, but I hadn't even had a chance to look at one yet. Let me tell you, that thing is impressively cool and as I would later find out, fun as hell to shoot.
Also hiding in the office was some prototype .224 Valkyrie barrels with an interesting twist rate that I am not sure I can tell you about yet, a new 7.62x39mm AR lower, a few prototype AK pistol braces that are sure to excite AK nerds and even some handgun stuff that caught my attention.
Sadly I am not entirely sure what I can tell you about, so I will err on the side of caution and assume that until it is listed on the PSA website, I am to keep my dang mouth shut. That said, nerding out with the engineers about gun stuff was one of the most enjoyable experiences I have had on a work trip to date, and I can't wait till I have a chance to visit with them again.
Lead Star Arms
In the same facility as the engineering team, we found Lead Star Arms, the ultra high-end arm of PSA. These guys have focused on lightweight competition ready rifles and AR pistols that rival guns that are double their price point.
All we were able to see while we were there was a couple of completed rifles and a ton of components that were coming off their ultra nice CNC machines, and they are something to behold. Not only are the components that Lead Star is making interesting looking with outstanding detail and interesting windows on the skeletonized models, but they also have a root in competition where performance matters.
Sadly I don't have any experience with the Lead Star guns, but Duncan does and had nothing but nice things to say about the shooting experience. Maybe sometime in the future, I will be able to put a Lead Star gun through the paces, but until then I will differ the questions to Duncan.
Building Our Guns
Now it was time for Duncan and me to head back over to the assembly facility to pair those barrels from DC Machine with the optics we got at the flagship store. Gathering up all of the parts took a few minutes since these builds were out of the ordinary and they wanted to ensure that inventory levels weren't messed up.
Once we had the parts I started with the lower I was provided, a standard PSA marked unit. Instead of walking you through my build, I would rather just tell you the components that I used. You should also expect a full review of my build at some point in the future.
For the lower, I decided on a Magpul CTR stock with a Mil-Spec receiver extension, a Magpul MIAD grip, and Palmetto's own EPT fire control group lower parts kit. The upper was really built around the barrel, a 16" stainless Freedom barrel chambered in 5.56 with a 1:7 twist rate and a mid-length gas system. The BCG was a standard PSA-produced unit, the charging handle also was a Mil-Spec unit, and the handguard was PSA's 15" lightweight M-LOK units.
Once I had assembled my upper, I turned towards Duncan's parts and put an identical upper together for him while he prepared the Strike Eagle and the Viper PST Gen II to be mounted to the uppers. My rifle ended up getting the Strike Eagle 1-6 scope nestled in a Warne 30mm cantilever mount and a Trijicon RMR RM06 on a Magpul M-LOK offset optic mount paired with a high base for the RMR, a combo that I have been wanting to try for years. Duncan, on the other hand, had opted for a Vortex Viper PST Gen II 1-6 power scope in the same model Warne mount that I was using on my rifle.
Shooting Our Builds & The AKV 9mm AK
With the rifles built, the next step was to gather some ammo and head out to the shooting range that PSA owns not far from the assembly facility. We also asked to take one of the AKV prototypes out to the range with us since I hadn't had a chance to shoot one and Duncan was chomping at the bit to shoot it again.
Both rifles functioned flawlessly over the several hundred rounds that we dumped through the rifle in the short time we were on the range. My initial groups should be categorized as acceptable, something that I was expecting since we were shooting off wooden blocks without rear bags to even get the rifle close to stable. Once I get the rifle out to the range, I will do a proper accuracy test with good match ammunition to see what she will do.
Once I had my fun with the rifle that I had built we broke out the 9mm AK they are calling the AKV and headed over to the pistol range where there were several pieces of steel set up for us. After burning through the better part of a case of Winchester 9mm NATO trying to see who was the fastest to run the steel challenge course we called it quits. I can see why Duncan enjoys the AKV so much, that is a soft shooting gun that you can really run fast if you do your part.
We packed up as the sun was setting and headed back to the hotel after dinner. Tomorrow was going to be a big day.
STS Machine In Jacksonville
The next day we headed to the airport to board a plane to Jacksonville, Florida where STS Machine is located. STS Machine makes several things, but the ones that we were most interested in were the upper and lower receivers, handguards, barrel nuts, flash hiders, and gas blocks. STS also does work in the automotive and motorcycle industry in addition to the gun stuff, but who cares about that, this is a gun blog, right?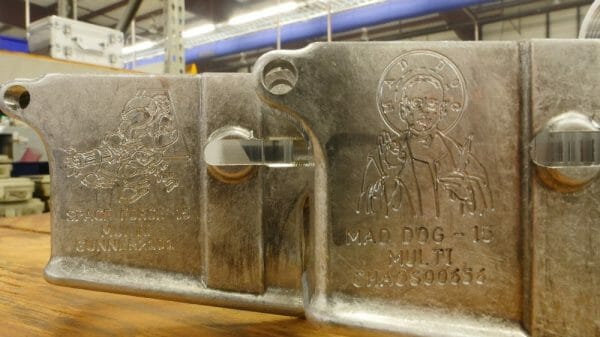 While I am not allowed to go into detail on how they produce the parts, I can tell you that while I was there the professionalism that the STS Machine team, as well as the level of knowledge, was impressive. These guys and gals knew their stuff and were ready to answer any questions that I might have about the process. I wish I could tell you more about how they make their parts since it addressed a lot of my questions about quality control and acceptable tolerances.
I did get a look at the Space Force lowers that had just sold out on their website as well as the Mad Dog lower that had yet to be released when we saw them being produced. Both had awesome roll marks, and I am really looking forward to what PSA cooks up going forward!
Duncan, Josiah, and I said our goodbyes and grabbed a bite to eat at a super nice steakhouse in Jacksonville that I couldn't recall the name of if I tried. Once we had eaten more than our fair share of steak, we headed back to the airport to catch a flight back.
A Final Full Auto Shoot & The Flight Home
Now that we had seen everything that Palmetto wanted to show us we had a bit of time to kill on the final day before Duncan, and I needed to be back at the airport. How does PSA fill that downtime? Time on the range with some machine guns of course!
Josiah had arranged for us to get to one of their stores before it opened and had ammo set aside for several machine guns like a full auto converted M&P-15 .22LR, an Uzi, MP5, a PSA AK converted to full auto, and a PSA AR converted to full auto as well.
While we were on the range, I broke out my carry Glock 19 and got some practice in before I headed back home since the next day I would be at the Modern Samurai Project 2-day Red Dot Course. I know Duncan ate up the chance to mag dump the machine guns and don't get me wrong, I did too between strings with my Glock 19.
Being responsible and brushing my shooting skill up a bit before class instead of shooting the crap out of machine guns killed me a bit inside but that is the price of adulating sometimes. I did get a chance to mag dump as well as deliver some controlled bursts out of everything PSA has laid out for us, just not as much time with them as I would have preferred.
I want to thank Josiah and the other folks at PSA for understanding the importance of me getting a bit of practice while I was out of town, so I didn't show up at class shooting like a fool that hadn't shot in a while. The ability to keep my practice schedule up while on the road was invaluable.
Right about 11 AM Duncan, Josiah, and I loaded up in the rental and headed to the airport so that Duncan and I could get back home and process everything we had seen. The amount of stuff that we saw, did, or learned on this trip was like drinking from a fire hose, and I knew I was going to need some time to decompress and process it all.
What I Learned During The Tour
While I know that this post is nearing the length of a short story, but I think it was well worth taking my time to explain everything that I saw.
Before the trip I had a positive impression of Palmetto State Armory's products, I don't want you to think that I didn't. What I didn't have was an appreciation for the mission of PSA or the amount of quality control and thought that goes into everything they produce.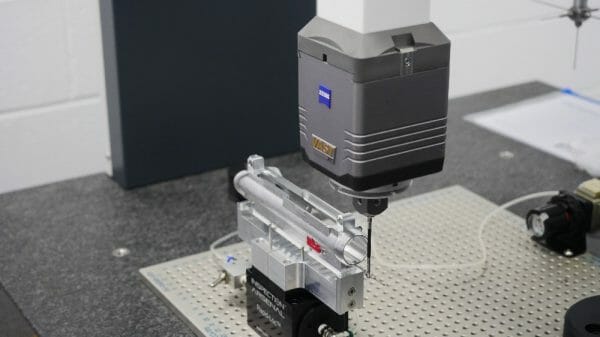 It has become in vogue to refer to PSA's lowers as "hobby-grade," and I now know that couldn't be farther from the truth. Why is it that folks feel that PSA's stuff is of lesser quality? The price of the product plays a lot into perception. Because PSA has learned how to keep their overhead super low and is essentially offering their products at "dealer price" to consumers they blow most other companies out of the water regarding value.
Just because you are getting factory direct pricing doesn't mean that it is of lesser quality.
QC on the majority of the parts is on par with many other manufacturers out there based on what I have seen and I would even go so far as to say that many of Palmetto's components are of higher quality than those found other rifles that have an MSRP double of what a PSA rifle would run you.
I guess the cliff notes version is don't discount PSA just because it is attainable, more expensive is not always better.
Special Thanks
I want to thank Josiah and everyone else that either spoke with us on the tour or made it happen. The hospitality shown was nothing short of above and beyond what anyone would expect on a media trip.
I am looking forward to making my way back to Columbia for the next visit!
---
About Patrick R.
Patrick is a firearms enthusiast that values the quest for not only the best possible gear setup but also pragmatic ways to improve his shooting skills across a wide range of disciplines. He values truthful, honest information above all else and had committed to cutting through marketing fluff to deliver the truth. You can find the rest of his work on FirearmRack.com as well as on the YouTube channel Firearm Rack or Instagram at @thepatrickroberts.
Some of the links on this page are affiliate links, meaning at no additional cost to you, Ammoland will earn a commission if you click through and make a purchase.