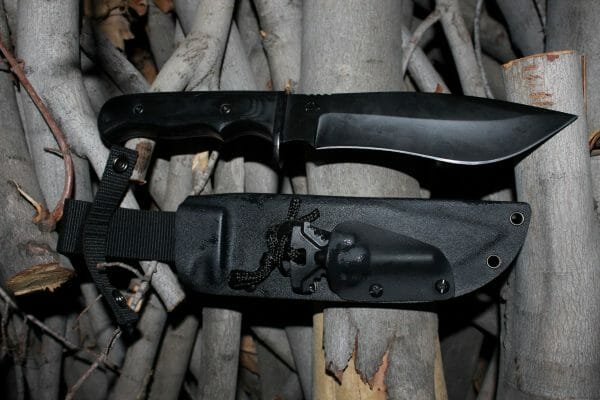 U.S.A.–(AmmoLand.com)- If you're looking for a heavy-duty survival, bushwhacking type of knife, then you might just want to check out the Puma Shadowcat ZX 12" Knife. It weighs in at 12 oz. or ¾'s of an lb. When holding it, you will almost feel like you have a small hatchet in your hand.
The knife has a 6 7/8-inch blade and mine came with a steep angle, I'm going to guess somewhere around 16-18 degrees. So it came really sharp from the factory, not so much the norm anymore. And it has a somewhat polished edge compared to some of the rougher ones that I receive.
The Puma Shadowcat ZX 12" knife has thumb grooves on top of the spine and a definite finger guard. But it also has a finger groove if for some reason you want to choke down on the blade a little. I like the handle. It fits my hand perfectly and is good looking with its dark micarta material.
It comes with a Kydex sheath. You can attach it to your belt two ways.
With the canvas loop that also snaps on top of the handle to hold it in place.
Or on back of the sheath is a clip that you can clip onto a belt, your backpack or a life jacket.
It also comes with a Firestarter rod which is carried in a little side pocket on the front of the sheath. Attached to the striker rod is a little gizmo which can act as a bottle opener with metric measurements along the side. Not sure what the metric deal is about.
Now for the blade. It is a recurve blade or what I call a concave edge. You can't sharpen a recurve blade on a traditional stone unless you run it on the edge of the stone. Lay it on a stone and you will see what I mean. There will be a noticeable gap between the stone and the edge of the knife so you will miss the middle of the blade. To sharpen the Puma Shadowcat ZX 12" knife you'll need a Smith's Products "Diamond Retractable Sharpener" (steel) or a Smith Products Pocket Pal Knife Sharpener.
To sharpen it using one of the above two tools you will run the knife edge down the steel like you are trying to shave off a thin layer of the steel. Once on one side and then once on the other. Hold the knife at the same angle as the factory edge on the knife.
You may ask, why do they even put a recurve edge on a knife? Good question. I can't really give you a good reason. It sure isn't to enhance being able to sharpen your knife. The only logical reason (and it's a weak one) is that it increases the cutting surface. That is true on serrated edges but on this one, it only increases from a 6-inch cutting edge to 6 ½-inches, so the increase is minuscule.
The knife has an MSRP of $69.99. As usual, we will close with the specs.
Puma SGB Shadowcat ZX 12 Tactical Knife Specs:
SGB
Knife Type: Fixed
Blade Length in / mm: 7 / 178
Blade Thickness in / mm: .15 / 4
Total Length in / mm: 12 / 305
Weight oz / gr: 12 / 340
Scales: G10
Blade Steel: 1.4116 German Cutlery Steel
Rockwell Hardness: 55-57
Full Tang
Yes: Sheath
Kydex w/ Firestriker
Edge Type: Fine
Country of Origin: German Steel, assembled in China
---
About Tom Claycomb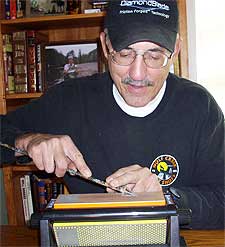 Tom Claycomb has been an avid hunter/fisherman throughout his life as well as an outdoors writer with outdoor columns in the magazine Hunt Alaska, Bass Pro Shops, Bowhunter.net and freelances for numerous magazines and newspapers. "To properly skin your animal you will need a sharp knife. I have an e-article on Amazon Kindle titled Knife Sharpening for $.99 if you're having trouble"
Disclosure: Some of the links below are affiliate links, meaning at no additional cost to you, Ammoland will earn a commission if you click through and make a purchase.