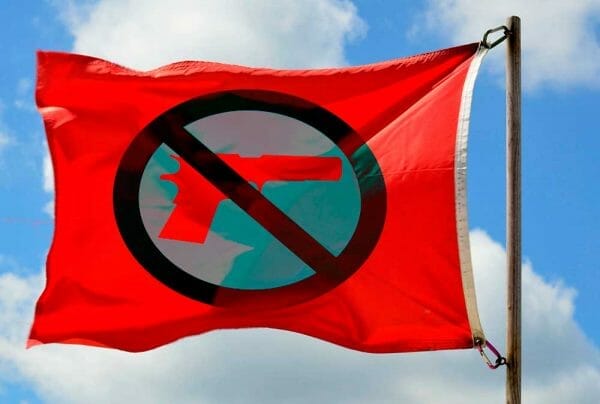 Austin, Texas –-(Ammoland.com)-Texas lawmakers will consider anti-gun bills including "red flag" laws, mandatory background checks for all private handgun sales at gun shows, and new regulations on 3-D printed firearms in the next year's legislative session.
A "red flag" law is also known as an extreme risk protection order (ERPO). An ERPO allows police to remove firearms from a gun owner if a judge determines that the person is a danger to themselves or others. The issue that gun rights advocates have with ERPOs is that the court proceeding is held in secret without the gun owner being able to defend themselves against the charges.
The burden of proof in an ERPO hearing is very low. Any family member, roommate, or neighbor can go to the police to seek an order. Studies show that 98% of all warrants that police seek are approved by the courts. It has cost the accused upwards of $10,000 to get their gun rights back. Gun rights organizations such as Gun Owners of America consider these orders as violating the Due Process Clause of the Constitution.
Last month a Maryland man was shot in killed by police while they were trying to serve an ERPO. That man's sister took out the ERPO on him on what his niece described as "family being family." She stated her uncle was not a danger to anyone.
Texas is known as a "gun-friendly" state, but two El Paso Democrats, Rep. Joe Moody, and Sen. Jose Rodriguez, plan to change that with the "red-flag" bill.
The bill would go farther than family members reporting a gun owner for making threats. According to the bill evidence of substance abuse or the recent acquisition of firearms and ammunition would be grounds for firearms confiscation.
Rodriguez calls the proposed bill as "sensible legislation," but it will face an uphill battle. The Texas Republican Party has made the opposition of "red-flag" laws part of their party's platform. With the Republicans in control of the Texas Legislature, it seems unlikely that this bill would reach Gov. Greg Abbotts desk.
If the bill somehow reaches Abbott's desk, it would be highly unlikely that he would be willing to sign it into law. He has said won't support a "red-flag" bill recently. Lt. Gov. Dan Patrick also says he will not support an ERPO law. Patrick controls the Texas Senate.
Rodriguez acknowledges that a "red-flag" bill most likely fail but believes that the passing of the law in the future will be possible.
"On a bipartisan basis, I think the attention that we've had to recent shootings spurs public anger that at the Congress level, they're not doing anything about common-sense gun violence prevention, and the same thing applies here in the state," Rodríguez told the Houston Chronicle. "I think it's just the culture here in the state, the gun culture, and it's going to take a little more time in my view. I'm optimistic that eventually we'll be able to do it."
Democrat Rep. Ron Reynolds also introduce a bill that would ban the private sale of a handgun at a gun show without the buyer going through a background check.
Currently, in Texas, only those who are FFLs are required to perform a background check on a would-be buyer. The Missouri City Democrat hopes to change that. Reynolds proposal would make it a misdemeanor to sell a handgun at a gun show without making the buyer go through a background check.
This law seems to be the brainchild of Texas Gun Sense. The anti-gun groups claim that these laws save lives. The anti-gun group does not offer proof of the claims of lives saved. When AmmoLand reached out to Gyl Switzer, Executive Director of Gun Sense Texas, she did not reveal her source of the data but said she would get back to AmmoLand with the source ASAP. [We are still waiting.]
The third anti-gun bill addresses 3-D printed guns. Democratic Rep. Terry Canales wants a metal strip installed in any 3-D printed gun to be mandatory.
Terry incorrectly thinks that 3-D printed guns allow people to defeat metal detectors. These guns still have metal firing pins and ammunition which are both detectable by metal detectors. A metal strip seems to be an unneeded extra step.
Canales is honest about his lack of knowledge on 3-D printed guns, but also states that policymakers need to be well versed in the subject.
"There's still much unknown about 3-D guns to me, as there is the rest of the Legislature," Canales stated when proposing the bill. "And as this technology continues to permeate society, it's important that the people and policymakers are well versed in the subject of it and as laws and regulations are made, they're done so thoughtfully, meaningfully and with respect to the Second Amendment."
Although none of these bills seem destined to pass it does show that anti-gun politicians in Texas are pushing into territory that they think they can win on in the future based on National anti-gun successes and ignorance.
---
About John Crump
John is a NRA instructor and a constitutional activist. He is the former CEO of Veritas Firearms, LLC and is the co-host of The Patriot News Podcast which can be found at www.blogtalkradio.com/patriotnews. John has written extensively on the patriot movement including 3%'ers, Oath Keepers, and Militias. In addition to the Patriot movement, John has written about firearms, interviewed people of all walks of life, and on the Constitution. John lives in Northern Virginia with his wife and sons and is currently working on a book on leftist deplatforming methods and can be followed on Twitter at @crumpyss, on Facebook at realjohncrump, or at www.crumpy.com.