USA – -(Ammoland.com)- "Condolences pour in from New York state, Hudson Valley with passing of former President George H.W. Bush," the Daily Freeman reports. "U.S. Sen. Charles Schumer, D-N.Y., said Bush was 'a fine man and even when he opposed your view, you knew he was doing what he thought was best for America. His yearning for a kinder and gentler nation seems more needed now than when he first called for it.'"
"New York Gov. Andrew Cuomo … called Bush 'a statesman and patriot who dedicated his life to serving his country,'" the report continues.
They've pulled this act before.
"Sen. Chuck Schumer, Gov. Andrew M. Cuomo join others praising John McCain," Newsday reported in August following the senator's death. The tributes from the left were effusive – if one believed them, one could believe Democrats admire "good" Republicans, as opposed to the "deplorable" kind. The thing is, when alive, such affectionate warmth always seemed to disappear whenever an opportunity to grasp more power arose. Suddenly "moderates" would find themselves attacked as "rightwing extremists" and worse.
The same held true in life for President Bush, and in death, the less restrained, the mask-off socialists, are calling him a racist for his part in exposing the truth about  Michael Dukakis enabling convicted murderer Willie Horton to commit assault, armed robbery and rape while enjoying a weekend furlough.
The lesson here: No matter how much you "compromise," it will never be enough, and while Democrats will happily accept every concession you give them, if you balk when they come back for more (and they always will), prepare be smeared and reviled.
And "compromise" Bush did, especially on the Second Amendment. He very publicly quit the NRA (and played right into gun-grabber hands) after Wayne LaPierre referred to ATF as "jack-booted thugs" (with everyone conveniently forgetting the term was coined by Democrat John Dingell.
Why Bush was in the NRA in the first place – aside for political advantage – is a fair question, especially after reading attorney and author Dave Kopel's Gun World commentary from 1996. He voted for the Gun Control Act of 1968, wanted to ban affordable handguns, imposed an import ban on semiautomatic firearms demonized as "assault weapons," wished for authority to ban domestic models, proposed "high capacity" magazine registration, offered a deal on the Brady Bill and then turned his back on the people who helped elect him by closing the White House off to gun advocates.
"All the above information …was ignored by the media when reporting Bush's resignation from the NRA," Kopel noted. "Instead, Bush was lauded as a solid friend of the Second Amendment who was standing up for principle against the NRA."
Guess what that made anyone to the right of him?
As we know from experience, for creatures lusting for power – creatures like Schumer and Cuomo – those infringements would never be enough. And that should give pause to any Republican foolishly believing if he only gives his "friends across the aisle" what they want, they and their media promoters will start saying nice things about them, too.
Maybe, temporarily, or when they're dead – if it serves the agenda of moving the middle more to the left…
---
About David Codrea: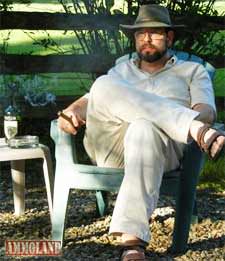 David Codrea is the winner of multiple journalist awards for investigating / defending the RKBA and a long-time gun owner rights advocate who defiantly challenges the folly of citizen disarmament.
In addition to being a field editor/columnist at GUNS Magazine and a contributor to Firearms News, he blogs at "The War on Guns: Notes from the Resistance," and posts on Twitter: @dcodrea and Facebook.