Opinion
These laws will kill gun owners and they already have.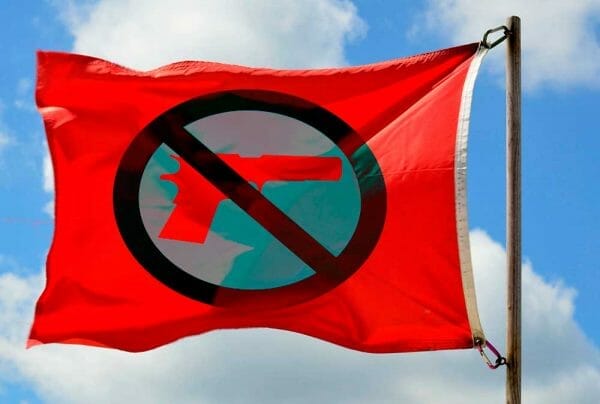 Virginia – -(AmmoLand.com)- BACKGROUND ON RED FLAG LAWS
For gun control to get passed into law, it requires duping people into thinking the proposed law is constitutional and will stop criminals.
Red Flag laws, also called Gun Violence Restraining Orders and Extreme Risk Protection Orders, are gun-confiscation laws disguised as "gun-violence prevention" laws that are being pushed hard at both the state and federal levels. Virginia Citizens Defense League expects to be fighting Red Flag bills in the Virginia General Assembly in 2019.
Red Flag laws are unconstitutional "prior restraint" laws that violate our basic civil rights. What's particularly alarming is that to take away a person's Second Amendment rights, such laws violate the protections found in the Fourth, Fifth, and Sixth Amendments to the U.S. Constitution! And all of that based on an unnamed person's secret allegation that someone else "might" do something dangerous to themselves or others in the future.
Laws are only supposed to authorize the State to apprehend and punish those who have committed an illegal act, not those who might, based on unsubstantiated allegations.
The person accused of being "dangerous" has no notice there is a problem until the police show up, pre-dawn, with guns drawn and confiscate the accused's firearms [we have already had on gun owner killed in this exact senario]. The accused is not given due process to defend himself or herself in court from the accusation for weeks or months after the confiscation. It is up to the accused to prove that he or she is not dangerous! Until such proof is provided to the Court's satisfaction, the guns are not returned. This could drag on for months, years, or indefinitely!
If a person is "too dangerous" to own a gun, then why is that person left walking around with the rest of us? Can't that "dangerous" person still commit suicide or harm others if they have the opportunity?
The answer to both questions is that Red Flag laws are about confiscating guns, not saving lives.
In Maryland, which recently enacted such a law, two-thirds of the requests for confiscation were deemed frivolous. In other words, most of the applications that were denied were from people wanting to "get even" with someone else by making their lives miserable! But how many frivolous requests got through anyhow?
We do NOT want Red Flag laws in Virginia!
ACTION ITEM: WE *MUST* EDUCATE EVERYONE WE KNOW ON THE DANGERS OF RED FLAG LAWS!
Red Flag laws are a genuine and severe threat to our liberty. If we don't educate as many people as possible on the severity of the danger these laws pose, we could well end up with Red Flag laws either here in Virginia, or nationally.
Virginia Citizens Defense League has created a flyer that you can print out and distribute. We need to be doing this at gun shows and anywhere else that we can do so. Distribution should also include friends, family, neighbors, and coworkers.
Virginia Citizens Defense League does not believe in crying "Wolf!" and we're not.
Here's a link to the flyer: https://vcdl.org/resources/PDF/RED_FLAG_laws_flyer.pdf
The Dangers Of Red Flag Gun… by on Scribd
THE VA GENERAL ASSEMBLY STARTS IN JUST A FEW WEEKS, AND WE WILL ALSO HAVE NEW ANTI-GUN LEADERSHIP IN CONGRESS. LET'S MOVE ON THIS!
---
About Virginia Citizens Defense League, Inc. (VCDL):
Virginia Citizens Defense League, Inc. (VCDL). VCDL is an all-volunteer, non-partisan grassroots organization dedicated to defending the human rights of all Virginians. The Right to Keep and Bear Arms is a fundamental human right.
For more information, visit: www.vcdl.org.