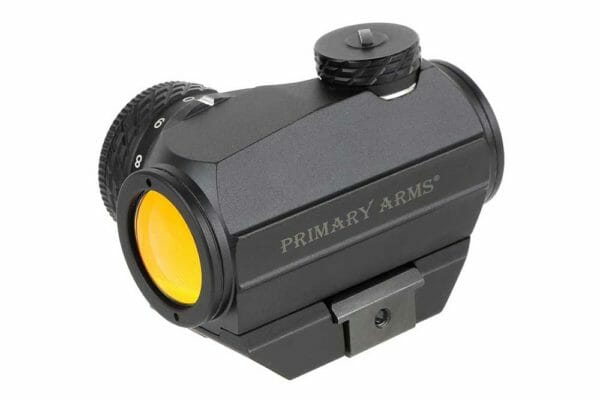 HOUSTON, TEXAS –-(Ammoland.com)- Primary Arms has combined our popular MD-RB-AD micro red dot scope body with our famous ACSS-5.56 reticle. The MD-RB-AD microdot has proven exceptionally tough since its introduction in 2017.
Many have asked whether our Advanced Combined Sighting System technology can be incorporated into a Primary Arms micro dot, and the MD-RB-AD-ACSS is our answer: "Yes!"
The center chevron is larger than a 2 MOA dot to grab the eye for instant acquisition, yet it is also more accurate, because the chevron tip provides an infinitely small aiming point that never obscures the target. In addition, the ACSS reticle offers auto-ranging, bullet drop compensation, and moving target leads.
Pairing up MD-RB-AD-ACSS with a 3x or 6x magnifier extends the effective range of the micro dot equipped rifle far beyond what is possible with an ordinary micro red dot sight, without giving up any of the advantages red dot shooters enjoy in fast close quarters shooting.
Available anodized in matte black, the MD-RB-AD-ACSS is priced at $159.99.
ACSS-5.56 reticle illuminated in red
2-night vision settings, 11 total brightness settings
50,000 hours battery life at a median setting
Powered by 1x CR2032 battery
Fits any industry standard micro mount
Length: 2.5""
Weight: 5.5 oz.
Click value: 0.5 MOA
Total elevation and windage adjustment: 60 MOA
Lifetime warranty
---
About Primary Arms, Inc.
Ten years in the making, in 2017 Primary Arms expanded operations into an all-new 50,000+ sq. ft. facility located in Houston, Texas. Primary Arms continues to grow by bringing customers quality products, fast shipping, competitive pricing and world-class customer service. For more information on Primary Arms, visit their website (www.primaryarms.com), find them on Facebook, or follow them on Twitter.