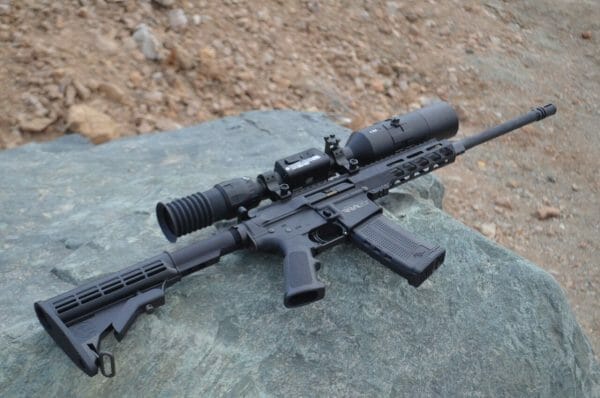 Colona, IL –-(Ammoland.com)- Rock River Arms, the leader in specialized Modern Sporting Rifles and purpose-built tactical firearms, is honored to have been selected as a recipient of On-Target magazine's Editors' Choice Award. The award was given by the staff of On-Target for the all-new RRAGE carbine—Rock River Arms latest entry in the company's LAR-15 lineup designed to deliver exceptional performance and fresh styling in a value-priced platform.
"Editors' Choice Awards are reserved for the best of the best new products," explained editor Ben Battles, "those which demonstrate outstanding technical achievement and/or represent an extraordinary value for the money."
Built with the same attention to quality and detail as befitting the Rock River Arms brand, the 5.56/.223-chambered RRAGE stands apart for its unique upper receiver and handguard assembly. Designed to provide the clean lines and smooth feel of a monolithic upper receiver, the RRAGE delivers the looks of a high-end billet monolithic upper without the high price.
Matched to the receiver is a 6061T aluminum free-float handguard that blends almost seamlessly with the upper to provide an elegant, unitized profile and balanced strength and rigidity across the optics platform. The CAR-length handguard boasts a full-length MS1913 top rail and features the popular MLOK rail configuration for easy accessory adaptation.
Combined, the RRAGE upper receiver and handguard set a new standard in MSR design and performance to provide cost-conscious MSR enthusiasts with a high performance-to-value rifle.
RRA RRAGE Rifle Specifications:
Caliber: .223/5.56mm NATO Chamber
Upper: Extruded Aluminum A4 with Port Door/No Forward Assist
Lower: Forged RRA LAR-15
Barrel: 16" Lightweight Chrome Moly, 1:9 Twist
Gas System: CAR length with Low-Profile Gas Block
Muzzle Device: A2 Flash Suppressor / 1/2-28 thread
Trigger Group: RRA Single-Stage Semi-Automatic
Buttstock: RRA Six-Position Tactical CAR
Pistol Grip: A2
Handguard: CAR-Length Free-Floated Aluminum with MS1913 Top-Rail and MLOK Compatible Side and Bottom Mounting Surfaces
Length: 36 Inches with Stock Extended
Weight: 5.7 Pounds
Camo Finish: Tac-Black™ or Alpine™ by Veil™ Camo (available)
Includes: One 30rd RRA Poly Magazine and Manual
Starting MSRP: $760.00
---
About Rock River Arms, Inc.
For more information on the complete line of production AR15 style rifles and accessories, contact: Rock River Arms, 1042 Cleveland Rd, Colona, IL 61241 Phone: (309) 792.5780 Fax: (309) 792.5781 www.rockriverarms.com