PSSST, don't tell ATF but we are giving away a "grenade" launcher to a complete stranger. Who loves you? AmmoLand News that's who!!
Manasquan, NJ -(Ammoland.com)- New and existing subscribers to the AmmoLand Shooting Sports daily digest emails will ALL be eligible to win a crazy Brownells BRN-601 Retro Rifle and 37mm "grenade" Launcher package from Brownells.com. LMT and AmmoLand News worth $3300.00.
The Brownells' BRN-601 AR-15 Rifle is a detailed reproduction of the first-ever AR-15 issued to the U.S. Military. While the LMT launcher is an exact duplicate of the military M203 Grenade launcher but permanently modified to shoot 37mm flares and requires no NFA paperwork or FFL transfer, it is street legal to own. One of you loyal readers should prepare to have your mind blown when you win this insane combo that is sure to scare all your neighbors off your lawn!
One lucky AmmoLand Subscriber will take this super cool Brownells BRN-601 AR-15 Rifle & LMT M203 37mm "Grenade" Launcher package home!
This fantastic rifle package giveaway includes:
Brownells BRN-601 AR-15 Rifle $1300.00
LMT M203 37mm Launcher $1600.00
M203 A2 20″ Rifle Mounting Kit With Leaf Sight Assembly $360.00
But you can't win it if you are not in it!
Check back for the winner will be announced here soon!
---
UPDATE: Winner Announced!
The winner os the Brownells BRN-601 Rifle & LMT "Grenade" Launcher was AmmoLand News reader Roy Mercer.
"I appreciate being awarded the rifle/grenade launcher combo. The last time I held a similar setup was at Ft. Ord during the summer of 1973. Of course, it was a real M203 at that time. This is my first Ar15 so I have purchased additional magazines and rounds for it. Now I have to make room for it in the safe. All my friends are a little envious. Again, thanks for the rifle combo." ~ Roy Mercer
---
Brownells BRN-601 AR-15 Rifle Specs:
The Brownells Model BRN-601 AR-15 Rifle is designed to offer AR-15 enthusiasts with a faithful reproduction of the first-ever AR-15 issued to the U.S. Military during the early 1960s, allowing them to add a classic element to their AR collection.

The Brownells Model BRN-601 AR-15 Rifle holds true to the design of the iconic Model 601 rifle, which entered military service with the U.S. Air Force and other military units in SE Asia during the early years of the 1960s. The rifle is constructed from all-new parts and features green furniture and slab-side receivers that are close to the original design envisioned by Eugene Stoner.
Chambered in 5.56 NATO
Length: 40 inches
Weight: 6lbs 11oz
Includes one 20-round magazine
The Brownells Model BRN-601 AR-15 Rifle also features a triangle-shaped charging handle, three-prong flash hider and a slick-side bolt-carrier group.
Read AmmoLand's review of the Brownells BRN-601 AR-15 Rifle here.
Lewis Machine & Tool M203 37mm Launcher Specs:
Here's a truly unique ultra-cool way to cap off that retro rifle build or give any contemporary AR-15 a truly badass upgrade – the M203 37mm Launcher from LMT! An exact replica of the 40mm grenade launchers used by the U.S. Army since 1969, LMT's M203 launches 37mm flare, smoke, or rubber ball rounds, making it completely legal for civilians to own, with NO FFL required. (The smaller caliber completely prevents the loading of military 40mm ordnance in this launcher.) Aside from adding an extra level of authenticity to a Retro Rifle, the LMT M203 37mm launcher can also be an excellent training tool for law enforcement and security personnel.

This 37mm M203 installs and operates just like its 40mm USGI big brother. Simply release the top locking lever, slide the tube forward, drop in the round, snap the tube back, and you're ready to light up the night or lay down a smoke screen. LMT's M203 attaches to either a standard M16A2 rifle barrels with a .625" front O.D. or an M4 carbine barrel with the grenade launcher cutout in front of the gas block, with a GI-type barrel nut at the rear.
Shoot 37mm flares or similar rounds ONLY
Fits AR-15 with M4 carbine OR 20″ M16A2 rifle barrel contour
7075 aluminum, mil-spec hard-anodized finish, matte black
Smooth-bore barrel WILL NOT accept military 40mm rounds
15″ OAL
12″ barrel
3 lbs. total wt.
M203 A2 20″ Rifle Mounting Kit With Leaf Sight Assembly
The ultimate accessory for your Retro Rifle AR-15 is an authentic M203 37mm launcher – but you also need the correct, period-accurate mount to complete the package. The LMT M203 37mm Launcher Mounting Kit gets the job done. More than just the necessary utilitarian hardware for attaching your launcher to your rifle, it includes the correct replacement handguard AND leaf sight, identical to those on the original military-issue M203 mounts – for the ultimate authentic look.
Everything needed to install LMT M203 launcher on AR-15
Authentic USGI-type leaf sight included
Aluminum, steel & polymer construction
Separate models for carbine & rifle barrels, see below…
The M203 mounting kit includes the correct-style polymer replacement handguard with the GI-type aluminum heat shield inside. These mounts fit AR-15s with a the standard mil-spec barrel nut. Carbine mount lets you install your M203 launcher on an AR-15 with an M4 carbine barrel that has a circular front cap and the .625″ O.D. cutout just ahead of the gas block. Rifle model fits a 20″ M16A1 / M16A2 / M16A3 rifle barrel with a triangle front cap and a .625″ O.D. at the attachment point.
---
Giveway Rules & Conditions
The giveaway entry dates run from February 15th, 2019 to April 1st, 2019 with the winner drawn on April 2nd, 2019.
Everyone who signs up, or is an existing active subscriber, to the AmmoLand Shooting Sports News daily & monthly emails are eligible to win. TIP: make sure you are opening and reading them daily.
Eligible Winners, must be 18 years of age, a legal resident of the United States and be lawfully eligible under local, state and federal rules to accept the transfer of firearms through a licensed Federal Firearms Licensee. NOTE: Residents DC, CT, NJ, IL, MD, and NY may not be eligible to win. Take your complaints up with your local anti-gun lawmakers.
FFL Transfer Fees and Taxes are not included and are the winner's responsibility.
No monetary compensation or substitution for ineligible winners. You are just out of luck.
Do you get our daily email? Then you are already entered. Do you need to sign up? Then you can do so at the link/box above: Sign up for AmmoLand in your Inbox!
About Brownells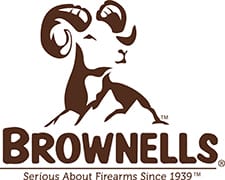 Serious About Firearms Since 1939, Brownells is the world's leading source for guns, gun parts and accessories, ammunition, gunsmithing tools and survival gear. With a large selection of both common and hard-to-find items, and an extensive collection of videos, articles, and gun schematics, Brownells is the expert for everything shooting-related. Committed to maintaining our great traditions, Brownells has more, does more and knows more – and guarantees it all, Forever. For more information or to place an order, call 800-741-0015 or visit Brownells.com. Stay up-to-date with Brownells on YouTube, Facebook, Twitter, and Instagram.
About Lewis Machine & Tool:
Lewis Machine & Tool Company is an ISO 9001:2008 certified company and GSA supplier since 2005. The company was founded in 1980 in Milan, Illinois, with the mission of designing and producing the highest quality products for military and government agencies. Lewis Machine & Tool Company, known for its Monolithic Rail Platform, provides customers with the highest standards in design, engineering and quality assurance in everything they manufacture from custom firearms to accessories. For more information contact Lewis Machine & Tool Company at www.lmtdefense.com
About AmmoLand Shooting Sports News:
Ammoland.com is the web's leading Shooting Sports News Service for the Ammunition, Firearms, Shooting, Hunting and Conservation communities. AmmoLand has a FREE Shooting Sports News Service that is seen by 10,000's of Ammunition, Shooting and Pro Firearms enthusiast every day. Visit them at www.AmmoLand.com
Don't delay! Be sure and Sign Up before we pick a winner.