Is the Sig Sauer SP2022 Nitron Carry Pistol an overlooked gem of a handgun? Let us find out.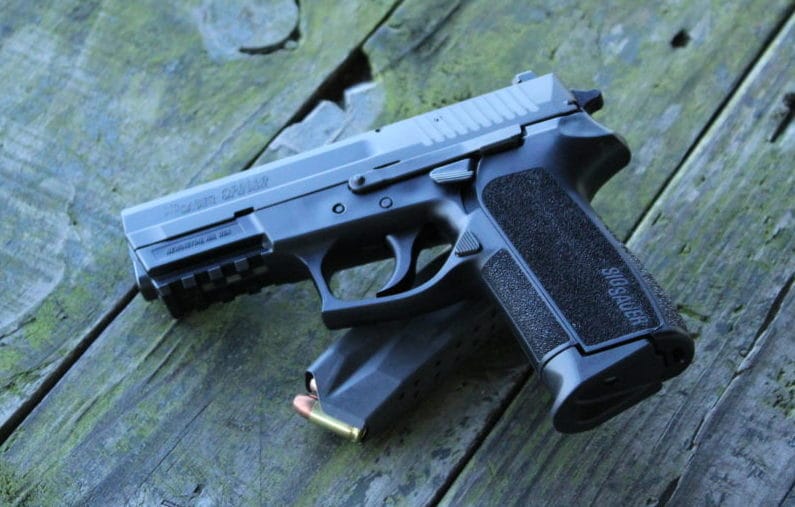 U.S.A. – Sig Sauer thundered into the polymer pistol market when they introduced the P320 to market a few years ago. It has taken the civilian market and the US military by storm. They followed up this striker-fired duty pistol offering with a pocket-sized P365, which hit the shelves last year. Both models have been very successful, but Sig isn't this late to the polymer pistol game.
Their first plastic fantastic debuted back in 1999, and it is still to be had, it current iteration is the Sig Sauer SP2022 Nitron Carry Pistol, otherwise known as the Sig Pro.
Like its more famous predecessors, like the P226, the SIG 2022 is a double-action hammer-fired pistol, and the general operation is identical, but the platform is wedded to a lightweight polymer frame. This unusual amalgamation of old and new found initial success but has since been forgotten by most shooters.
I have always liked this quiet player, along with its newer generations that all follow the same basic operation as the CZ P07. Not mainstream, but cool. I had it in my head that my first polymer duty-sized pistol would be one or the other. The latte-drinking, plaid shirt-wearing hipster in me wanted the CZ, but I went home with the Sig instead. After a few months of use and six hundred rounds downrange, I am here to give what few impressions I can.
A Brief History of the SIG PRO
The SIG SP2022 started out life as the P2340 in 1999. At the time, Glock's polymer-framed striker-fired pistols were cutting into Sig's share in the military and law enforcement world. Polymer guns were still tough but lighter-weight and cheaper to produce. Sig's answer was a 40 caliber pistol targeting law enforcement, using a polymer frame while retaining the aforementioned familiar operation of their older, trusted platforms. This was a conservative design but one that landed in time, as the French were looking for a new police pistol. The SIG Sauer 2022 won the contract in the year 2002, the largest pistol contract since the end of World War II. Four hundred thousand units were ordered with an expected service life of twenty years and replacement, hence the name 2022. Some military and law enforcement adoptions followed, but since then, the SIG Pro 2022 has played a very underrated role, not just in Sig's lineup but in the rise of budget-oriented fighting pistols.
Overview
The Sig Sauer SP2022 Nitron Carry Pistol is a full-sized handgun available in either 9mm Luger or 40 S&W. Oddly enough, it is one of the few handguns developed from the ground up for the 40, whereas most 40 caliber handguns are 9mm designs made to take the larger 40 round. The gun is hammer fired and is a traditional double-action/single-action design. With the hammer down, the gun may be fired by a long pull of the trigger or with a light trigger pull with the hammer cocked rearward.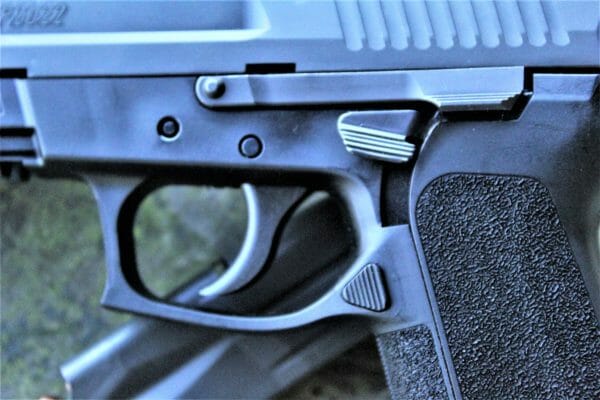 To round things out, a relatively small lanyard loop behind the magazine well is an ancient holdover that military pistols simply must have. More appealing is the universal rail forward of the trigger guard for all the light or laser accessories you could want.
Details of my SIG PRO Handgun
Barrel length: 3.9 inches
Loaded weight: 2 lbs. 2 ounces
Slide: Stainless steel, Nitron treated
Trigger Pull: 9.2 lbs. double action, 4 lbs. single action
Sights: rear notch, front blade in a three white-dot setup
Capacity: 15 rounds in 9mm Luger
Accessories: two magazines, manual, hard-sided case, and a cable lock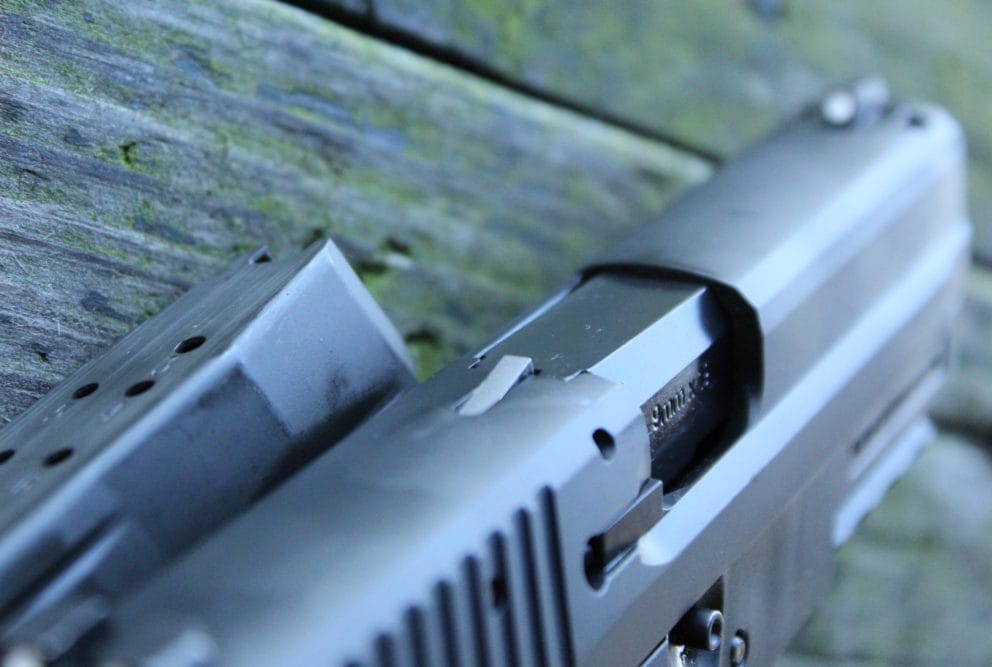 Range Time with the Sig Sauer SP2022 Nitron Carry Pistol
Over several sessions, I fired about six hundred rounds through my pistol with a single cleaning in between. I did my best to include a variety of brands and bullet weights to ensure function. This included:
Aguila 115 grain and 124 grain FMJs
Remington UMC 115 grain FMJs
Browning 147 grain FMJs
Winchester White Box 115 grain and 124 grain NATO FMJs
Remington HTP 115 grain JHPs
Sig Sauer Elite Performance 124 grain JHPs
Sig Sauer SP2022 Nitron Carry Pistol First Impressions
Out of the factory grease, I started shooting. I loaded my two fifteen-shot magazines with the Winchester fodder. The double-stack magazines are stamped steel construction with a polymer base plate that adds some grip space. However, the magazines can be hard to load if you are working with finger power–which I was. Thumbing in the first ten rounds is easy, but the spring gets prohibitively tight the further you go. This isn't always the case with other autoloaders, but a good magazine speed loader is a worthwhile investment here.
Handloading those magazines were a pain, but shooting the SIG 2022 was a no-frills affair–at least in the end. I started out by putting my eight-inch AR500 steel plate and proceeded to plink away at it from ten yards away. I shot from the holster in the safest carry mode, hammer down, relying on the long double-action trigger pull to carry through the first shot, followed by two more shots with the hammer recocked by the slide and a lighter, shorter single-action pull to boot. My first shot hit the gong dead center, but the next two rounds hit off to the right of the plate. I swept across the pistol with my right thumb and hit the decocker. The decocking leverdoes as it is named, safely lowering the hammer automatically with a quick swipe; there was no need to change the grip
After a few more strings of fire, I realized I had too much finger on the trigger.
Here I have to disclaim–or give excuses. I am a revolver shooter and used to pulling triggers with the first joint of my index finger. Having that much finger on the trigger is great for long and heavy trigger pulls, but not so great for the light-and-short of the matter. This makes for a pistol that moves around in the hand and errant rounds sent down range. After getting another grip on the pistol, I found that the first pad of my finger rested on the trigger and I should simply try shooting that way. Sure enough, the transition between double action and single action was minimized and it was nearly impossible to miss. After a few magazines worth, I decided to back up to twenty-five yards where my hits on still were still predictably easy.
Accuracy and Handling
The 2022, in my case the Sig Sauer SP2022 Nitron Carry Pistol, is an easy gun to shoot. Even with the polymer frame, it isn't a lightweight pistol, nor is it abbreviated with a pocket gun's short grip and controls. With this service-sized handgun, you can expect more than acceptable accuracy for the task. The trigger isn't particularly crisp, with some noticeable take-up when firing in single action. The sights are a high-profile three-dot arrangement that is easy to pick up on target quickly but less conducive to punching paper. Even so, I could reliably put ten rounds into a 1.5-inch hole at ten yards without much difficulty. The sights seem naturally graduated to shoot 115-grain and 124-grain ammunition, with the heavier 147-grain subsonic loads hitting a few inches high. A group taken with light-for-caliber 100-grain Hornady Critical Defense Lite loads hit two inches lower than the point of aim. For the purpose of self-defense, the differences are worth noting but mostly academic. In terms of recoil, there were some differences. The smart checkering appointments kept a firm grip, and the rather overweight-looking slide soaked up most of the muzzle flip. You can expect some snappiness when using +P or NATO spec ammunition, but standard pressure defense and target loads were easy to get through without any rawness in the hand. The lighter offerings fared even better.  The Hornady Lite offering is consistent and virtually absent of recoil in a gun like this.
Reliability
As always, I strive to go beyond a "first shots" impression yet not stack up my ammo bills doing "torture" tests. A gun is a mechanical object, and you can expect it to fail at a certain point, but in my limited testing, the Sig Sauer SP2022 Nitron Carry Pistol has been flawless. There was never a failure to cycle or fire, but I did have a few occasions where the slide failed to lock to the rear after going through a magazine.
I noticed that my thumb was depressing the slide stop above the decocker. The 2022's slide stop is prominent and elongated compared to the 220 series, and it would be easy for someone with meaty hands (like mine) to keep the slide from locking back. This had no effect on the actual function of the pistol, however.
SIG Pro SP2022 Disassembly & Maintenance
Taking the Suers 2022 Pro handgun down for cleaning is a little more involved than some new guns on the market. Rather than working with a pivoting takedown lever like on the 220-series and other modern pistols, the slide stop acts as the takedown feature, much like a 1911 pistol. Jack the slide back until the pivoting end of the slide stop lines up with a square notch. Use your free hand to push the slide stop out from the other side of the pistol. With the slide stop removed, you can take off the slide. The challenge really comes when taking out the barrel and recoil spring.
The 2022 has a typical Browning-style locked breech mechanism where the barrel interfaces with the slide. The recoil spring and polymer guide rod are held tight under the barrel. I found that depressing the barrel from the top of the slide helped take the guts out of the pistol.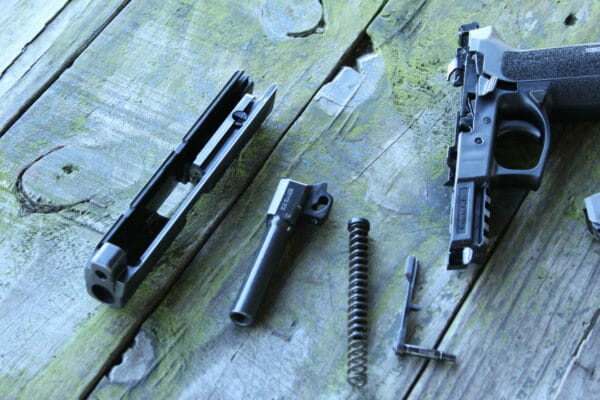 Final Thoughts
The gun industry is one of the few still remaining in which you get what you pay for. That doesn't mean that great deals don't exist, but sometimes getting a less expensive gun means trading something else. In terms of pricing with other polymer-framed handguns, the SP2022 is second-tier. It runs below the usual Sig 320s, Glocks, and Smith & Wesson M&Ps. Yet, my shooting experience with 2022 was far more enjoyable than those other options. This odd duck really is a first-tier pistol masquerading at second-tier pricing. In other words, the 2022 is a good deal with a proven, if somewhat obscure, a track record that only Glock could really match.
There isn't much pride in ownership if you have money to burn on a 220 series handgun, but as I got to know the 2022, I began to see it as an everyman's pistol. Many new gun owners are looking for a pistol that balances safety with affordability. Even without a manual safety, it takes conscious effort to fire the 2022. The hammer is a visible indicator of whether the gun is ready to fire and can be perceived as safe when it is down. It takes a long pull of the trigger to fire the pistol, and whenever you want to quit shooting, the gun is made safe again by dropping the decocker lever. You won't be left with a cocked handgun and no way to make it safe. This, along with the addition of a loaded chamber indicator, might seem insulting to experienced shooters, but for new owners, it is an additional feature that might prevent accidents. But even to those of us who shoot a lot, what is wrong with a well-built Sig pistol below the Sig price tag?
The 2022 is visibly and mechanically safe, built to high standards, yet still priced within the reach of most of us. What is not to love?
Sig Sauer SP2022 Nitron Carry Pistol Factory Specs:
BRAND Sig Sauer
UPC 798681306701
SKU E2022-9-BSS
CALIBER 9mm Luger
ACTION Semi Auto
MAGS INCLUDED (2) 15rd Steel Mag
SIGHTS SIGLITE Night Sights
STATE COMPLIANT NO
THREADED BARREL Carry
PISTOL SIZE 7.4 in [188 mm]
OVERALL LENGTH 1.4 in [36 mm]
OVERALL WIDTH 5.7 in [145 mm]
HEIGHT 3.9 in (99 mm)
WEIGHT 29 oz [822 g]
BARREL LENGTH 5.9 in [150 mm]
ACCESSORY RAIL M1913
TRIGGER ACTION DA/SA
GRIP TYPE Standard Curved
BARREL MATERIAL Polymer
BARREL MATERIAL Carbon Steel
FRAME FINISH N/A
FRAME MATERIAL Polymer
SLIDE FINISH Nitron
SLIDE MATERIAL Stainless Steel
OPTIC READY No
---
Sig Sauer SP2022 Nitron Carry Pistol Operators Manual
---
About Terril Hebert:
Terril Hebert is a firearm writer native to south Louisiana. Under his motto—Guns, Never Politics—he tackles firearm and reloading topics both in print and on his Mark3smle YouTube channel, where he got his start. He has a soft spot for ballistics testing, pocket pistols, and French rifles. When he is not burning ammo, he is indulging his unhealthy wildlife photography obsession or working on his latest novel. Scourge of God was published in 2017."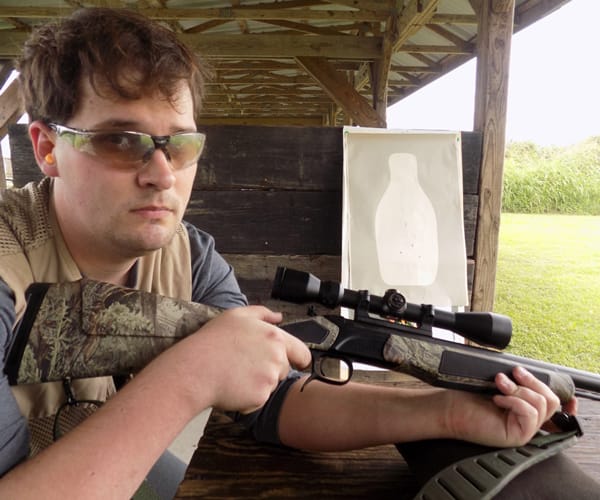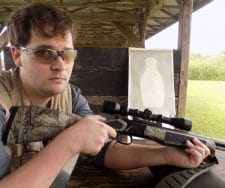 ---
Product Reviews:
The 2022 is visibly and mechanically safe, built to high standards, yet still priced within the reach of most of us. What is not to love? ~ Terril Hebert . How would you rate the Sig Sauer SP2022 Nitron Carry Pistol?
Some of the links on this page are affiliate links, meaning at no additional cost to you, Ammoland will earn a commission if you click through and make a purchase.