Opinion: Mary and Dr. Jim Clary review the Real Avid Universal Master Cleaning Station.
USA – -(AmmoLand.com)- With the dozens of gun cleaning kits on the market today, one could properly ask: Why bother testing and reviewing another one?
The answer is simple, the Real Avid kits and their stand-alone tools are unique to the market and represent the first significant advancement in cleaning accessories in quite some time.
Our introduction to Real Avid products came at the 2017 SHOT Show in Las Vegas, Nevada. At that show, we picked up their Bore Boss, a compact and very useful bore "snake" for use at the range or on your bench. Unlike other snakes, the Bore Boss came with its own storage container and could be dropped into your pocket without spreading the bore's fowling on your clothes.
And, for about ten bucks, there wasn't a better deal in bore cleaners anywhere.
As such, when we saw the new Cleaning Station at the 2019 SHOT Show, we had to try it out to determine whether Real Avid had, once again, developed a unique product, or whether the Cleaning Station was just another "generic-style" cleaning kit.
From Real Avid:
"ADVANCED CLEANING KIT, DELUXE GUN MAT, ALL IN ONE.

Upgrade your cleaning experience with the world's first Master Cleaning Station for rifles, handguns and shotguns. Designed for comprehensive cleaning of handguns and rifles (.22 – .45 caliber) as well as 20 & 12 ga. shotguns. It combines a Next-Gen cleaning mat with an intelligently designed cleaning kit filled with an extensive set of cleaning tools. It keeps easy-to-lose gun parts organized while you work. It provides a huge work area for a completely disassembled long gun, yet rolls up for compact storage in the included bag. It's called Master, because it does it all. You will call it brilliant."
Long story short, the Real Avid Universal Master Cleaning Station is a combination of some of Avids best tools and is unique and superior to anything else on the market. The attached padded cleaning mat provides a clean and non-marring surface upon which to lay your firearm, without fear that it will be damaged by some unseen item on the bench, such as a stray screw. The mat is also CLP and oil-resistant.
When you open the cover of the Cleaning Station, the brushes and jags literally "pop up" for easy access. Each tool is stored in its own compartment and organized for ready access. When your cleaning is complete, the brush/jag compartment folds down as the top of the station is closed. You never again have to rummage around for the proper brush or jag, as each is clearly labeled. The attached parts tray ensures that any screws, springs, and small parts do not get misplaced or lost. When you are done cleaning your firearm, the mat can be rolled up and the entire station stored in the included cloth bag.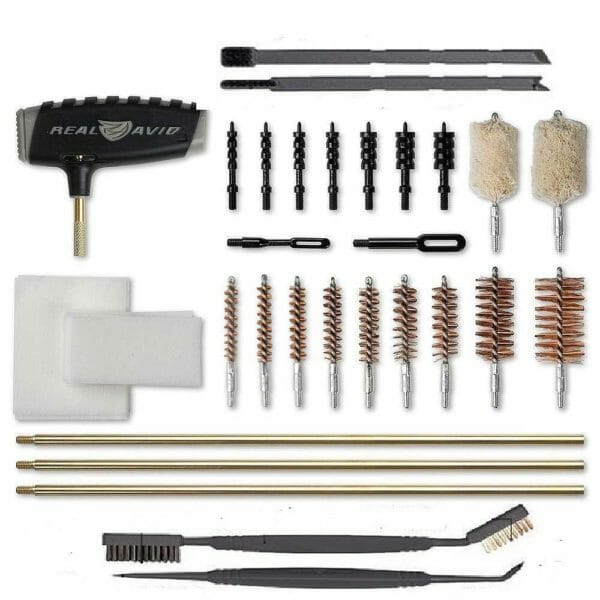 The components of the Real Avid Universal Cleaning Station are:
Padded Universal Cleaning Mat
Multi-Function T-Handle which doubles as a tool handle
Two Smart Brushes (nylon and phosphor bronze)
Accu-Grip Detailing Picks & Brushes
Three Premium 10" Brass Rods (Combine to form 32″ Rod)
Small & Large Slotted Bore Patch Tips
12 and 20 gauge Mops
12 and 20 gauge Phosphor Bronze Bore Brushes
.22 to .45 Caliber Specific Bore Patch Jags
.22 to .45 Caliber Specific Phosphor Bronze Bore Brushes
50 Cleaning Patches
The MSRP for the Real Avid Universal Cleaning Station is $49.99, not cheap, but given what you get for your money, it is a bargain. And, you can frequently find it for less online.
Author's follow-up Note: Real Avid Hands-Free Bore Light
The magnetic Real Avid hands-free bore light is an inexpensive tool that allows you to check your action, chamber, and bore while you go through the cleaning process.
For under $10, you get a light that features a strong rare earth magnet. The included batteries power a very bright LED with an eight-hour continuous run-time. It is a convenient gadget to have on your workbench.
---
About Jim and Mary Clary:
Jim and Mary Clary have co-authored over six hundred published articles (and counting) on shooting and hunting. You can read many of them on AmmoLand News.
---
Another Video look at the Real Avid Universal Master Cleaning Station: