Opinion
USA – -(AmmoLand.com)- I talk to a lot of people. Specifically, I've talked to a lot of people about the NRA. I've discussed what I know and what I believe regarding the current problems at the NRA for a long time.
Ostensibly, the NRA has subpoenaed me to produce documents and speak, under oath, about the "leak" of confidential information that they are claiming Ackerman McQueen released into the public. It is understandable that they want to know who released the documents and that they might have believed that I knew and had evidence thereof.
Today, I am confident that their legal team now knows that is not true. They have stated that they still want to see the documentation and have me speak, under oath, to those points.
Of course, there could be more to this. I am not a party to the lawsuit. I am not a witness to any breach of contract that I am aware of. I am not in any legal jeopardy that I aware of. I am not, nor have I ever been, restricted by any relevant contract or commitment from doing anything I've done in the pursuit of a better NRA for the cause of defending our gun rights. So, why is their legal team so anxious to do this?
The deposition begins in less than an hour. I'll post an update later.
Before I go into the room, let me say that the amount of explicitly suppressed support that I have gotten from American Gun Owners, concerned NRA Members, industry leaders, certain Board Members and many outspoken influencers of the Gun Community has been inspiring, humbling and Very Much appreciated.
The NRA absolutely is going to change… again. In 1977, there was a schism. In 1997, there was a schism. In 2019, we are seeing the ugly ramifications of there not being change soon enough to keep the situation from getting very bad.
In each case, there is a group that is on the right side of the history and a group that wasn't. In this case, I believe that anyone still defending the Status Quo, or still calling for patience and tolerance with the current leadership on the day that Wayne LaPierre moves on, will clearly be remembered as having been on the wrong side of history. The sooner we all get in the Right Side, the sooner we will have a stronger NRA, a stronger gun community and more time & resources to get back to defending our Second Amendment and the rights it protects.
#changethenra #savethesecond
-RJP
---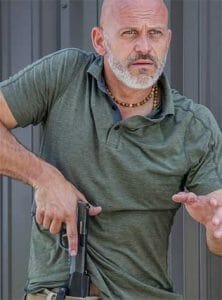 About Rob Pincus
Rob Pincus has been educating people about defensive shooting and related personal defense topics for over two decades. He is the Executive Director of Personal Defense Network and the owner of I.C.E. Training Company. He has authored several books, produced over 100 training DVDs, appeared on several TV & Radio shows and trained military, law enforcement and armed individuals around the world. His advice focuses on efficiency and practicality based on his own experiences and continuing research of both real-world events and cutting edge training practices. www.icetraining.us