Reno, Nevada – –AmmoLand.com)- A new training company in the Northern Nevada area has been formed called Crucible Consulting LLC. Crucible Consulting is a full-service consulting and training firm focused on providing experience-based solutions.
Founded by Daniel Bales, James Davis and Timothy Braginton; Crucible Consulting is dedicated to developing quality-training solutions that meet the individualized needs of their clientele.
All three founders are full time law enforcement officers at a large metropolitan agency in Northern Nevada. With over 25 years of combined Law Enforcement experience, the staff has worked, and is actively working, in many aspects of law enforcement.
Crucible Consulting will rely upon the vast and varied experience of its founders to provide clients with unified, dedicated, and proven training solutions.
Crucible Consulting's experience with both the development and practical application of customized training solutions uniquely positions them to provide their clients with consultation services.  Crucible Consulting is able to evaluate and offer solutions for existing training, equipment and policy.
---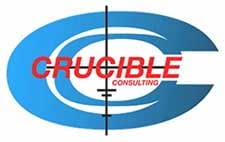 Crucible Consulting is currently engaged in corporate contract work and private lessons.
Look for more information regarding open enrollment courses offered by Crucible Consulting in the coming months.  In the meantime please visit their website  at: www.crucibleconsulting.us or reach out via email: