U.S.A. –-(Ammoland.com)- Firearms Policy Coalition (FPC) announced the filing of an important legal brief in the Ninth Circuit Court of Appeals regarding the State of California's ban on so-called "large-capacity" magazines that hold more than ten rounds of ammunition. The brief is available online at FPCLegal.org.
FPC's coalition brief was joined by nine individual gun owners, all plaintiffs in another federal magazine lawsuit, and eight Second Amendment advocacy organizations, including Second Amendment Foundation and Armed Equality—a pro-right to keep and bear arms group that emphasizes armed and responsible self-defense for its LGBTQ+ members, who are especially vulnerable to attacks involving multiple assailants. The brief argues that so-called "large-capacity" magazines are inherent components of functional firearms; that they are constitutionally protected because they are "in common use" for lawful purposes; and that because they are constitutionally protected, they cannot be banned.
"This case presents the type of Second Amendment challenge the Supreme Court has ruled on more than any other: a challenge to a prohibition on particular arms. And the Court's precedent is clear: if the arms are commonly owned by law-abiding citizens, they cannot be prohibited," said FPC Director of Research and brief lead author, Joseph Greenlee. "Evidence presented in this case shows that over 100 million magazines of the type that the State of California bans are owned in America. It is therefore indisputable that the magazines are common, and as such, their prohibition violates the Second Amendment."

"Magazines are inherent, operating parts of all semi-automatic firearms, and it is indisputable that the so-called 'large-capacity magazines' at issue in this case are in common use for lawful purposes and protected by the Constitution," explained George M. Lee of Seiler Epstein LLP, co-counsel on the brief and lead counsel in a similar magazine challenge in the Eastern District of California Federal District Court. "This brief shows why the court must affirm the decision below and restore the true command of Heller, which holds that these arms cannot be banned."
Attorney Lee also recently filed a federal constitutional challenge to California's ban on so-called "assault weapons" based on the district court's ruling in Duncan (striking down the California magazine ban) and the State's definitions of banned "assault weapons" (some of which are based on a firearm's characteristics, including the use of a so-called "large-capacity" magazine in an otherwise legally-configured firearm). That case, captioned Miller v. Becerra, was assigned to Southern District of California Federal District Court Judge Roger T. Benitez, who struck down the State's magazine ban in Duncan. The parties expect further filings in that case in the coming weeks.
---
About Firearms Policy Coalition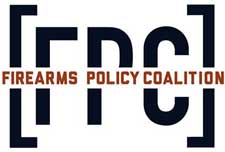 Firearms Policy Coalition (www.firearmspolicy.org) is a 501(c)4 grassroots nonprofit organization. FPC's mission is to protect and defend the Constitution of the United States—especially the fundamental, individual Second Amendment right to keep and bear arms—advance individual liberty, and restore freedom.