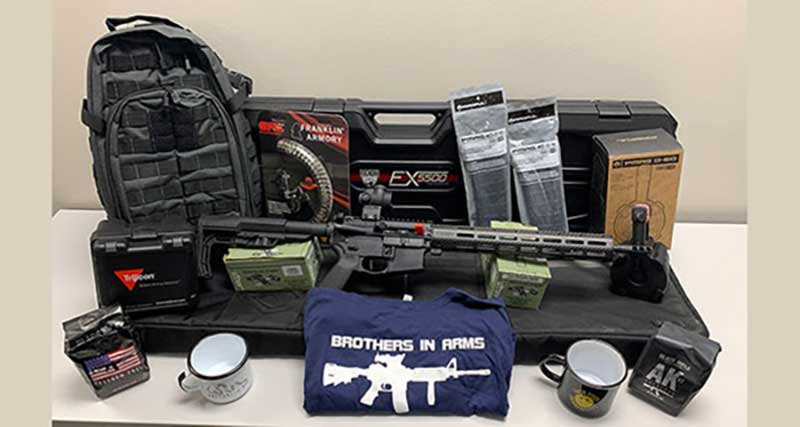 Ohio – -(AmmoLand.com)- At a recent debate, Democratic presidential candidate Beto O'Rourke responded to a question about gun control by saying, "Hell, yes, we're going to take your AR-15."
Gun rights advocates have known for decades that bans and confiscation is the ultimate goal of gun control efforts. However, it has only been recently that it has been discussed publicly in such clear and honest terms.
"I'd like to say that the cat is out of the bag," said Dean Rieck, Executive Director of Buckeye Firearms Association. "But we've known all along where all gun control efforts lead.

"Gun control advocates in the U.S. look to other countries where firearms have been heavily regulated, and in many cases banned. They want the same here in America despite the fact that we have a unique, enumerated right set down in the Constitution meant to defend the personal right to keep and bear arms."
Buckeye Firearms Association intends to raffle off an AR-15 in response to Beto's provocative statement.
The raffle will go live at www.BuckeyeFirearms.org on Monday, Oct. 14 at 6 a.m., the day before candidates descend on Westerville, OH for the CNN / New York Times Democratic presidential debate.
The rifle is manufactured by Faxon Firearms in Cincinnati, OH, and will go through Black Wing Shooting Center in Delaware, OH, a federally-licenced firearms dealer.
"The raffle is a political statement," said Rieck. "And it's a little tongue in cheek too. We're including things in the raffle that we know will irritate gun control advocates, but which are perfectly legal. Things like a modern sporting rifle, the most popular rifle in America with well over 8 million owned by law-abiding men and women.

"We're also including a binary trigger and so-called hi-cap magazines, also perfectly ordinary and legal. It's just our way of saying 'Hell no' to Beto and others who don't respect our Second Amendment rights."
Buckeye Firearms Association recently won lawsuits against the cities of Columbus, OH and Cincinnati, OH over trigger enhancers and have participated in successful legal cases that have gone to the Ohio Supreme Court and the U.S. Supreme Court.
They are also credited with bringing legal concealed carry to Ohio as well as helping to introduce Castle Doctrine, establish statewide preemption of home rule on gun regulation, and much more. They work closely with the NRA and with many Ohio sportsman organizations and the Ohio Department of Natural Resources on issues such as public range upgrades and hunting issues.
"Don't believe the talking points of gun control advocates when they say we're just a handful of gun nuts," Rieck said. "Ohio has around 4 million gun owners. That's nearly half the adult population in the state. We're mainstream. We're ordinary people. And for those who legally carry a firearm, we're statistically the most law-abiding group you'll ever meet.

"We'll comply with the law. But we won't lay down and let ambitious politicians use us as a punching bag every time they want to score a headline and advance their career. We number in the millions. We defend our rights. And we vote."
---
Buckeye Firearms Association
Buckeye Firearms Association is a grassroots organization dedicated to defending and advancing the right of citizens to own and use firearms for all legal activities, including self-defense, hunting, competition, and recreation. Read more. www.buckeyefirearms.org