U.S.A. –-(Ammoland.com)- Tyrant Designs CNC is proud to announce our newest compensator, the Uni-Comp. The Uni-Comp is the first of its kind universal 9mm compensator. This compensator is designed to fit nearly any pistol with a ½ x 28 threaded barrel. Utilizing a threaded body and stem, the Tyrant Designs Universal Fit Compensator allows the operator to place the compensator as close to the slide as possible. This unique design allows the Uni-Comp to be used on pistols designed for both competition and concealed carry. Since the Uni-Comp is designed to serve in such vital roles, it functions with most grains of 9mm ammunition. It's also designed to be compact to aid in concealment. Best of all it installs in seconds and requires no timing, no shims, no loctite and no set screws!
The dual-chamber design ensures that gas is redirected to aid in the natural reduction of muzzle rise. The lower the muzzle rise, the quicker you'll get back on target for follow up shots.
When the Firearm Blog reviewed our original Glock compensator, they remarked that the T-Comp's performance was "Stellar." and that the Tyrant Designs CNC compensator was, "easy to install, had minimal parts, locked up tight, did not inhibit accuracy, and did a terrific job mitigating recoil." That is one sentiment from hundreds of reviews that have universally proclaimed our compensators to be effective, well designed, easy to install, and even good looking.
The Uni-Comp officially premiered September 30th, 2019, and will retail for a very affordable $79.95. The Tyrant Designs CNC Universal 9mm Comp will be available in a few different finish options, including black/black, black/nickel, and black/gold.
Their product description reads as below:
The Tyrant Designs CNC Universal fit 9mm Compensator, known as the Uni-Comp, has been designed to fit any ½-28 threaded 9mm barrel! Whether you own a Smith and Wesson, Glock, Sig Sauer, CZ, Walther, or ANY other 9mm firearm!
The Uni-Comp dramatically reduces muzzle rise and sensed recoil, allowing much quicker target re-acquisition. Compatible with ½-28 threaded barrels our compensator requires no modification to your 9mm firearm. The Uni-Comp works on almost any grain ammunition, and maintains a very small profile to help aid against printing for concealed carriers.
The real enginuity is in how the Uni-Comp is installed. Utilizing a two piece design our universal fit comp installs securely in seconds WITHOUT the need for set screws or any other faulty attachment methods. Working on a concept focused on uncompromised innovation allowed considerable engineering freedom in developing significant solutions. Once attached, the Tyrant Universal Compensator will not come loose while operating your firearm, or while holstering/unholstering it. Whether you are a range day goer or competitive shooter we are confident our Glock compensator not only outperforms the competition but sets a new standard for compensator innovation.
Works on standard ½-28 threaded barrels
Works with brands such as Glock, S&W, Sig Sauer, CZ, Walther, Heckler & Koch, FN Herstal, Kimber, and so many more!
To see more head to www.tyrantcnc.com
---
About Tyrant Designs CNC: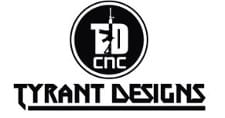 Tyrant Designs CNC has 30 years of machining experience in Defense, Aerospace, and Medical fields. After three decades of perfecting our methods, we decided to branch out to gun accessories. Our mission statement is simple; To design and manufacture only the highest of quality rifle accessories . Why? Because your rifle deserves a better quality accessory, and so do you.
For more information, visit: https://www.tyrantcnc.com/