Brooksville, Florida – -(AmmoLand.com)- New has become a familiar word at Adams Arms this year. Under new ownership since May, the company has made many changes, including new leadership, new products, and now a new facility, as well as, a new logo.
To build upon their growth and new development, Adams Arms has purchased a new building in Brooksville, Florida and is currently in the process of relocating all equipment and inventory from their previous leased facility in Odessa.
The move was initiated on November 1st and is expected to take approximately 2 weeks to complete. Customers with active orders could experience slight delays during this time.
"We took a comprehensive look at our products and operations and chose a new location that better fit our long-term needs," said Jason East, Adams Arms' President. "We are excited about this move and new opportunities. This move will better serve the needs of Adams Arms and will in turn allow Adams Arms to better serve its customer base. We continue to be committed to building products that run cleaner, cooler, and more reliable using our piston system."
In keeping with all of the recent changes and improvements, Adams Arms has released an updated company logo and branding which will begin to roll out on products in the coming weeks.
The updated branding builds on the heritage of the Adams Arms name with an eye to future innovations.
For more information about Adams Arms, the P-Series lineup, or other inquiries, email [email protected] or visit www.AdamsArms.net. For further updates, make sure to like/follow Adams Arms on Facebook, Instagram, YouTube, and Twitter.
---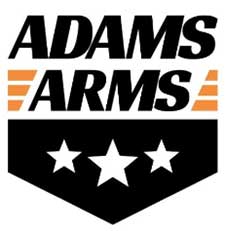 About Adams Arms
The Adams Arms team is committed to providing innovative firearms solutions to its customers, starting with the industry's first and only patented retrofit kit for the AR-15 Platform that makes the platform cleaner, cooler and more reliable. We will continue to develop products that improve performance, minimize maintenance and provide increased customer value.
Adams Arms utilizes their patented piston system in complete rifles, uppers, and retrofit kits. The company offers Modern Sporting Rifles and uppers in a range of calibers for hunting, competition, and self-defense. Additional product offerings include performance driven Glock slide assemblies, and 9mm pistol caliber carbines. www.adamsarms.net.