The Clarys review the Meopta Optika6 3-18×50 Riflescope, model SFP.
USA – -(AmmoLand.com)- We have to admit that when we were informed Meopta was bringing out a new line of riflescopes with a 6x magnification range – the Optika6 – at a lower price point than many MeoPro scopes but with the same high quality, we were skeptical. And…we were wrong!
When the new Meopta Optika6 3-18×50 Riflescope arrived, it was immediately apparent that this was not an "economy" scope designed to simply garner a larger market share. This is a very high-quality scope for serious hunters and shooters who are budget conscious.
The proprietary anti-reflective coatings on the Optika6 optics are the best in the industry. They feature proprietary ion-assisted lens coatings. This coating eliminates glare and reflections and delivers incredibly bright (99.7% light transmission per lens surface) and sharp images across the field of view. There is no color fringing on the peripheries of the lenses. And if that wasn't enough, Meopta applies an abrasion/scratch-resistant coating to the external lens surfaces. Anyone who uses a scoped rifle can attest to how important that is.
We selected the Illuminated 4C reticle for our test scope. In our opinion, it should be very effective on our deer and hog hunts in south Texas.
4C/1
Illustration courtesy of Meopta USA Sport Optics
As with all Meopta riflescopes, the Meopta Optika6 3-18×50 Riflescope line is available with numerous reticles. The following are the reticle options for the 3-18×50 SFP series:
3-18×50 Non-Illuminated SFP: Z-Plex / BDC / .223 / 6.5 CM
3-18×50 Dichro SFP: 4D / BDC / 6.5CM
3-18×50 Illuminated SFP: 4C/1 / .223 RD / Z-Plus RD
(Illustrations of the above reticles may be found on the Meopta website)
The ELOX anodized hard coating on the 30 mm main tube is virtually impervious to scratching or marring. Note: we said 30 mm diameter, not 1-inch. When you purchase this scope don't go cheap and fall for a pair of knock-offs rings from Walmart. Good 30 mm rings will run between $20 and $50, depending on the style and manufacturer. They are worth the investment.
Magnification can be adjusted via the sleeve or with the optional quick-zoom lever (included with scope) which can be installed in one of four different positions. The level of magnification is clearly marked on the rear side of the zoom ring. As such, you can "read" the magnification setting quickly at any time.
Meopta Optika6 Riflescope Magnification & Zoom Control
Parallax focus adjustment is on the left side, along the same axis as the illumination knob, from 10 yards to infinity. The illumination control has six settings for the "size" (brightness) of the "red dot". We prefer the maximum setting, not just on this scope but on all of our scopes with illuminated reticles. It is easier to see and get on target when we turn the "light" on.
The windage/elevation turrets provide a tactile "feedback" when you adjust them. Yes, you can actually feel the adjustments. No more straining to hear the clicks or wondering if you got it right. OK, you expect that level of performance in quality riflescopes, so What Else?
Windage and Elevation Controls
The What Else is the "measurement" value of the Optika6 click adjustments…. this is a TRUE MOA/Mils scope, where MOA at 100 yards is 1.047 inches and Mil is equal to 0.36 inches at 100 yards. This translates to more accurate calculations for long-distance shooting when compared to "cheaper" scopes whose MOA adjustments are 1.00 inches at 100 yards (often called Shooter's MOA because it is a rounded estimate of the true value). If you expect accurate results in long-range shooting, it is essential that you have a TRUE MOA/Mil scope, NOT a SMOA scope.
We ordered our Optika6 with a Second Focal Plane. A lot of folks have asked us; "What is the difference between First (front) Focal Plane and Second (rear) Focal Plane in scopes".
The following is a brief description of the differences by Bryce Towsley (American Hunter Magazine, 2017):
"In First Focal Plane scopes, the reticle is placed in front of the magnifying lens. Thus, as you change the magnification, the reticle increases in size along with the image. If you are using Mil hash marks, you can estimate the amount of holdover accurately at any distance. The FP is preferred by long distance competition and tactical shooters for distances beyond 600 yards. The disadvantage for hunters is that (depending on your reticle)… the size of the reticle at higher magnifications may obscure the target and make it difficult to aim properly.

In Second Focal Plane scopes, the reticle is behind the magnifying lens. Thus, as you change magnification, the reticle remains the same size, even as the image enlarges. If you are using Mil hash marks in this type of scope, the hash marks are only accurate for one magnification, usually the highest one. However, for most hunters, especially in heavy cover or modest ranges (under 300 yards), the SFP provides a larger field of view and clearer reticle at lower magnifications."
Given the above, one can readily see that there is no single absolute answer. Each shooter must decide for themselves which Focal Plane is best for their applications. For us, we utilize a First/Front Focal Plane in scopes on our F-Class rifles (600 – 1,000-yard distances) and Second/Rear Focal Planes in scopes on our hunting rifles (50 – 300 yards distances). This has worked out well for us over the years and never given us a problem. However, each of you will have to weigh all the factors and choose that which is best for you.
The specifications for the Meopta Optika6 3-18×50 Riflescope SFP are:
Magnification 3-18
Objective Lens 50 mm
Main Tube Size (one piece) 30 mm
Exit Pupil Diameter 9.5 – 2.8 mm
Eye Relief (mm / m) 100 // 3.94
Field of View

(m /100 m) 11.2 / 1.9
(ft / 100 yds) 33.6 / 5.7

Zoom Ring with a multi-position throw lever
Focal Plane Position Second (2nd or Rear)
Dioptric Compensation -2 / 2D
Daylight Transmission 91%
Twilight Transmission 88%
Twilight Factor 12.2 – 30
Impact per Click

(cm / 100 m) 0.7
(in / 100 yds 0.26

Windage Adjustment Range 90 MOA
Elevation Adjustment Range 90 MOA
Parallax Correction 10 yd – infinity
Length (mm / in) 371 / 14.61
Weight (g / oz) 849 / 30
2019 MSRP $749.95*
*The "street price" of this scope is around $599.95, a real bargain. If you are in the market for a new scope or a gift for a friend, you should check out this Optika6. We doubt that you will find any other scope in this price range that can match the quality and features.
---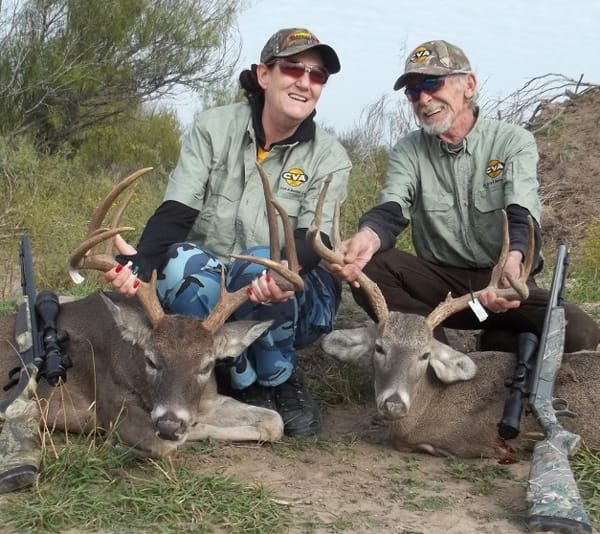 About Jim and Mary Clary:
Jim and Mary Clary have co-authored over six hundred published articles (and counting) on shooting and hunting. You can read many of them on AmmoLand News.
Some of the links on this page are affiliate links, meaning at no additional cost to you, Ammoland will earn a commission if you click through and make a purchase.