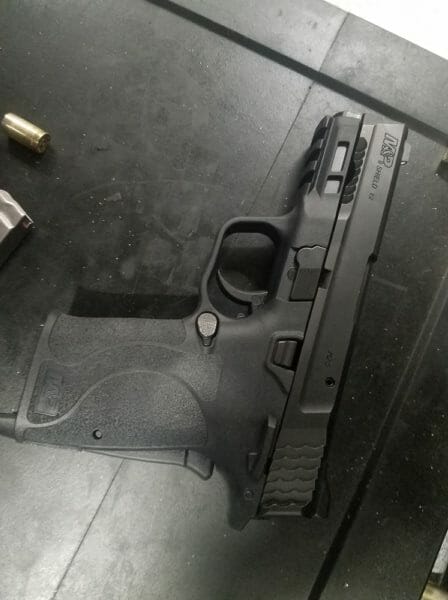 U.S.A. –-(Ammoland.com)- Smith and Wesson has announced an all new member to the Shield EZ lineup, now available in 9mm.  Much like with it's predecessor the .380 EZ, the Shield 9 EZ is available in two versions, one with thumb safety and one without.  Let's cover the technical specs and then I'll dial you in with my hands-on time at the Smith and Wesson factory, to include a range report.
Construction specs:
Model:M&P®9 SHIELD™ EZ®
Optional thumb safety
Frame Size: Compact Slim
Caliber: 9mm
Action: Internal Hammer Fired
Capacity: 8+1 Rounds
Barrel Length: 3.675″ (9.3 cm)
Front Sight: White Dot
Rear Sight: White Dot, Adjustable for Windage
Frame Width: 1.04" (2.6 cm)
Overall Height: 5.05" (12.8 cm)
Overall Length: 6.85" (17.4 cm)
Sight Radius: 5.875" (14.9 cm)
Weight: 23-23.2 ounces (depending on optional thumb safety)
Barrel Material: Stainless Steel with Armornite® Finish
Slide Material: Stainless Steel with Armornite® Finish
Frame Material: Polymer
Features:
Easy to Rack Slide
Crisp, Light Trigger with Tactile and Audible Reset
Includes 2 Easy-To-Load Magazines
Grip Safety
Disassembles without Pulling Trigger
Grip Texture Optimized to Size and Recoil
Tactile Loaded Chamber Indicator (TLCI)
Picatinny-Style Rail
Reversible Magazine Release
Optimal 18º Grip Angle for Natural Point of Aim
Backed by Smith & Wesson's Lifetime Service Policy
In early December, Smith and Wesson invited around 10 people from the firearms industry out to Springfield, Massachusetts for a secretive event.  Members of the firearms press, firearms instructors and a couple of social media influencers were gathered, but for what, we didn't know.  Not only were non-disclosure agreements signed, we still weren't told what was being released until we got here.  Now, after Smith and Wesson have had time to not only perfect the design but also make sure logistics were set up for a fully supported product launch, we're able to spill the beans.  S&W has been pumping out Shield 9 EZ's for a little while now, to make sure there are as few impediments to buyers having quick access to them as possible.  Unlike with a couple other pistol releases lately…
For those uninitiated with the flagship .380 EZ, the intent is to make the gun as easy as possible to operate in all facets of function.  This is meant to be easy to load, easy to rack and easy to shoot.  Most shooters in my circle know one or two potential gun owners who like to shoot, but need to have the mags loaded and the slide racked before they're confident enough to take over.  I think almost all of us know someone who could use one of these!  Build confidence with a gun that's easy to run or arm someone who has had their hand strength weakened through age of injury.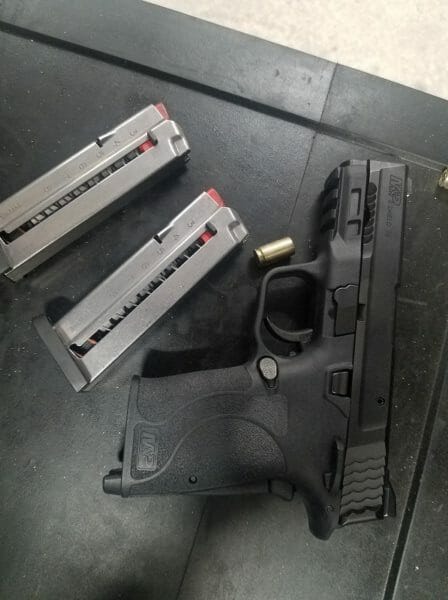 After an extensive factory tour, S&W reps took us to a nearby range where we had a couple cases of ammo standing by to test the Shield 9 EZ (as well as other, as yet unannounced guns).  I ran a couple hundred rounds through the 9 EZ and was able to get a good feel for it.  Yeah, the gun is a bit snappy.  That's really expected out of a small handgun in 9mm, and there's not a lot of engineering tricks that can totally negate the laws of physics.
The slide is indeed easier than normal to rack.  This is assisted by small, flared edges on the back of the slide, giving an easy spot for fingers to find purchase.  The internal hammer reduces drag when compared to a striker assembly as well.
The grip is nice and aggressive.  After a hundred rounds or so, I could see a fine layer of epithelial cells coating portions of the frame where my grip is strongest.  This helps keep the gun firmly in hand, but didn't leave me feeling like I'd given a backrub to a cheese grater.
The mags have a thumb stud to allow you to preload the spring, common in .22 caliber mags.  It does make things a lot easier when you're near full capacity.
The trigger was workmanlike, and that's no insult.  It's good for defensive use, but neither too light as to be a liability in a stressful life-or-death situation, nor so heavy as to wreck any chance of accuracy.  While the sights were zeroed low and left (for me), the groups were what you'd expect from compact gun-running defensive drills.  I spent most of my ammo doing Mozambique/failure drills (two to the chest, one to the head) or the same drill but using the right and left circles surrounding the target's "head".
Simply put, Smith and Wesson took the popular Shield .380 EZ and kept it's most successful features while bumping up the caliber to 9mm.  I really enjoyed spending the day at the range with the Shield 9 EZ, and I am looking forward to spending more time doing an in-depth review.  I think Smith and Wesson have the makings of a hit on their hands, especially given the price point.  While MSRP is $479, street price at launch is $369.99.  Check it out!
---
About Rex Nanorum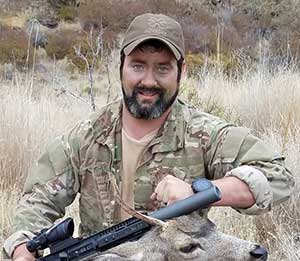 Rex Nanorum is an Alaskan Expatriate living in Oregon with his wife and kids. Growing up on commercial fishing vessels, he found his next adventure with the 2nd Bn, 75th Ranger Regt. After 5 tours to Afghanistan and Iraq, he adventured about the west coast becoming a commercial fisheries and salvage SCUBA diver, rated helicopter pilot instructor (CFII) and personal trainer, before becoming a gear reviewer and writer."