Colorado –  -(AmmoLand.com)- A CSU Police Officer was ERPO Red Flagged by the Mother of a man he killed in a 2017 Police Shooting; Mother claimed they have a child together – and it made it to a Permanent Orders Hearing!
No, this is not the Jerry Spring show I'm talking about, this is Colorado's new Red Flag ERPO law in action.
As promised, Rally for our Rights has been at the forefront of tracking ERPO's as they roll into the courts across Colorado. That's how we found this latest case that proves exactly how easy it is to use and abuse this law. It was in searching court dockets that we stumbled across two names we then ran through Google and discovered the connection between the petitioner and the respondent. Mainstream media quickly picked up our story – so, if you heard about it on the news, know it's because of the investigative transparency work we're doing.
Here's the Scoop:
On January 9, 2020, a petition was filed by Susan Holmes against Phillip Morris. The petition stated that the two have a child in common (a factor that would make Susan a qualifying person to file the ERPO under the law's broad definition of "family or household member"). If she was not one of the people that fall into the nine categories of "family member", she would have had to go to law enforcement to request they filed on her behalf.
There is a complex history between Susan Holmes and Phillip Morris in Fort Collins. Phillip Morris is a CSU Police Officer who shot and killed Susan Holmes' knife-wielding son in 2017 and there is no evidence the two have ever had a child together. The petition cited "ongoing violence and aggression from 2013-2017" as evidence that Morris is a danger to himself or others and an ERPO is needed to ensure he is stripped of any firearms he may own or have access to.
Click here for our complete write-up about the Red Flag ERPO case, including bodycam footage of the shooting along with other sources.
The ERPO was moved forward to a permanent hearing by 8th Judicial District Chief Judge Stephen Howard. He signed the request for appointed counsel among other things.
Susan Holmes even posted a video of the petition after she signed it! You can watch that here.
The permanent orders hearing was yesterday and I was there. If there ever was an example of such a kangaroo court, this was it. In the end, the ERPO was denied based on the fact that Susan Holmes did not have a child in common with Phillip Morris and she refused to present evidence after requesting the judge recuse himself based on a past history between the two, but the fact it even got before a judge in a full hearing with the potential of having someone stripped of their firearm rights and their guns confiscated is unbelievable. The Attorney General's office relieved Morris' counsel and took over as his attorneys. The sheriff was there to defend Morris.
Read my recap of the entire bizarre hearing here. You will learn a little more about Red Flag laws like I did today. Turns out there is a "loophole" in the law that allows people to fast track right to a full-court hearing – no matter how false or malicious the accusation may be.
This outcome is good I suppose, but would it be the same for average citizens like us? It would be just as easy for citizens to do this to citizens, except it's doubtful anyone would jump to our defense. We'd be on our own.
Colorado's Red Flag ERPO law had been in effect for 9 days when Holmes filed, and this was the 5th ERPO in the state with a 6th just filed today. This is going to be a bumpy ride but we'll continue to bring you the information as part of our transparency effort.
If you or someone you know is Red Flagged, we want to know. Visit www.redflagresourcecenter.com for all the information you need including facts about the law, attorney resources, and more.
---
2020 Legislative Session Update
The 2020 Colorado legislative began January 8th and Rally for our Rights was there. There are three bills we're anticipating being introduced.
1.) Mandatory Safe Storage
2.) Mandatory Reporting of Lost & Stolen Guns
3.) A Reboot of a 2013 Bill to include more aggressive gun seizure
At this time none of these have been introduced but will be any day. In addition, other bills may still be introduced. We'll keep you informed of action steps YOU can take to help fight them.
Just as we did in 2019, we'll be digging deep into the arguments for and against the proposed legislation with facts and data, as well as deliver that to the public in an easy to understand format with clear action items that can be taken to stop feel good, knee jerk, virtue-signaling bills that do nothing to make our communities safer while infringing on our rights.
---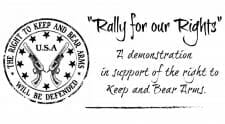 About Rally for our Rights
Rally for our Rights is a non-partisan gun rights advocacy organization that was founded in early 2018. It has quickly become Colorado's most active Second Amendment group with a focus on frontline activism and community outreach.