U.S.A. –-(Ammoland.com)- What is the Noveske Space Invader? Well, It's like the HK MP5 and the Q honey Badger had a love child that was raised by wolves, that would be Noveske. Then, given a catchy name from an eighties video game, that also pays tribute to the fact that it is a close-quarters weapon. Since the Space Invader has both attributes from the Honey Badger and the MP5; two of my all-time favorite guns, I was as excited as all the Glock fanboys were when Glock announced they were coming out with a new gun.. before everyone found out it was a 22.
To all the guys out there begging Q to make a 9mm version of the Honey Badger, this is pretty much it, and probably as close as you'll ever get. It has the exact same stock because Noveske is the only company that Q is allowing to use their proprietary stock. Noveske spent the time figuring out how to make that shortened buffer tube work with a direct blowback 9mm bolt system, and added actually a ton of cool features, making this an outstanding pistol caliber carbine.
The key to the compact size of the Space Invader is from the Q stock assembly, which is much shorter than a traditional AR buffer tube. This causes some changes internally and externally; first, the stock moves on these two rails, and is activated by this button. The Space Invader has 3 positions for length of pull on the stock, whereas the Honey Badger only has 2. The 2 rails go into the frame much like the MP5, and this is amazingly cool to see on an AR style rifle. However, this requires the upper and lower to be machined out to receive those rails, making it proprietary.
Let's take a look at these internals because they are very interesting. To make 9mm work with this short of a buffer tube, Noveske had to use a 4 part buffer and spring assembly. You'll have your buffer, the first spring which fits inside the coupler piece that goes on a larger spring, and then into the stock. Another drawback of the direct blowback 9mm is a very heavy bolt, which gives the shooter the sensation of much heavier recoil than expected, as the heavy bolt moves back and forth in the receiver. Noveske greatly improved on this as well; a typical AR9 direct blowback bolt weighs in at 15.7 ounces, the space invader bolt weighs in at only 11.1 ounces. That's a pretty significant difference and is very welcomed when shooting the Space Invader.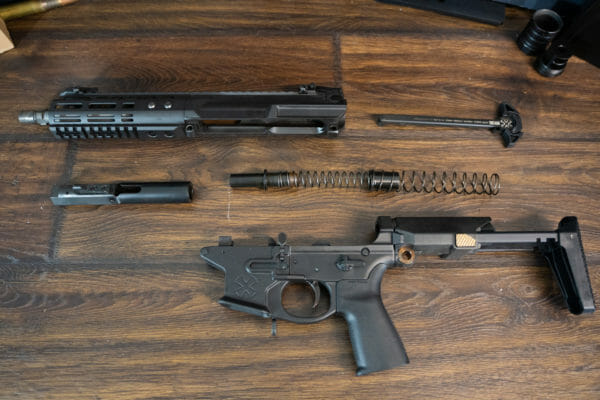 The space invader is roughly based off of the Noveske Gen 4 lower; basically meaning that you'll have ambidextrous controls. You'll have a nice Magpul 60 degree throw safety on both sides, a bolt release that you can hit with your trigger finger, and unique to the Space Invader is a paddle mag release, just like an MP5. This is so cool and such a nice touch. I really like having both; the mag release in the traditional spot for an AR15, and the paddle-like an MP5, so whatever system you are used to, you can be right at home on the space invader. 
The paddle mag release brings us to the magazines. No, it doesn't take Glock mags; if you want something that takes Glock mags there are many choices available. The Space Invader takes Colt mags, and this may shock a lot of you, but I actually prefer this. First of all, they look much, much better. That straight magazine gives the space invader, and every other gun that uses it an obnoxious, " I'm better than you and I know it look", and I kind of dig it. They load easier, they're made of steel, not every gun going forward from this point needs to take Glock mags, and now Colt pattern mags are cheaper than Glock mags.
Also, on the lower, you'll have a seriously flared out mag well that is sized perfectly to accept those Colt pattern mags. A very nice Geissele super MCX SSA trigger, pulling at just under 4 pounds.  You'll also have a Noveske badged Geissele charging handle, and Magpul pro folding back up sights. Moving forward, you'll have a Noveske NHR handguard covering up one of Noveske's legendary 8.5-inch barrels chambered in 9mm. The barrel also comes complete with 3-lug machined directly on the barrel; making it somewhat like, you guessed it, an MP5. This is actually really cool, I love 3 lug and its definitely the quickest way to attach a suppressor. Just push on, quarter turn, and that's it. Nothing is quicker, only downside is 3 lug adapters for your suppressor can be a little expensive, and you may be suffering from a serious case of the broke-ness after purchasing a Space Invader.
Shooting the Space Invader was a complete blast. The ergonomics and overall feel of the gun are spot on, recoil is light and pleasant due to the lightened bolt, and accuracy was phenomenal out of the legendary Noveske barrel. The Space Invader also suppresses extremely well; we used the Dead Air Wolfman, CGS MOD9, and the Bowers Group VERS 375. All sounded great, blowback was minimal, and they all worked extremely well with the 3 lug barrel.
With some guns, you pay for the innovation, and with others you pay for the brand name. With the Noveske Space Invader, you pay for both, because this is one of the most expensive sub guns available. The Noveske Space Invader is by far the best direct blowback 9mm AR ever. For all you guys that have been asking Q for a 9mm Honey Badger, this is it. You can get one right now. The Space Invader is probably as close to a 9mm Honey Badger as you'll ever see. Plus, it has so many really great features, like the paddle mag release, tri-lug barrel, and collapsible stock, all borrowed from the MP5. There is truly nothing else quite like it, it definitely won't be for everyone, but I think it would be a centerpiece in anyone's collection.
---
About Alabama Arsenal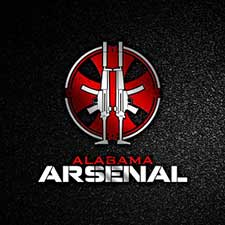 We conduct in-depth, unbiased reviews on firearms and accessories. We are made up of all different backgrounds to give you the best range of opinions, including military experience and gunsmith work. Be sure to check out our Facebook and Instagram.
Unlike many channels out there, we make it a priority to respond to your comments. We enjoy engaging with our followers, and will gladly answer any reasonable questions you may have.