BELLEVUE, WA – -(AmmoLand.com)- Eighteen state attorneys general have joined in an amicus brief to the U.S. Supreme Court supporting a Second Amendment Foundation petition for writ of certiorari seeking high court review in the case of Culp v. Raoul, which challenges the refusal by Illinois to take applications from non-residents for an Illinois carry license.
Plaintiffs are asking the Court to determine "Whether the Second Amendment right to keep and bear arms requires that the State of Illinois allow qualified non-residents to apply for an Illinois concealed carry license." SAF is joined by the Illinois State Rifle Association, Illinois Carry and several private citizens. They are represented by attorney David G. Sigale of Wheaton.
The amicus brief, submitted by Missouri Attorney General Eric S. Schmitt, is joined by attorneys general from Alabama, Arizona, Arkansas, Georgia, Idaho, Indiana, Kansas, Montana, Nebraska, North Dakota, Ohio, Oklahoma, South Carolina, South Dakota, Texas, Utah and West Virginia.
While Illinois statute says the State Police "shall by rule allow for nonresident license applications from any state or territory of the United States with laws related to firearm ownership, possession, and carrying, that are substantially similar to the requirements to obtain a license" in Illinois.
"However," the petition for review says, "that right to concealed carry is denied, in a discriminatory and arbitrary manner, to the law-abiding and qualified persons in 45 states, who are prohibited from even applying for an Illinois concealed carry license ("CCL"), regardless of their qualifications. Therefore, Illinois's prohibition on virtually all non-residents obtaining a concealed carry license for self-defense violates the Petitioners' rights under the Second Amendment."

"We're grateful to the 18 attorneys general for joining the amicus, on behalf of the residents of their respective states," said SAF founder and Executive Vice President Alan M. Gottlieb. "The right to bear arms does not end at the Illinois state line, and untold numbers of citizens from other states have occasion to travel to or through Illinois and they should not be expected to leave their right of self- defense at the border."
---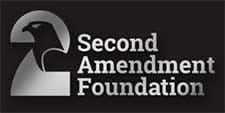 The Second Amendment Foundation (www.saf.org) is the nation's oldest and largest tax-exempt education, research, publishing and legal action group focusing on the Constitutional right and heritage to privately own and possess firearms. Founded in 1974, The Foundation has grown to more than 650,000 members and supporters and conducts many programs designed to better inform the public about the consequences of gun control.