U.S.A. –-(Ammoland.com)- New and existing subscribers to the AmmoLand News emails will ALL be eligible to win this awesome Brownells BRN-10 .308/7.62 Retro Rifle!
AmmoLand and Brownells have teamed up yet again to giveaway another of their Retro rifles, this time chambered in .308/7.62. This retro rifle is a recreation of the original AR rifle designed by Eugene Stoner. For more information about this rifle, read our Brownell's BRN-10 Rifle review here! What you never win anything and want this rifle now, then check this link.
A Piece of History, Fresh from the Factory & Ready To Shoot
21st Century Technology Meets Historical Detail. Designed in partnership with FM Products, our BRN-10® receivers are fully machined, not forged, from 7075 T6 aluminum billet. The distinctive lines of late Armalite® AR-10® rifles are carefully reproduced, including the slab-sided lower with straight magazine well. Takedown pins, selector lever, magazine release, and bolt release all have crisp horizontal serrations that match the original rifles.
Clean, Uncluttered, Still "Futuristic". The absence of a forward assist and shell deflector makes the BRN-10® upper unusually uncluttered. Up top is the original "trigger"-style charging handle prominently located under the carry handle and positioned for rapid, easy operation – a practical benefit somewhat lost with the later charging handle location.
The BRN-10's rear sight is fully enclosed by the carry handle, like the original. A simple, A2-style horizontal thumbwheel lets you adjust elevation, while windage is changed by loosening a setscrew and drifting the rear peep. A small window in the rear of the carry handle lets you see the current elevation setting.
Detail Under the Hood. Inside the BRN-10®, the carrier has the distinctive flats and two stabilizing flanges at the rear found on early carriers, and the entire bolt/carrier group is chrome-plated. The bolt itself is machined from 9310 carbon steel and magnetic particle inspected (MPI) to make sure there are no microscopic flaws that could cause premature failure – a benefit the original guns did not have.
The BRN-10's 20″ barrel, chambered in .308 Winchester, is made for Brownells by Faxon. It first gets a QPQ Nitride finish for excellent resistance to surface wear. After nitriding, the barrel gets top coat that replicates the look of the classic manganese phosphate finish found on the 1950s rifles.
The handguard drops in like a standard AR-15 handguard, but its external contours replicate the original AR-10® 'guard. Buttstock and pistol grip are from the Brownells Retro line; the buttstock is a Type D stock, without a trap door.
Up-to-Date & Compatible. Brownells BRN-10® rifles accept standard metal DPMS/SR-25 magazines. They are NOT compatible with Magpul PMAGs due to lower receiver contour. A majority of the components on the BRN-10® are compatible with modern DPMS/SR-25 parts or AR-15 parts. See Compatibility Notes below.
Brownells BRN-10 Features & Details: 
Receivers machined from billet 7075 T6 aluminum
.308 Winchester chambered, 20″ barrel with 1-10″ twist
.750″ diameter at the gas block
"Trigger"-style charging handle on top of receiver, under carry handle
Chrome-plated bolt/carrier group with period details
Magnetic particle inspected 9310 carbon steel bolt
Brownells Retro buttstock assembly & pistol grip
Flat slip ring assembly
Standard AR-15-style front sight base
Period-style rear sight • 5/8″-24 tpi muzzle threads
Rifle receiver extension (buffer tube) with correct rifle buffer & spring
Accepts standard, metal DPMS/SR-25 magazines (Magpul PMAGs will NOT work)
Comes with one 20-round Brownells aluminum magazine, chamber safety flag, safety manual, and copy of the USGI Field Manual
BRN-10A Features & Details:
Heavy-contour barrel with aggressive fluting underneath the handguard
Open, 3-prong, Dutch-style flash hider with black QPQ Nitride finish
Brown Retro furniture to replicate original fiberglass look
Weight: 8lbs 9oz
Length: 40.5 inches
Compatibility Notes: DPMS/SR-25 compatible parts on the Brownells BRN-10® rifle include: magazine, bolt/carrier group, barrel assembly, barrel nut, slip ring assembly, crush washer, muzzle devices, buffer, buffer spring, handguard, magazine latch, and magazine release spring.  AR-15 compatible components include: front sight base assembly, gas tube, handguard cap, drop-in GI-style handguards, receiver extension (buffer tube), buffer retainer & spring, takedown detents & springs, selector, selector detent & spring, trigger assembly, buttstock assembly, and pistol grip & screw."
Rules:
The giveaway entry dates run from April 20th, 2020 to May 20th, 2020 with the winner drawn on May 21st, 2020.
Everyone who signs up, or is an existing active subscriber, to the AmmoLand Shooting Sports News daily digest email are eligible to win.
Eligible Winners must be 18 years of age, a legal resident of the United States, and be lawfully eligible under local, state, and federal rules to accept the transfer of Firearms through a licensed Federal Firearms Licensee. NOTE: All Federal, State and Local gun magazine restrictions apply. You can view a sample of typical restrictions here or here. 
FFL Transfer Fees and Taxes are not included and are the winners' responsibility.
No monetary compensation or substitution for ineligible winners.
Do you get our daily email? Then you are already entered. Do you need to sign up? Then you can do so at the link/box above: Sign up for AmmoLand in your Inbox!
---
Attention AmmoLand News readers, the winner of the Brownells BRN-10 Retro Rifle is Paul from Florida! Have a look at that rifle in his hands. As Paul said, "I look forward to shooting it if I can actually find ammo." We hope he can locate some .308 soon!
---
About Brownells: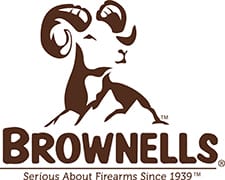 Serious About Firearms Since 1939, Brownells is the world's leading source of guns, gun parts and accessories, ammunition, gunsmithing tools and survival gear. With a large selection of both conventional and hard-to-find items, and an extensive collection of videos, articles, and gun schematics, Brownells is the expert for everything shooting-related. Visit their website.
About AmmoLand.com – Shooting Sports News:
Ammoland.com is the web's leading Shooting Sports News Service for the Ammunition, Firearms, Shooting, Hunting and Conservation communities. AmmoLand has a FREE Shooting Sports News Service that is seen by 10,000's of Ammunition, Shooting and Pro Firearms enthusiast every day. Visit them at www.AmmoLand.com