U.S.A. –-(AmmoLand.com)- Parts 1 and 2 of the Brownells BNR-180s evaluation uttered a likeness to oatmeal chocolate chip cookies in all their splendor.  We gratuitously overindulged on those warm little gems, and I can state that with no shame.  Today you find out if I suffered a bellyache or not.
I believed all along the BRN-180s would be a great pistol option, but it's imperative that I approach each project like this with a healthy skepticism.  I was concerned about the weight and my fears were laid to rest.  When the dust settled, the AR180 configuration I chose came in just over 6.2lbs without a magazine.  I have several sticks, but a couple of my "Go-To" ARs are a 7.5" piston machine gun I built up years ago that comes in at 7.2lbs, and an SBR 10.5" LMT upper on my CCA lower that tips the scales at 6.9lbs.  I'm used to these guns, and handle them routinely.  The BRN-180 was lighter overall.  This should take the initial shock away from folks worried about weight when they lift the Brownells built upper for the first time.
There was one thing I didn't care for.  It is important to bring into perspective this pistol brace.  The BRN-180s upper is tough and robust.  It took me a bit of time to get used to not reaching instantly for a charging handle like all my other AR platform rigs, and instead of grabbing the bolt handle on this upper.  But, that's simply a matter of training and familiarity.  It didn't prove to be any kind of function issue for me.  If the bolt handle were any larger and protruded outboard any further, however, I'd have probably grabbed a cut off wheel and trimmed a bunch of it off while nobody was looking…
Back to the pistol brace.  This thing is slick.  It is light and handy.  But don't for a moment think you're going to tether a rope to this offering and drag it around behind your ATV for kicks and grins.  The ladder configuration is some sort of plastic and the hardware is small and questionable for rough service.  Let's be honest, 99% of you aren't going to ask for more than the SB Tactical hinge brace has to offer.  This isn't a swipe at SB Tac.  They make good stuff.  I'm simply saying if the hardware was a bit beefier and the ladder aluminum it would be to my liking.
The Brownells BRN-180 upper performed.  It shot well.  It was simple to configure.  It ran suppressed and unsuppressed equally well.  I did slip the SilencerCo Omega 36M can apart and reconfigure it as a "K" model so it was a few inches shorter.  The 36M was pretty trick, but the suppression obviously wasn't quite as good.  I HAD a really great sound level meter to record noise volume in decibels, but a friend borrowed it for a weekend two years ago and I haven't seen it since.  As usual, I overtightened the Omega 36M, so I had to grimace a bit and toss a couple bucks in the swear jar to get it apart.  What a great can.  I should write about it independently in another article.  A can you run on your 5.56, 9mm pistol, 300WM, and your 338LM?  AND, it suppresses as well on the monster calibers as well as huge volume cans all while being capable of converting to a K length to boot?  I can see why they're in demand.  SilencerCo has me impressed again.
I ran around for about a week taking this rig everywhere I traveled.  I used it on my Honda UTV to make the morning rounds through the farm.  I have a Tundra Crewmax with the folding rear seats.  I did not find the perfect case for it, although I tried.  Suffice it to say it did fit perfectly into the small area behind the rear seat between the factory toolbox and huge subwoofer box.  My hope is to eventually locate a great small case that barely allows me to squeeze the BRN-180 unit inside.  If I have a few places to insert or hang magazines, that'll be perfect.
I did also shove it into the pocket behind my front passenger seat just to see if I could get to it in a hurry.  I could.  However, this is an awful way to transport a weapon.  I know there are some safe and secure methods to accomplish this, but I didn't have them at my disposal.  I might seriously consider that in the future.  And yes, in case you are wondering, with the brace folded it barely fit under the seat of my truck.  Diagonally, it worked best so nearly nothing was protruding.  Again, I don't recommend that, but it is possible.  If you used a tiny muzzle device that would help too, as the SilencerCo ASR adds a tad of length as a suppressor host.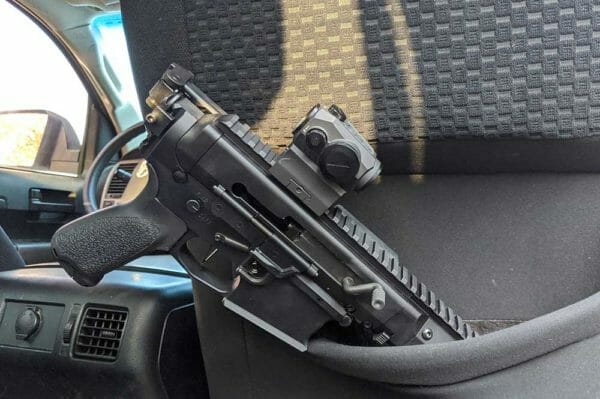 I took pics of this unit stuffed under my seat, but I'm not going to publish them.  My truck gets used, and just like my guns, it gets used hard.  I also have two little kids that are in it all the time.  Imagine the food court at your favorite large-scale children's attraction.  Now imagine the floor of that same food court after week six of a janitorial strike.  The floor of my truck looks like that after just a few minutes with my kids in the truck.  Nobody wants to see that.  (*Note to self – in order to properly torture test a 'truck gun' in the ways I'd use it, immerse in syrup, leave it for two months, then function check.)
My conclusions?  I spec'd out a simple build list that most of you reading can also put together yourselves.  It proved to be practical in use and consistent in operation.  The Brownells BRN-180 upper gave me the impression out of the box it was heavy, but when you consider some the lower parts have been moved 'upstairs' by virtue of the internal short-stroke piston guts, I found the overall weight to be consistent, if not a tad less, than most similar guns I use.  This weapon ran with and without the SilencerCo Omega 36M can I tested.  Even though I always prefer a can on, I needed to use this without for size and space constraints for storage in my truck.  It stored well and doesn't have to be assembled or altered if you grab it with a folded stock and need to fire it.  That's huge.  That's a vital prerequisite for any serious 'quick use' weapon.  I didn't experience any failures in operation in nearly 3000 rounds.  That's not too shabby.  I also only lubed it a couple of times and didn't clean it throughout.  This unit is tough.
The parts I brought in from Brownells and Primary Arms worked well and this package proved to be accurate and reliable.  I wanted both and got them.  I didn't take it easy on my pistol and it worked just fine, no matter what.  If you're looking for a great AR pistol that occupies and functions from a really small footprint this is one you need to give some serious weight.  I really like mine.  Now to find a perfect case for this and put it into full-time rotation.
In short, my buddy's mom better scoot over.  There is a new chocolate chip oatmeal cookie master on the block and they mean business.  I don't have a lick of heartburn over the Brownells BRN-180 product.  Now all Brownells needs to come up with next is cookie scented gun oil, and we'll be walking high cotton.
---
About Michael Ware: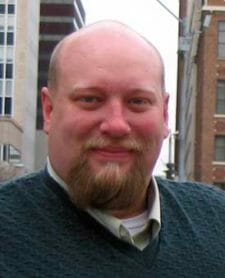 Michael is a Christian husband and father to two children. He owns and operates Controlled Chaos Arms, a premier custom weapons shop in the Midwest. He serves as Chairman of the board of Directors at the Iowa Firearms Coalition. The pursuit of truth drives him in research and his writing.
Michael enjoys shooting, hunting, and fishing throughout the Midwest and Rockies. An avid outdoorsman and tireless supporter of all Second Amendment virtues, he can be found in his gun shop, in a tree stand with his kids, or on Capitol Hill lobbying in support of Freedom and Liberty at any given time.
Disclosure: Some of the links below are affiliate links, meaning at no additional cost to you, Ammoland will earn a commission if you click through and make a purchase.