U.S.A. –-(Ammoland.com)- The BRN-180?  What's that?  Do you remember as a kid when Grandma made those really sweet chocolate chip cookies, and your Mom made the best oatmeal cookies ever?  Those are some of the best memories, ever.  However, you'll never forget the night you spent over at Jimmy's house only to catch a whiff of his Mom's cookies, wafting through the kitchen window outside where you were playing.  The mind-blowing part of that playdate was when you took your first bite – Jimmy's Mom, known as "the coolest" henceforth had put chocolate chips in her oatmeal cookies and merged to the two best treats in your childhood into one yummy little package.  Thus, the BNR-180…
Some of you may know the history of the AR-18.  It was another Stoner design coming out of the time period the AR-15 had been conceived.  The AR-180 was the semi-auto version of the select-fire AR-18.  They employed stamped steel receiver work, not a great deal different than an AK.  There was some welding involved, but not a lot.  I could write an article solely on the AR-180, but I'd rather point out some of the features and move forward.  What we're primarily focusing on is the short-stroke piston contained in the upper portion of the AR-180.
Brownells has been doing some innovating as of late.  Only 25 miles from my custom shop, I spend plenty of time there and know many who work there.  I was excited when I heard that not only had there been some life breathed into this platform, but someone decided to build this up so it would mate to an AR-15 lower receiver.  Genius!  I love it!  I nearly gave Pete Brownell a hug the next time we visited.
There isn't a huge need for a piston in most AR-15 applications.  Direct gas impingement works fine.  But if you intend on making a short weapon and not only configuring it for a small storage footprint but expect it to work in that same small footprint, your options dwindle quickly and elevate in cost.  The idea that I could snag a 10.5" BRN-180S upper, utilized an AR-15 lower, and also incorporate a side-folding brace or stock that allowed the weapon full use with or without the brace folded was exactly what I've been looking for.
I opted to avoid the "Short Barrel Rifle" designation this time, and instead went with a wrist brace.  I built up a 10.5" BRN-180S pistol instead of an SBR.  My intended use is 'general' in the grand scheme of things, but it was intended on becoming a truck gun if you will.  I don't mean the kind of junk you toss under the seat just in case you need something someday.  No, this is meant to fit into a small space, be rapidly accessed, and go like mad.  I came up with the following build list (Brownells part numbers included):
(*note – I ordered in the BCM Mod 3 that contains the "duckbill" thinking I was going to use a different lower receiver.  While I zipped that duckbill off with a belt grinder in 4 seconds, if your lower won't accommodate the "duckbill" that protrudes above your middle finger, then order a different model.)
I had a Sig Romeo 5 I had ordered in from Primary Arms for a different project that was unused, so I mounted it for the optics.  I also had been wanting to get my hands on the new SilencerCo 36M I'd heard so much about.  My relationship with SilencerCo goes way back and they've really treated me well over the years.  I love their product and how the product is supported by their representatives.  You can find that can at Primary Arms HERE.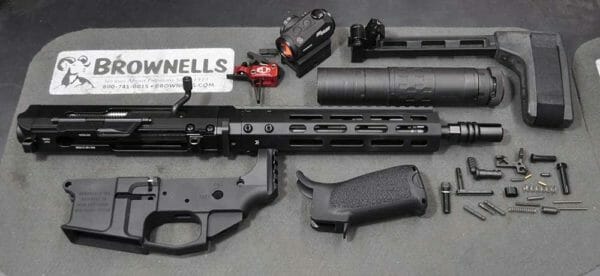 When I get in the parts I've ordered for a buildup, I organize them and make a quick note on everything.  When I laid these pieces all out, it really hit me just how simple this genre of 'building' truly is.  The upper is self-contained, there is no buffer nonsense on the lower, and the trigger was a 'drop-in' to boot.  If you can't put this thing together, any self-respecting smith can, and in a hurry.  I'm not suggesting you run out and burn your Gadsden Flag in protest, but this type of work is very beginner level, so don't let that intimidate you.
One of the things that slap you in the face pretty quickly is the rear end of the Lower Receiver.  Often referred to as a 'buffer tube' by the industry, you have no need for a receiver extension. Thus, the Brownells matching lower for this unit employs a Picatinny rail instead.  This makes the attachment of a side-folding brace very quick and eliminates parts, cost, and weight.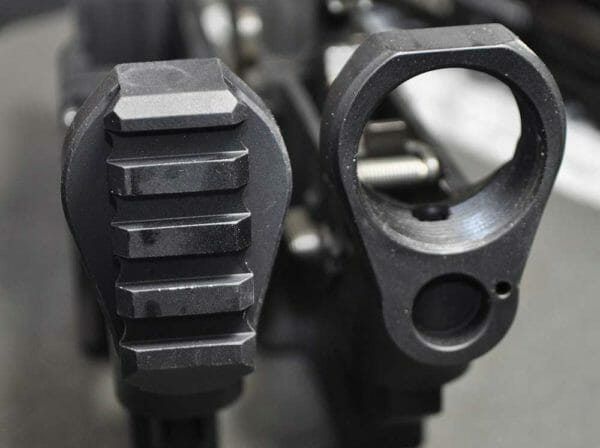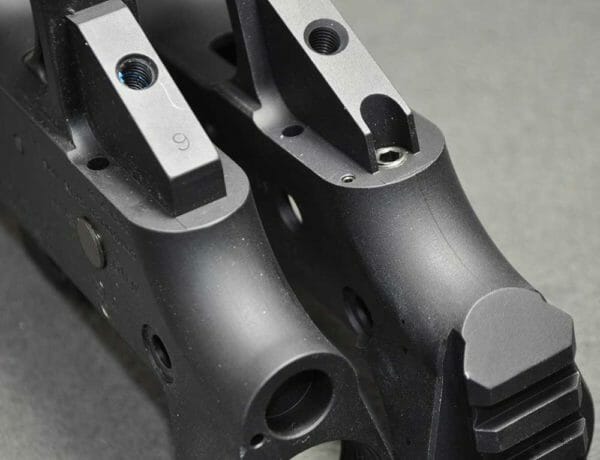 I'm not sure I logged more than just a few moments putting together the Lower Receiver.  In fact, this was the first Elftmann Trigger I'd installed with the idea of keeping it, so I paired this skeletonized trigger with some parts from Battle Arms Development.  They paired nicely in terms of appearance and the BAD product is known for quality, so I decided to try them.
These pictures, just as many, don't offer the BRN-180S justice.  This is a great option, and you can see it pleases the eye.  Curb appeal aside, I'm really anxious to run this through the paces.  The BRN-180S checks all the boxes for what I have long wanted to accomplish with a price tag that won't break the bank, coupled with a weight that isn't extreme.  I have two follow up articles to this one where I'll take you through the performance, features, components, and how it worked out as a truck gun.  The BNR-180S on face value is solid, so I'm hoping it proves to meet or possibly even exceed my expectations.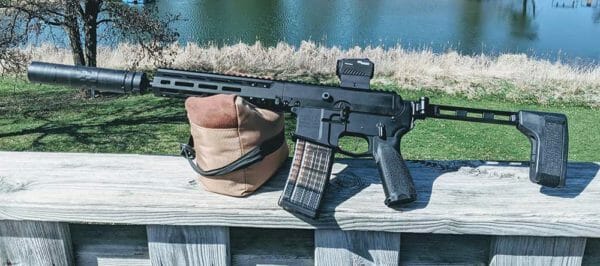 ---
About Michael Ware: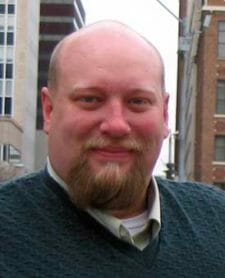 Michael is a Christian husband and father to two children. He owns and operates Controlled Chaos Arms, a premier custom weapons shop in the Midwest. He serves as Chairman of the board of Directors at the Iowa Firearms Coalition. The pursuit of truth drives him in research and his writing.
Michael enjoys shooting, hunting, and fishing throughout the Midwest and Rockies. An avid outdoorsman and tireless supporter of all Second Amendment virtues, he can be found in his gun shop, in a tree stand with his kids, or on Capitol Hill lobbying in support of Freedom and Liberty at any given time.
Disclosure: Some of the links below are affiliate links, meaning at no additional cost to you, Ammoland will earn a commission if you click through and make a purchase.