U.S.A. –-(AmmoLand.com)- When a red-blooded American thinks of thermal optics, the first thing that comes to mind is usually the movie Predator.  The 1987 action flick features a technologically advanced alien hunting down Arnold Schwarzenegger and company, in part using thermal optics.  In the real world, thermals are often thought of as a high-dollar hunting luxury, perhaps with limited capability.  After a few months of heavy use with the iRay Bolt TL-35, I can say I'm looking at thermals in a whole new light.
Before we dive into discussing features and my hands-on impressions, let's cover the tech specs as provided by Infiray.
Tech Specs:
Resolution
384×288
Pixel Size
12 μm
Framerate
50hz
Image Processing
MATRIX III
Core
iRay Micro II 384
OPTICS
Objective Lens
35mm F1.1
Magnification
3X
Digital Zoom
4X, stepped
Field of View @ 100 yrds
39.5 ft
Detection Range
1750 Yards
Display Type
LCOS
Display Resolution
1280×960
Imaging Modes
White Hot, Black Hot, Red Hot, Color, Highlight
Reticle Types
7 (2 Dynamic, 5 Static)
Reticle Colors
Black, White, Red, Green
Mounting System
30MM Rings (included)
P.I.P.
Yes
Eye Relief
70mm
Diopter Range
-5 – +5
Onboard Recording
Yes, Video and Image – no audio
Wireless Connectivity
Image/video via App.
Data/Power Connector
USB-C
Power Supply
Built-in battery pack, 8 Hours
18500 battery (+2 Hours), 18650 battery (+3.5 Hours)
Start Up Time
> 10 Seconds, Instant from Standby
PHYSICAL
Size
15.74"×3.34"×2.55"
Weight
32.87 Oz
ENVIRONMENTAL/WARRANTY
Warranty
5 Years
Housing Material
T-6061 Aluminum
Ingress Protection
IP67
Operation Temp
-4°F~122°F
Max. Recoil
1000 g/s² (300 Win./7mm Mag)
Manufactured in
China
If you're like me, the above specs contain some familiar words, but the finer points are a little over my head.  So, here's my summary on what exactly the TL-35 really is.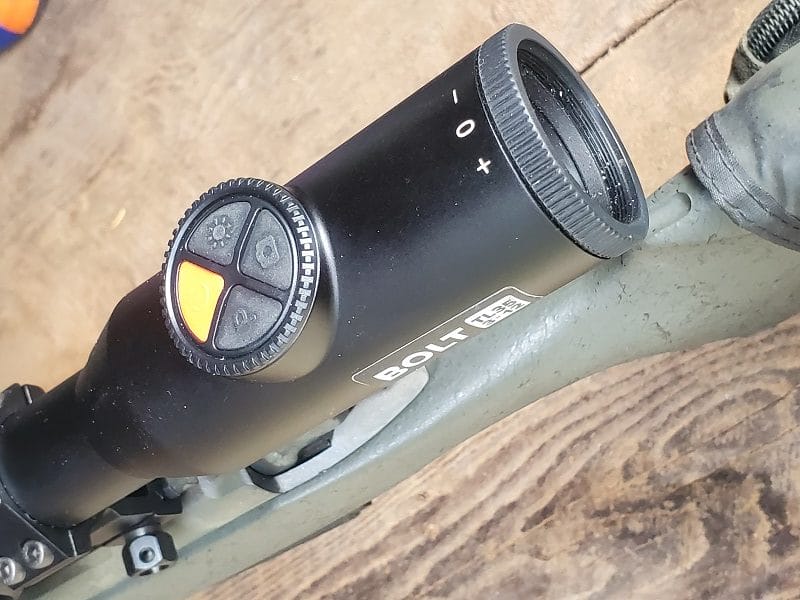 The Bolt TL-35 is a 3x rifle scope with a built-in thermal sensor.  It has digital zoom taking you up to a total of up to 12x.  It has an internal, rechargeable battery, as well as a second slot for a removable 18650 battery (AA fits..).  This is used for the scope's ability to take pictures and record video of what's being displayed.  The TL-35 has internal memory storage to the tune of 16 GB, and wi-fi connectivity to your smartphone via an app, and also allows for the app to livestream the scope's view (and even control the scope's camera).  This optic has 5 view modes, depending on how you want it to display hotter/colder surfaces.  The sensor has a detection range of 1750 yards!  Multiple reticle options, picture-in-picture viewing, and quite a few more features, enough to write a whole article about without ever getting to the "hands-on".
I usually open up any review item and start tinkering with it before reading the manual.  This caveman approach can let you know how intuitive any item can be.  For the most part, the TL-35 was easy to figure out.  There's 4 buttons on the top that handle most controls, and the top (usually elevation) turret handles the digital zoom and system menu controls.  Besides more complex items like digital zeroing and faulty pixel elimination, I was able to suss out what I needed.  Funny enough the focus ring was what threw me most, primarily because I didn't know what kind of resolution to expect from this thermal, and thus didn't know what I was missing out on.  After reading the manual once, everything (besides zeroing) was straightforward enough to work through.  The right side (usually windage) turret hides the USB-C charging port, and the left turret is the 18650 battery compartment.  The business end of the scope holds the focusing ring, which doesn't extend all the way to the scope cap, so that cap doesn't spin as you manipulate the focus ring.
My first day with the TL-35 was a real eye-opener.  I have had experience using thermals in the military, but it ain't 2002 anymore.  The resolution and image quality on the TL-35 is leaps and bounds above what I expected.  I spotted a coyote sniffing around some napping deer at 300 yards the next hill over from my property.  I couldn't see them with the naked eye, despite it being broad daylight.  That was just the beginning.  I was blown away by the image quality!  Not to mention the sensitivity of the optic,   The is a really effective thermal sensor.
Here's the same deer, shown in 4 different view modes.
Following deer around my property at night had the same psychological advantage as night vision, the target (deer) cannot see you, and thus usually reasons nothing can see it.  With some non-hoofed animals (wolves, coyotes, my husky), there's enough residual heat transfer from footprints to be able to follow them for a short time.  Blood trails or urine marking?  FAR easier to see the hot drips and drops than to try and spot the muted red blots or wet patches.  I was even able to spot does down by my fruit trees a few times, which weren't visible under night vision.  NVG's are an extremely effective all-purpose tool, but there are certainly areas where thermal optics are more effective.  Thermals do have some drawbacks, like the inability to see through glass, and reduced range and visibility when in heavy fog or snow.
I used this thermal a lot as a handheld device, because it's far easier to check out features and walk around the hillside when you aren't shouldering a rifle the whole time.  It is however, a rifle schope and not a monocular.  I used the included rings to mount the Bolt TL-35 to my Remington 700 SPS AAC-SD chambered in .308 Win.  Zeroing was a procedure best done with the manual handy, and done by me at 100 yards.   Easy target ID options include a handwarmer taped to the target, or taping up a coin that's been warmed in your pocket (or by a lighter).  Even after it's cooled a bit, there's enough thermal variation between the paper and coin to be distinctly visible.  After taking a shot, you use the scope's controls to digitally move the reticle.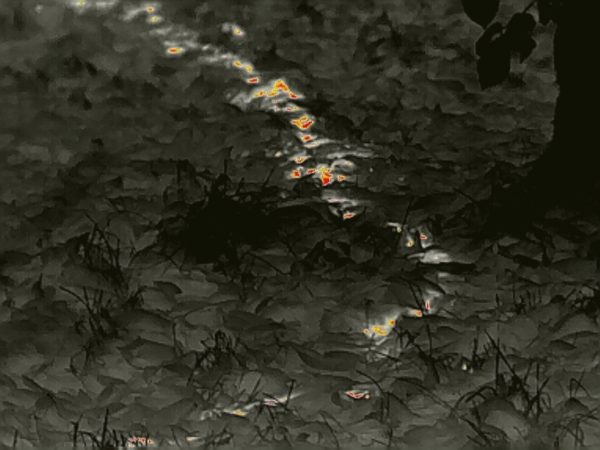 The Bolt TL-35 is recoil rated for a .300 Win Mag.  My little suppressed .308 presented no recoil challenge for this optic, which held zero just fine.  Rather unfortunately, the latter portion of my time reviewing the TL-35 coincided with a spate of hunting seasons here in Oregon.  While not legal for hunting game animals here, the increased traffic of hunters in the area also means our coyote population hunkers down for a while.  From howling just off our property nearly every night of the past 8 months, to total silence for two weeks straight means I wasn't able to shoot anything more exciting than targets.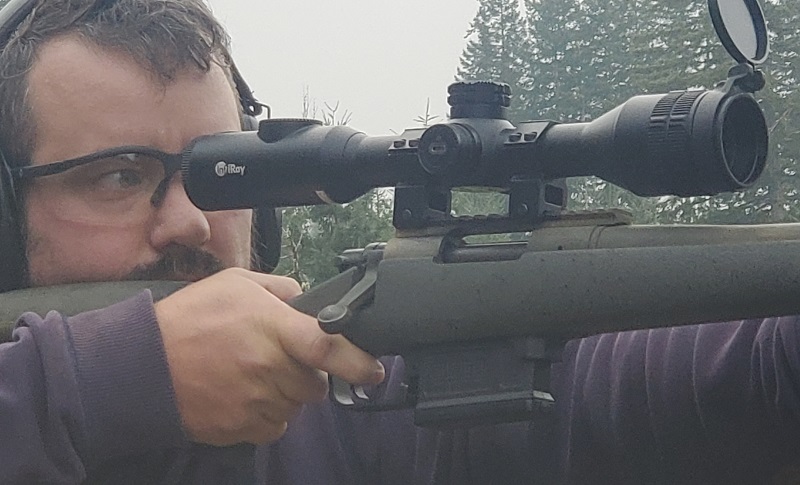 One word to the wise, if you're going to use a thermal scope, invest in a good tripod for your rifle.  You aren't going to be scanning for long with this on a rifle, shouldered.  The most common use for thermal scopes is pest/predator control.  Whether wolves, coyotes, feral hogs, or similar, setting up your bait or calling station and scanning from a distance with thermal optics is the preferred SOP.
I do have a couple of complaints about this whole package.
The "InfiRayOutdoor" app.  The app does have some cool functionality, like live viewing the scope's screen on your phone, and taking pictures directly.  The app also has far too much clutter, including advertising for other InfiRay products and facebook groups.  It's nice having the option to share your screenshotted photos directly to many other apps, but this control app is lacking the ability to save photos directly to your smartphone.  I don't want to upload them to Google Drive or Dropbox, I just want to save them easily.
Standby mode.  The manual didn't give a lot of guidance on this, so I was at a loss as to why the battery was dying so often when I wasn't using it.  After fiddling, I found you have to hold the power button until the entire countdown is done for a full shutdown.  You may lose the "instant on" from standby mode, but the increase in battery life is significant.
Reticles.  There's a few reticle options, which is nice.  Some are shooting at a known, consistent distance, and don't need a cluttered reticle taking up the screen.  This seems to be the manufacturer's intended use too.  Others might want more information, in case they're shoot at variable distances, or shooting a caliber with more vertical drop to compensate for.  My problem here is that there is not enough info about the reticles.  Most are very simple (known distance), but there's a couple more suited to increasingly challenging shooting environments, and a little info from the manufacturer could save a lot of trial and error shooting by end-users.
So, how does the Infiray iRay Bolt TL-35 fare all told?  The TL-35 is an extremely effective optical tool, which gives the user a massive advantage.  The build feels robust, the controls intuitive, the sensor is effective, and the customization options are plentiful.  My three complaints above are really just requested refinements to the manual and the companion app, not the thermal optic itself.  The TL-35 feels like a cheat mode!  This is an extreme technological boon to the user.  MSRP is $3299 here, while street price looks to be closer to $2700.  There's no doubt that the price is significant, it's up to you, the end user to decide if you want to upgrade to Predator league.  The iRay Bolt TL-35 certainly holds up its end of the bargain.  Check it out!
---
About Rex Nanorum
Rex Nanorum is an Alaskan Expatriate living in Oregon with his wife and kids. Growing up on commercial fishing vessels, he found his next adventure with the 2nd Bn, 75th Ranger Regt. After 5 tours to Afghanistan and Iraq, he adventured about the west coast becoming a commercial fishery and salvage SCUBA diver, rated helicopter pilot instructor (CFII) and personal trainer, before becoming a gear reviewer and writer."