U.S.A. -(AmmoLand.com)- Magpul just announced the latest addition to their product line-up, the MOE SL-M Carbine Stock. This is big news for anyone out there looking for an ultra-compact PDW-style stock for their favorite carbine. And since there's really only one other alternative made by a company that shall not be named, it's great to see another company entering the fray.  For details below from www.magpul.com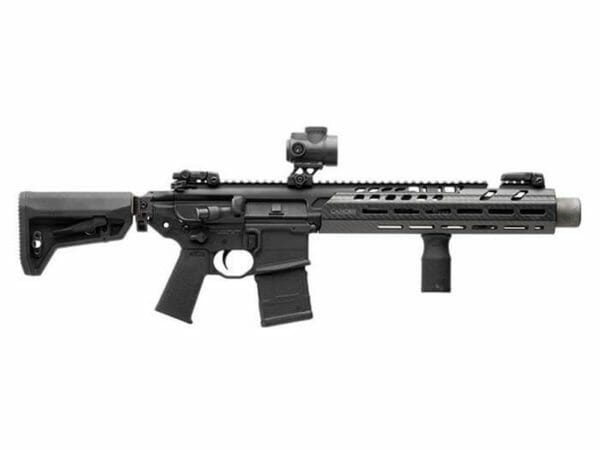 MOE SL-M Carbine Stock
The MOE SL-M Carbine Stock – Mil-Spec is a drop-in replacement buttstock for AR15/M4 Mil-Spec carbine buffer tubes. It was specifically developed for ultra-compact, PDW-style military platform requirements and for users desiring a smaller, lighter stock.
Similar to the SL-K, the SL-M features a shorter and slimmer profile that is optimized for PDW-length receiver extensions. With its small, non-slip rubber butt-pad and an angled toe, the SL-M was engineered to support shoulder transitions, even while wearing body armor and modular gear.
It includes a unique, ambidextrous release latch that is shielded to prevent accidental deployment and minimizes rattle on the receiver extension without requiring additional locks, levers, or springs. The 1.25″ footman's loop accepts an optional M-LOK® QD Sling Mount for push-button style QD sling swivels.
Made in the USA.
IDEAL FOR PDW PLATFORMS
Internal release latch feature mitigates rattle and wobble
Ambidextrous shielded adjustment lever
Angled toe for easy shouldering
RUGGED CONSTRUCTION
Non-slip rubber butt-pad
Reinforced polymer construction
DIFFERENT SLING OPTIONS
1.25" ambidextrous sling loop
Accepts M-LOK QD Sling Mount for QD sling swivel capability
---
About Magpul
Magpul was founded in 1999 with the intent of developing a simple device to aid in the manipulation of rifle magazines while reloading under stress. The company's name comes from this original product called the Magpul. Over the last decade, Magpul has continued to grow and develop using much the same mission and process with a focus on innovation, simplicity, and efficiency.
To understand Magpul, one must first understand the root ideas that form the foundation of our company culture and design philosophy. These core principles have allowed us to maintain a course true to our original mission, and help explain how and why we do the things we do. Visit: www.magpul.com
For more information on Magpul visit their website at www.magpul.com