Editors Note: The following press release is directly from ATF. Regular readers of AmmoLand News know our stance on the unaccountable Federal Agency: No comment. We invite our readers to leave their hard-hitting insights in the comments below.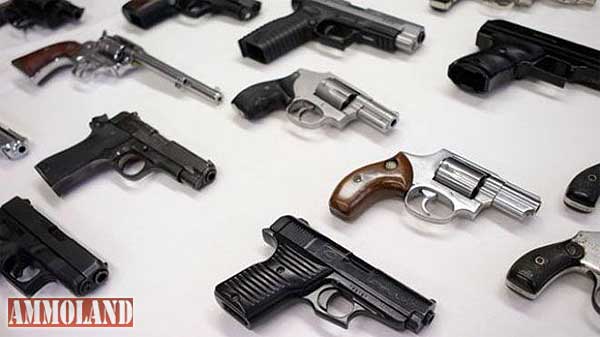 BOSTON – -(Ammoland.com)- An Attleboro man was convicted on Friday, Dec. 17, 2021, by a federal jury in Boston of offenses related to firearms trafficking.
Richard Philippe, 42, was convicted following a four-day jury trial of transporting firearms into Massachusetts from Georgia without a license and being a felon in possession of ammunition. U.S. District Court Chief Judge F. Dennis Saylor IV scheduled sentencing for April 4, 2022. Philippe was indicted in September 2019.
Between April and June 2019, Philippe purchased dozens of handguns from an unlicensed straw purchaser in Georgia. Philippe returned with the guns to a warehouse in Taunton where he sold them for cash.
Philippe, who had a prior felony firearms conviction in Rhode Island, had neither the lawful ability to possess firearms or ammunition nor a federal license to deal in firearms.
The investigation arose following a July 2019 undercover purchase of firearms from a long-time Brockton drug dealer, who had purchased more than a dozen firearms from Philippe and had been selling them into criminal commerce on the South Shore. The undercover operation triggered a search of Philippe's warehouse in Taunton, which revealed Philippe's firearm trafficking. The weapons were traced back to multiple purchases by Philippe's associate from a pawn shop in Georgia, which specialized in selling low-cost handguns.
The charge of possessing ammunition after being convicted of a felony provides for a sentence of up to 10 years in prison, three years of supervised release and a fine of $250,000. The charge of transportation and receipt of firearms acquired outside of state of residency provides for a sentence of up to five years in prison, up to three years of supervised release and a fine of up to $250,000. Sentences are imposed by a federal district court judge based on the U.S. Sentencing Guidelines and other statutory factors.
Acting United States Attorney Nathaniel R. Mendell and James Ferguson, Special Agent in Charge of the Bureau of Alcohol, Tobacco, Firearms & Explosives, Boston Field Division, made the announcement today. Valuable assistance was provided by the Massachusetts State Police, Brockton Police Department, Taunton Police, the Plymouth County Sheriff's Department, the North Carolina State Highway Patrol, and the Rhode Island State Police. Assistant U.S. Attorneys Fred M. Wyshak, III and John T. McNeil of Mendell's Organized Crime & Gang Unit, are prosecuting the case.
---
Bureau of Alcohol, Tobacco, Firearms, and Explosives
ATF is the federal law enforcement agency responsible for investigating violations of the federal firearms and explosives laws and regulations. More information about ATF and its programs can be found at www.atf.gov.