U.S.A. –-(AmmoLand.com)- Handguns have holsters and long guns have slings. With few exceptions, nearly every rifle and shotgun in my collection has some sort of sling attached. While I have my preferences, I'm always looking for something that gives me an edge, or at least tickles my fancy. When my buddy The Suited Shootist announced he was collaborating on a sling with Trunk Monkey Designs, I immediately picked one up. With an eye-catching design, I wanted to see how it stacked up to the competition.
Construction and Design
The Woodhouse sling is a fairly traditional two-point sling. Featuring a slightly slick texture, with a smooth surface it somewhat resembles a Magpul MS3 sling in feel.
When asking Joshua, the self-described owner/operator/sewing machine mechanic/head chef and bottle washer of Trunk Monkey Designs about the construction of the Woodhouse sling, he had this to say:
"[Our slings are] made and printed in the USA. The webbing is printed on tough photo quality polyester and has a tensile strength of 1,200lbs and resist heat extremely well with a melt point of over 480°F.  Moisture, heat, UV, rot, and mildew resistant. All hardware is quality and durable 1inch Nexus Ghillietex made by ITW.   I chose these because they are lightweight and durable and they are stronger than similar metal hardware, unaffected by heat and cold, have an excellent design that eliminates creep and slippage of the webbing, and are also made in the USA."
Mounting
Mounting the Trunk Monkey Woodhouse sling is extremely similar to many two-point slings. For my use, I simply threaded each end through sling loops, and back through the sling's triglides.
For high-speed folks, Trunk Monkey offers QD swivels as an in-house addition for your sling. Of course, you can add your own mounts to suit your preferences or for compatibility with your gun of choice.
Adjustments with the Trunk Monkey Designs Woodhouse Sling
Adjustments are simple and consistent with most two-point slings. There are two separate tabs, each being dedicated to loosening or tightening the sling respectively. One of these tabs is a folded-over portion of sling, featuring a Houndsooth pattern in contrast to the paisley pattern found on the rest of the sling.
As the sling is tightened, a tail of excess material is created, which hangs loosely from the sling. While this is a fairly popular design choice, I prefer slings that retain their excess material. Initially, I had concerns about this tail causing problems during training and real-world use.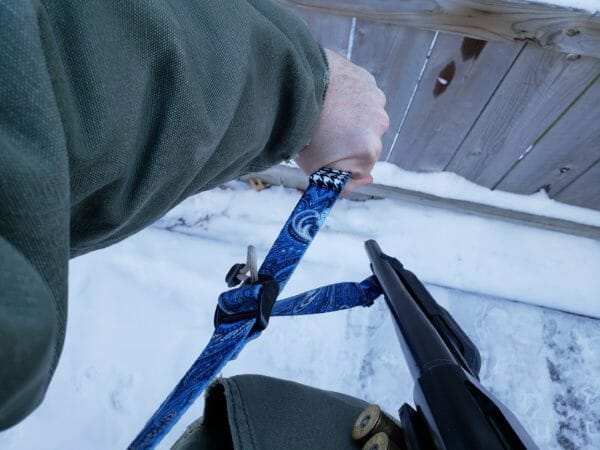 Adjustments are very smooth in both directions. Once adjusted, the Woodhouse sling stays firmly in place, with no slippage even with the jostling experienced during class and training. The houndsooth tab is easy to grasp with both bare and gloved hands, in wet and dry conditions, though it is a little thinner than my preference for an adjustment tab. The smaller tab, made from a small amount of cordage connected by a plastic clasp is somewhat worrisome. Typically these prove to be less durable, with the plastic clasp breaking relatively quickly. I'd like to see Trunk Monkey Designs change this to a knot in the cord covered in shrinkwrap or slightly melted for additional security. That being said, I have not seen my concerns become reality with the Woodhouse sling.
Real World Use
I first got the sling in September of 2020 and immediately put it on my Beretta ARX-100. The Woodhouse is a natural fit for this rifle, as the ARX-100 has horribly undersized sling loops. It lived here for several months during regular range time and normal LARPing activities. The Woodhouse feels much more solid compared to the OEM Beretta sling and provides significantly improved adjustments.
A little over a year later I moved the Woodhouse sling to my Maverick 88 shotgun for use in Hardwired Tactical's First Responder Shotgun. For this, I simply looped the sling through my Magpul SGA stock and a Magpul Forward Sling Mount. I was a little worried that the high weight of my shotgun combined with the narrow design of Trunk Monkey slings would result in discomfort over the course of the day. Between the Maverick itself, eleven shotshells, and a Streamlight TL-Racker forend, there's a not-insignificant amount of gun hanging around my neck.
Surprisingly, I experienced zero discomfort throughout the training day. The Woodhouse was plenty comfortable, and the adjustments were as easy as other high-quality slings such as the Blue Force Gear Vickers sling. Despite the fairly heavyweight of my shotgun, the sling held up well, with no signs of fraying or other damage.
Final Thoughts on the Trunk Monkey Designs Woodhouse Sling
Overall all I'm happy with the Trunk Monkey Designs Woodhouse sling. While it has a few features that are not my preference, those have not proven to be problematic. This will stay attached to my Maverick and continue making appearances in classes and regular range time.
If you're looking for a quality sling that isn't overly tactical, take a serious look at Trunk Monkey Designs. From classics like the Woodhouse to your boog-friendly Hawaiian patterns and more, everyone should have something to suit their style. For the boring folks out there, they also offer flat colors like Wolf Grey, Ranger Green, black, and others.
Slings from Trunk Monkey Designs start at $30.00, with the Woodhouse and more intricate patterns retailing for $40.00.
Author's Note: I maintain a casual friendship with The Suited Shootist and consider him an excellent resource for those looking to up their concealment game without looking like a sack of potatoes. I have no relationship with Trunk Monkey Designs, and paid full price, out of pocket, for the Woodhouse sling reviewed here. 
---
About Dan Reedy
Dan is an Air Force veteran, avid shooter, and dog dad. With a passion for teaching, he holds instructor certifications from Rangemaster, Agile Training & Consulting, and the NRA. He has trained with Darryl Bolke, Mike Pannone, Craig Douglas, among several other instructors, amassing over 400 hours of professional instruction thus far. In his spare time you'll find him teaching handgun, shotgun, and less lethal classes.
Dan's work has been published by Primer Peak, and The Kommando Blog, and he has been featured as a guest on Primary & Secondary.