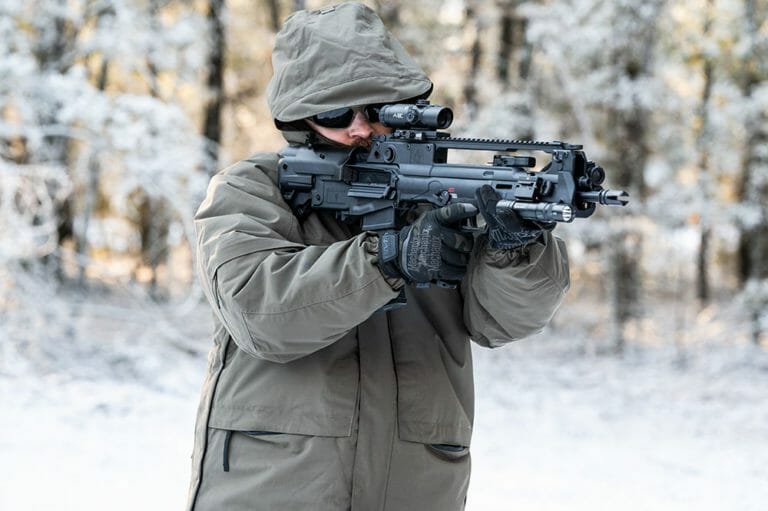 For the last few weeks I've been testing the 5.11 Atmos Warming Jacket. I guess that theoretically, it could work for anything from cool windy weather on up to hardcore cold outdoor activities. Here's why I classify it like that. Even though it appears to be a heavy-duty winter jacket it is perfectly designed to use with layers.
You can wear it by itself comfortably in 35-40 degree weather or layer up and wear it in some super cold weather if you're dressed in layers. For the world that I live in and the outdoor activities that I do, I usually don't want/need a big bulky artic jacket unless maybe if I'm ice fishing. Otherwise, even if I'm out hunting or snowshoeing in cold blowing blizzards, I layer up so I can peel off as necessary and not work up a sweat. I don't hunt in -20 degree artic conditions so this jacket will work perfectly for what I want.
The last three weeks I've been doing a deal over in South Dakota. It has been snowing some and as is the norm, I encountered some windy days but I don't think I encountered any temps under 4-degrees.
While over in South Dakota I had a deal I was doing and a few pheasant hunts lined up. The last hunt it got cold and was blowing snow fairly good before and after the hunt. So, if I'm outdoors and active, here's how I like to dress. I'll wear some good base layers like the 5.11Tropos base layers and a long sleeve shirt and pants. Then a 5.11 Stratos top.
With the above gear if I get warm when hiking I can remove the Stratos top. Or, a cool feature on the Atmos Warming Jacket is that it has a 10-inch zipper under each arm pit that you can unzip for ventilation.
Now the attributes that makes the Atmos Warming Jacket versatile and allows it to be used as a light weight jacket on up to active hardcore cold activities. I mentioned above the zippers under the arm pits. But I love the internal sleeve gaiters which keeps a South Dakota artic blast from howling up your sleeves.
The full-size hood has two bungee adjustments so you can snug it down around your head. The jacket zips up high under your chin but the flap also Velcro's over the zipper to ensure that pesky winds don't find their way into your torso.
The hood pulls fully over your head but I always wear a cap to keep the rain/snow off my face and glasses. Although I must admit that this hood sticks out to the edge of the brim of my cap. Even though it defies logic and I take it for granted, I see quite a few jackets without a hood. I live in Idaho and won't hardly buy a jacket without a hood. If you don't have a hood the snow/rain can blow down the back of your neck and you're toast.
And the last feature that I always look for is that a jacket must extend well past my waist. If it doesn't, its not going to protect you and keep in precious body heat in frigid weather. This is a must have feature on a coat. Then it has one more bonus, bungee strings so you can tighten the hem of the jacket to fit snug against your body. And lastly, it has two internal mesh pockets to throw items in.
So my overall view? This is going to be my go-to jacket this winter.
The MSRP ON THE 5.11 Atmos Warming Jacket is $180.00. They offer it in Ranger Green or Black. As is usual, we will close with the company specs.
• Body: 100% nylon plain weave, 2L hardshell, 3.7-oz., DWR
• Lining: 100% nylon 210 taffeta, 1.9-oz.
• Insulation: 100% polyester Primaloft® black, 5.0-oz
• 5K/10K waterproof/breathable
• Center front zipper opening with external storm flap
• Stationary adjustable hood
• Hand welt pockets with zipper closure
• Underarm zippers for venting
• Internal sleeve gaiters
• Left/right inner mesh dump pockets
• Adjustable hem and hood with an internal shock cord system
• 5.11 TPU label at right-hand pocket
• "Always Be Ready" reflective heat transfer at back hood
• 4 pockets (2 external + 2 internal)
• Regular fit
---
About Tom Claycomb
Tom Claycomb has been an avid hunter/fisherman throughout his life as well as an outdoors writer with outdoor columns in the magazine Hunt Alaska, Bass Pro Shops, Bowhunter.net and freelances for numerous magazines and newspapers. "To properly skin your animal you will need a sharp knife. I have an e-article on Amazon Kindle titled Knife Sharpening for $.99 if you're having trouble."