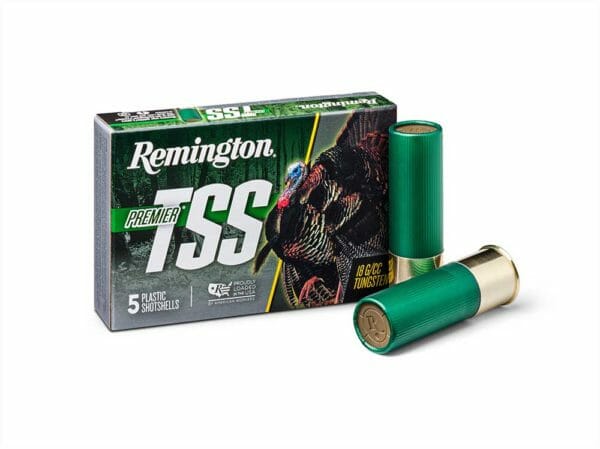 U.S.A. –-(AmmoLand.com)- Remington Ammunition is thrilled to announce the introduction of new tungsten and high-velocity loads for turkey hunting enthusiasts. Part of Remington's 2022 new product lineup, Premier® Magnum Turkey High Velocity in 20 ga. and Premier® TSS in 12 ga., 20 ga. and .410 Bore are ready just in time for turkey season.
Premier TSS is Remington's deadliest turkey shell made to-date. The ultra-dense Tungsten Super Shot payload delivers increased range, dense patterns and more smackdown power. Available in 12-gauge, 20-gauge and .410 bore, the exclusive new Remington R top-wad secures shot and buffering for consistent patterns.
Previously only available in 12-gauge, Premier Magnum Turkey High Velocity lead delivers hard hits and is loaded with Remington's Power Piston one-piece wad and magnum-grade lead shot. The new three-inch, 20-gauge payload provides dense patterns and deep penetration.
"It's an exciting time at Remington and getting these loads into the hands of turkey hunters this spring is part of the fun," said Joel Hodgdon, Remington's Director of Marketing. "These loads are crafted to bring down gobblers at further ranges with more gauge options and higher velocities than Big Green has ever offered in the past."
More information about Premier Magnum Turkey High Velocity, Premier TSS and Remington Ammunition can be found at www.remington.com, on Remington's e-newsletter and social media accounts.
---
About Remington
From muskets to modern day, generations of hunters and shooters have trusted legendary Remington ammunition. Loaded in Lonoke, Arkansas by American workers, our wide array of pioneering sporting and hunting ammunition promises to get the job done every time the trigger is pulled. At Remington Ammunition, we're here for everyone who loads a round of ammo into a handgun, rifle, or shotgun.
We've been here since 1816. Together, Remington and America have fought and won wars, put food on millions of tables and brought countless generations together at the range and in the field. We are proud of each and every round that rolls off our factory line. Bringing a renewed focus to ammunition, innovation, and quality, we are reinvigorating our company so you can continue to trust our brand and our products – all while staying true to Remington's legendary heritage and stature as an American icon.
Welcome to a New Era of Remington.