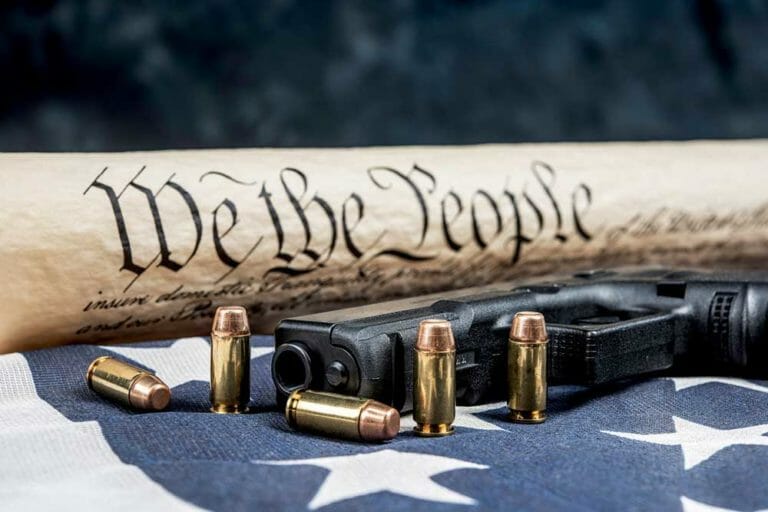 U.S.A. –-(AmmoLand.com)-– According to news sources, in a speech given near Gainsville, Florida, Governor Ron DeSantis responded to a question about Second Amendment rights. From mainstreetdailynews:
DeSantis also responded to a question on 2nd Amendment rights, saying Florida would pass a constitutional carry before he left office.
WPLG Local 10 out of Fort Lauderdale confirmed DeSantis made the bold promise to Second Amendment supporters and Constitutionalists on Friday morning, April 29. From local10.com:
DeSantis made the political promise while speaking near Gainesville on Friday.
"I can't tell you exactly when, but I'm pretty confident that I will be able to sign 'constitutional carry' into law in the state of Florida," DeSantis said.

"I can't tell you if it's going to be next week, six months, but I can tell you that before I am done as Governor, we will have a signature on that bill," he said.
Governor DeSantis' explicit promise to pass Constitutional Carry before he leaves office, is a step up from the support he gave to the concept during his call for the special session held on April 19. He has called for another special session convening on May 23rd. He could ask the legislature to pass a Constitutional Carry bill during the upcoming special session or call a special session for Constitutional Carry legislation. He did not promise a special session explicitly for Constitutional Carry, but it could happen.
Lee Williams has reported, that Governor DeSantis said constitutional rights should not be subcontracted to a public official.
"We used to be a leader on the Second Amendment – there's like 25 states that have already done it, and I think if you look now, you have a situation where the official in charge of these permits doesn't support Second Amendment rights. So why would you want to subcontract your constitutional rights to a public official who rejects the very existence of those rights?"
Constitutional carry seemed unlikely to pass the Florida legislature in 2022. The legislative session ended without the Senate considering the measure.
Governor DeSantis has put it in play. Constitutional Carry could happen in Florida in 2022.
Analysis:
Governor DeSantis is becoming a Rock Star of the Republican party. Having 25 states with Constitutional Carry is a tipping point. It is difficult to claim Constitutional Carry is dangerous in Florida, when it has not had problems in 25 other states. DeSantis appears to understand the obvious:
Once you support a policy such as Constitutional Carry, you do not lose support by going all in. You only gain support.
By supporting the policy, you have already lost any people who are adamantly against it. By appearing indecisive, you lose more. When you boldly affirm your stated policy, you firm up the support of those who agree with you, and gain support from those who appreciate clear, decisive, leadership.  
The 2022 midterms are fast approaching. At present, the tide appears to be against the Biden administration and the Democrats. Six months can be an eternity in politics. Much can happen in six months.
The Supreme Court will be issuing an opinion on the New York Rifle & Pistol Association v. Bruen case in six weeks. The justices read the media. Twenty-five states and Governor DeSantis coming out strongly for Constitutional Carry can only support a strong opinion that restores Second Amendment rights.
---
About Dean Weingarten:
Dean Weingarten has been a peace officer, a military officer, was on the University of Wisconsin Pistol Team for four years, and was first certified to teach firearms safety in 1973. He taught the Arizona concealed carry course for fifteen years until the goal of Constitutional Carry was attained. He has degrees in meteorology and mining engineering, and retired from the Department of Defense after a 30 year career in Army Research, Development, Testing, and Evaluation.