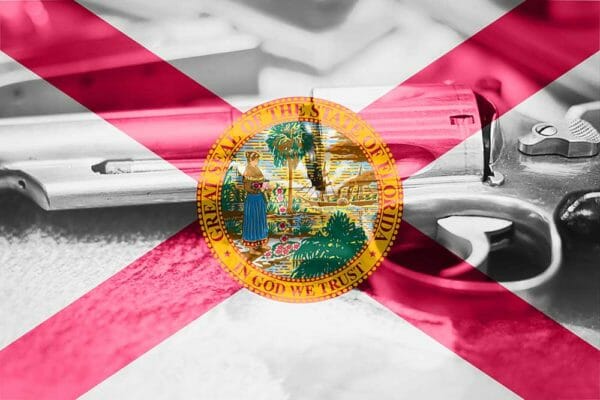 U.S.A. –-(AmmoLand.com)- At a press conference Friday morning in Williston, Florida, Gov. Ron DeSantis predicted the legislature will pass constitutional carry, but he didn't say when.
"Well, the one thing I wanted the Legislature to do, and I think we will do it – I can't tell you exactly when – but I'm pretty confident I will be able to sign a constitutional carry into law in the State of Florida," DeSantis said.
DeSantis said it is just a matter of time, and he took a swipe at Florida Agriculture Commissioner Nikki Fried, who oversees Florida's Concealed Weapon and Firearm Licensing program and is running to replace him as governor.
"We used to be a leader on the Second Amendment – there's like 25 states that have already done it, and I think if you look now, you have a situation where the official in charge of these permits doesn't support Second Amendment rights. So why would you want to subcontract your constitutional rights to a public official who rejects the very existence of those rights?" he said. "So, the Legislature will get it done. I can't tell you if it'll be next week, six months, but I can tell you that before I am done as governor, we will have a signature on that bill."
There are several options DeSantis could use to prompt the legislature to consider a constitutional carry bill.
During the special session next month, which will address home insurance issues, he could issue a "communication from the governor" – a formal message to House and Senate leadership, telling them to consider constitutional carry during the special session.
---
Support AmmoLand News
Sign up for the Daily Digest email and protect the 2nd Amendment.
---
After the special session ends, DeSantis could issue another proclamation calling the legislature back for another special session for the "sole and exclusive purpose" of considering constitutional carry.
---
About Lee Williams
Lee Williams, who is also known as "The Gun Writer," is the chief editor of the Second Amendment Foundation's Investigative Journalism Project. Until recently, he was also an editor for a daily newspaper in Florida. Before becoming an editor, Lee was an investigative reporter at newspapers in three states and a U.S. Territory. Before becoming a journalist, he worked as a police officer. Before becoming a cop, Lee served in the Army. He's earned more than a dozen national journalism awards as a reporter, and three medals of valor as a cop. Lee is an avid tactical shooter.