Vero Vellini Air Cushion Camouflage Slings Are Perfect For The Season
Comfortably Carry It In Camouflage This Turkey Season.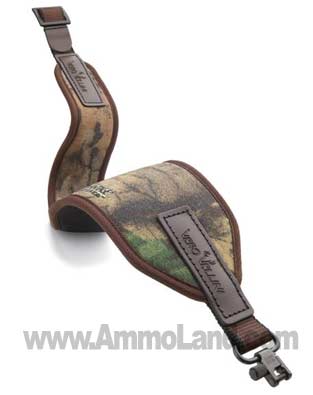 Moorestown, NJ — -(AmmoLand.com)- Each year over 1.7 million turkey hunters take to the woods in hopes of outwitting the Wiley turkey.
In order to compensate for the remarkably keen eyesight of these birds, hunters dress in camouflage from head-to-toe. The cover of camo should include the most comfortable gun sling.
To comfortably accommodate hunters desiring a camouflage sling, Vero Vellini offers a full line of Air Cushion camouflage slings. Available in all the popular patterns, these slings offer the firmest level of support, while providing an unparalleled slip proof finish on the contact patch of the sling.
The slip-proof feature of Vero Vellini slings is what sets them apart from anything else in the sling category and most Turkey hunters have other gear to carry, from decoys to blinds. The Vero Vellini sling will absolutely keep the gun positioned on the shoulder, an especially important feature when you have your hands full.
Made with high performance materials such as durable DuPont Cordura nylon, the Vero Vellini sling offers maximum wear and durability. All edges are piped to prevent fraying and the camo surface is laminated to the neoprene surface for a smooth, even finish.
Be comfortable and invisible this season with a Vero Vellini Air Cushion camouflage sling. Available at retailers nationwide with suggested retail prices starting at $29.99.
About:
Manufactured in Germany, Vero Vellini has been the acknowledged leader in handcrafted, comfortable gun slings. For the past 15 years the company has been crafting beautifully detailed and highly durable slings. Vero Vellini created the "Air Cushion" concept in slings, which sandwiches neoprene and other natural and synthetic material to create a very comfortable, almost weightless feeling when carrying a firearm. The company also claims to have the most slip proof sling available from the use of a unique highly durable rubber backing. The company also manufactures cartridge cases, scope covers, and binocular and camera straps. For more information on Vero Vellini contact: Pioneer Research, 97 Foster Road, Moorestown, NJ 08057 or call toll free 1-800- 257-7742 or visit the web site at http://www.pioneer-research.com/verovellini.asp.