NIVISYS TAM-14 Thermal Acquisition Monocular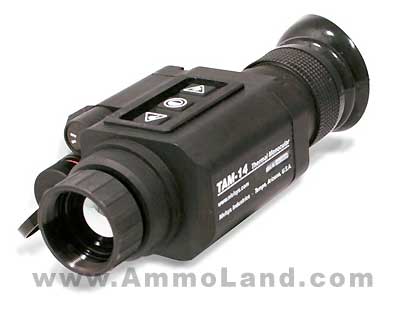 Tempe, Az. – -(AmmoLand.com)- NIVISYS Industries, LLC. Seeing what can't be seen is now possible with tactically powerful thermo technology from NIVISYS. The NIVISYS TAM-14 Thermal Acquisition Monocular is a powerful ultra-compact hand held or firearm mounted device that solves some very real tactical problems for the military and law enforcement.
SUPERIORITY: Thermal gear is almost like using x-ray vision. Observing suspects of interest through smoke, fog, bushes and other objects that otherwise may hide them from all other types of visual devices. The NIVISYS TAM-14 unit provides a powerful tactical advantage solving these problems.
WEAPONOLOGY: The TAM-14 also has an operator manipulated menu driven electronic system giving the operator a choice of five sight reticles with 1/4M.O.A. elevation and windage adjustments that are set internally with the controls. This feature makes possible precision short and mid-range shots from the firearm it may be mounted on. If the TAM-14 is coupled with the NIVISYS TLAM clip on visible and near IR laser unit it makes for an incredibly effective low light/night fighting system.
VERSITILITY: Additionally, the light-weight compact TAM-14 can be hand held, mounted on various types of helmets and head gear to include bare head use and it also has video output capability.
COMPACT: At only 5.7 inches in length and weighing just 16.2 ounces it truly can be taken and operated most anywhere and in a variety of unit mountings.
OPERATIONAL EASE: Ergonomically designed to easily be intuitively operated in total darkness, the controls allow easy access to even include the built-in instant 2x zoom feature.
The TAM-14 may also be fitted with a 3x fixed power lens and other options including video.
PRICE: The TAM-14 costs less than many sniper rifles, let alone the financial and human costs involved of an injured or worse, officer, hostage or an incident or mission that goes sour when it would have benefited from seeing what can't be seen by using a NIVISYS TAM-14.
USERS: Fielded by U.S. Military, federal, state and local law enforcement organizations.
SPECIFICATIONS & DETAILS OF STANDARD EQUIPMENT (not options)
Power: Battery hot swap. Two DL123A 3 volt Lithium deliver over 4-hours of continuous use.
Eye Relief: 27mm
Lens: 2x zoom; +2 to -6 diopter range; video output port; field of view, 11 x 8.5 or 17 x 12.75 degrees; objective lens, 25mm or 10mm Germanium; 5 electronic reticles 1/4M.O.A. adj.
Weight: 16.2 ounces
Size of basic unit (inc. eyepiece): L 5.7″ W 3.1″ H 2.1″
Many Optional accessories available
For additional details contact Rob Lowe at NIVISYS 480-970-3222 e-mail [email protected]
Media Professionals may contact Jim Shults at Shults Media Relations [email protected]
NIVISYS will have a display and booth at the 2009 NRA Convention in Phoenix; booth 3050
About:
Nivisys Industries is a serious and respected OEM manufacturer, system integrator and supplier of thermal, night vision, laser, and tactical illumination products for the dismounted operator. The products and services supplied by Nivisys Industries are used extensively worldwide due to the fact that Nivisys works closely with, and takes the time to listen to, tactical experts from military, law enforcement and government agencies. This working relationship with qualified operators results directly in the finest equipment available and turn-key engagement…