Ammunition To Go  – Your Ammunition Experts

Brenham Tx. – -(AmmoLand.com)- Ammunition To Go is a full line ammunition store that stocks new factory, military, custom loaded and surplus ammunition.
Ammunitiontogo.com is the one and only source for a full line of Incendiary, Raufoss, and Tracer ammo.
Ammunitiontogo specialize in stocking all the current military surplus ammo available today.
We are a distributor for many manufacturers, so if there is something you are looking for and do not see it on this site, please e-mail us or give us a call at 979-277-9676 and we will order it for you.
If you love hunting and shooting and love to find the best ammunition or bullets at the lowest prices possible, all you have to do is visit the Ammunition To Go web page.  On Ammunitiontogo.com you will have the pleasure of finding a huge number of different ammunition.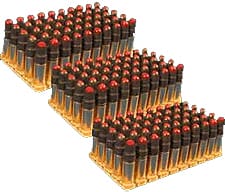 At Ammunitiontogo.con we sell many types of ammo for the following weapons:
Pistols
Rifles
Shotgun
Handguns
Semi Auto
Full Auto Class 3
They deal with many manufacture companies, so if you can't find what you are looking for on their web page, they can probably get it for you.
Ammunition To Go sells the following list of ammo brands:
A.L.S. Technology
Aguila Ammunition
Alexander Arms
Armscor Precision
Brenneke Slugs
Brown Bear Ammunition
CCI / Speer Gol
Centurion Ammunition
Corbon Ammunition
DPX Ammunition
ELEY Ammunition
Extreme Shock
Federal Ammunition
Federal Law Enforcement
Fiocchi Ammunition
FM Optics
FN Ammunition
Glaser Safety
Golden Bear Ammunition
Hornady Ammunition
Igman Ammunition
Independence Ammunition
Lightfield Law
MAGTECH Ammunition
Military Surplus Ammunition
N.A.M. Exploding
NobelSport Shotshells
PMC Ammunition
PowRBall Ammunition
Prvi Partizan
Remington Ammunition
RIO Ammunition
Scarecrow Exploding Ammunition
Sellier & Bello
Silver Bear Ammunition
Speer Lawman Ammunition
Winchester Ammunition
Winchester Rang
Wolf Ammunition
Even though this site's main products are bullets and ammo, they also sell a great selection of Smoke Grenades, Tracers, Rifle Scopes, Accessories for AR15, Gun Cases and more.  New offers and special products are always being posted on Ammunition To Go, so you might want to check it out pretty often.
You can visit them at Ammunitiontogo.com
Ammunition To Go is open:
Mon. – Thurs.: 9:00 A.M. to 5:00 P.M. CST.
Please feel free to call, fax, or e-mail them at anytime.
Ammunition To Go
6360 FM 50
Brenham Tx. 77833
ph. 979-277-9676
fax 979-277-9959
e-mail –
[email protected]