Knife Rights Customs Update August 2009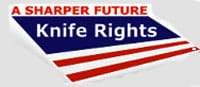 Washington, DC –-(AmmoLand.com)- We are still over a week away from Congress returning from recess, but we've been receiving an increasing number of emails, so an update seems to be in order. While Congress has been home being beat up in Town Halls and the like, Knife Rights has been diligently lobbying key Congressional staff and conferring with our coalition partners, as we indicated we'd be doing in our last News Slice email, "Customs Officially Backs Off" http://tinyurl.com/nzvxw3. This effort is ongoing and we will continue towards the final push when Congress returns to get the Amendment to the Switchblade Act that was passed in the Senate retained in the final Homeland Security Appropriations Bill.
Our meetings with staff have been productive and encouraging. I believe we have been successful at conveying the critical importance of this legislation to the millions of knife owners, their constituents and voters (YOU!), which we represent. We have also been encouraging the Administration (meaning Customs) to communicate their support for this amendment directly to the House Conference Committee leadership. Our meeting with staff of Senator Inouye, Chairman of the Senate Appropriations Committee and a key player in this battle, gave us a good deal of encouragement that the Senate leadership of the committee is solidly behind keeping this amendment in the final bill. I'd like to especially thank Knife Rights Knifemaker member Ken Onion for his help with Senator Inouye's office. Personal relationships are always a critical part of legislative solutions and this is but one example where that has helped get us to this point.
Time to call yet?
I have received numerous emails asking if it's time to write letters to House members and in our opinion, and that of most of our coalition partners, it is not yet the right moment to do so. It isn't yet clear that inundating House or Conference Committee members with letters will be helpful and the timing certainly isn't yet optimum for a letter writing/emailing campaign, even if that is required. Congress isn't even back from recess until Sept. 8th. Congress needs to get back to work and actually schedule a date for the Conference Committee to meet before we should make that effort. Timing is critical and we do best to keep our edges sharp, but wait to use that edge to best advantage. If and when we need you to write, we will let you know, along with providing model letters.
As the return of Congress approaches, we'll be starting up again the regular telephone conferences with our coalition partners that we originally initiated in an effort to streamline and coordinate lobbying efforts and develop strategy, a crucial effort that helped to get us this far. Knife Rights is proud to have provided the leadership in developing this cooperative approach; encouraging collaboration and partnership in this fight for our rights.
We will be in touch as soon as anything critical occurs or if we need your assistance in writing your Members of Congress. Things won't really start popping until Congress returns. Follow Knife Rights on Twitter and receive the latest updates and notices as soon as they occur: http://twitter.com/KnifeRights
Doug Ritter
Chairman / CEO
Knife Rights, Inc.
Knife Rights Foundation, Inc.
www.KnifeRights.org
Email:
[email protected]
About:
The first step to building an effective advocacy group is building the membership. Power comes from numbers. Knife Rights offers a range of Charter Memberships and there's one that will suit you perfectly. Invest a modest sum in A Sharper Future. JOIN NOW!
Encourage your friends to join Knife Rights and you can win a custom knife in our Member-Get-A-Member progam, as well as free annual memberships.
Email: [email protected]