Pete Brownell Joins Knife Rights Board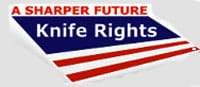 Washington, DC –-(AmmoLand.com)- Knife Rights is pleased to announce that Pete Brownell has joined the Knife Rights Board of Directors. Pete is President of Brownells, Inc., the "world's largest supplier of firearm accessories, gun parts and gunsmithing tools."
Pete has been a supporter of Knife Rights since early on as a Cornerstone Charter Member. Brownells is a Cornerstone Corporate Charter Member.
In accepting the position as a Director, Pete noted, "in the firearms industry and as a gun owner I have battled for decades over issues that knife owners and the knife industry are now facing. I am honored to put my experience to use in support of Knife Rights and to serve its grassroots knife owner members."

Chairman of Knife Rights, Doug Ritter, explained, "the ongoing fight over Customs Pocket Knife Grab has validated our original concept of Knife Rights as the grassroots knife owners' organization.

Pete Bownell brings to Knife Rights a lifetime of involvement and connections in support of Second Amendment issues and organizations as well as his success in operating and growing a successful business. Pete's knowledge and commitment will be a huge asset as we grow Knife Rights to expand our services to our grassroots supporters, America's knife owners."
Doug Ritter
Chairman / CEO
Knife Rights, Inc.
Knife Rights Foundation, Inc.
www.KnifeRights.org
Email:
[email protected]
About:
Brownells is the world's largest supplier of firearm parts, gunsmithing tools, equipment and accessories. Stocking more than 30,000 items, the company supplies armorers, gunsmiths, and shooters worldwide. All of their products are backed by a 100% satisfaction, unconditional, lifetime guarantee. For more information, or to place an order, call 800-741-0015 or visit Brownells.com .
About:
Knife Rights. The first step to building an effective advocacy group is building the membership. Power comes from numbers. Knife Rights offers a range of Charter Memberships and there's one that will suit you perfectly. Invest a modest sum in A Sharper Future. JOIN NOW!
Encourage your friends to join Knife Rights and you can win a custom knife in our Member-Get-A-Member progam, as well as free annual memberships.
Email: [email protected]