Kansas State Rifle Association Mid Range Individual Shooting Match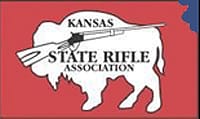 Kansas –-(AmmoLand.com)-The KSRA Mid Range individual match was held on Saturday Sept. 12. The team match was held on Sunday the 13th. Fourteen shooters showed up for the individual match. The match is made up of four stages. Each one is 2 sighter shots and 20 shots for record at 600 yards for 200 possible points. The first two stages are fired with scope sights and the second two are fired with iron sights.
After an hour and a half rain delay we got started. After the two scoped events three people had 400 points. Three others had 399. The scores stayed close all day.
Awards were given for service rifle and match rifle classes.
The service rifle was won by Andrew Timmons with 727-9x.
In the match rifle class first Sharpshooter was Andrew Borkon with748-20x.
First master went to Kelly Snider with 781-31x.
Second High Master went to Dennis Selfridge with 797-46x
First High Master went to Steve McGee with 799-55x
Match winner was John Myer with 800-53x. To set a range record
A special recognition and congratulations goes to Shirley McGee. She shot a 200-18x in one scoped stage to set a range record an also a national record.
Sundays team match started with near perfect weather. The match is fired with two man teams. Each member shoots one twenty shot sting with scoped sights and one with iron sights. Coaching each other is allowed. Five teams entered.
Second placed was taken by Brad Mosiman and Greg Krebaum with a score of 796-37x
First place was taken by Steve and Shirley McGee with 798-53x
To help understand the accomplishments of these people you should know all shots are fired from the prone position with a sling as the only other support. The 600 yard target x ring is six inches in diameter. The 10 ring is 12 inches across. Throw in wind, haze, sun, pulse and normal body wiggles it gets interesting.
About:
The Kansas State Rifle Association has one purpose. To promote and strive for the improvement and protection of the firearms and sport shooting industry and protection of second amendment principals by encouraging and stimulating well-qualified individual citizens to run for public office and to take a more active and effective part in governmental affairs.