Second Amendment Sisters, Washington DC Police and the Fear of Empty Holsters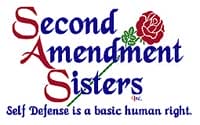 Washington, DC –-(AmmoLand.com)-What a perfect day for a protest! The weather was not too cold, not too hot and overcast most of the day but it did not rain on our parade. I heard estimates throughout the day of numbers in attendance ranging from 1.5 to 2.5 million. Our local news reported thousands on one channel and tens of thousands on another. I was told that MSNBC reported 2 million!
We filled up 3 busses leaving from Beaverdam, VA with a total of 146 passengers. The trip up was uneventful, with only minor traffic delays beginning at Springfield and continuing for the rest of the way into DC. We disembarked at 6th and Constitution at about 10:30 and the march was already well under way with massive amounts of people filling Pennsylvania Avenue for as far as the eye could see. We fell in with the marchers and headed for the Capital.
My first encounter with law enforcement was when I left my family sitting on a wall and went around a corner to get a better vantage point for my pictures. I entered a cordoned off area thru a gate and was taking pictures when a Capital Police Officer approached me and said that he noticed the empty holster I was wearing and asked if I had a weapon to go with it. I responded that I didn't, since guns were not allowed in DC and he thanked me and left me alone.
My next exchange with LE was at the National Museum of Art; we had gone inside to use the restrooms and were told that our flags and signs were not allowed in the building and our bags must be inspected. It was obvious that this was a temporary checkpoint, as the "guard station" consisted of two folding tables and no permanent structures.
We carried our things outside and some of us waited there with the bags, signs and flags while the rest of the group went in to the restrooms. When the others returned, my husband and I went back in and questioned the guard about the policy on the signs. We were told that the flags were not allowed because they had points on them.these are the small 4 x 6 inch flags on a stick maybe 12 inches long with a little wooden or plastic tip at the top. The guard informed us that non-folding umbrellas were not allowed either and that the points could damage the artwork! Then I asked about the reason for not allowing signs and the response was that they did not want to support any one opinion, so they ban all signs. We asked about the buttons and stickers on our shirts and were told that they were permissible!
Later on, I walked away from the demonstration to meet a friend and fellow Second Amendment Sister a few blocks away. While we were standing on the sidewalk taking, two LEOs approached me, one of them, I think a DHS officer, was bending over sideways to look at my holster. He asked me to come over to where he was so he could "talk to me" so our whole group moved closer to him.
He didn't like that much, but he asked me if I had a weapon and I responded that I was aware of the prohibition on guns in DC. I explained that the holster was a "silent protest" to the gun ban in DC. He then said that he would have to ask me to remove my holster and I got the distinct feeling that he intended to confiscate it. When my husband pulled the video camera out of the bag, he changed his tone only slightly and asked me again to remove the holster, this time saying that I needed to "put it away". I asked him why and he told me that it was illegal to have "gun paraphernalia". I told him that I had no guns, no ammunition and no magazines and that the holster was only a piece of leather and not against the law. He again insisted that I take the holster off, this time stating that it made it look like I had a gun.
He said that he was pro-gun but still insisted that I need to take the holster off. I asked him why, since it was not against the law and he said that someone might see it and, thinking I had a gun, shoot me! One of my companions asked him how that could happen, since guns were not allowed in DC! As the situation progressed, the other LEO, either DC or Capital police, pulled out his cell phone and took my picture or videotaped portions of the incident.
By then, we were drawing a small crowd of people wondering why these two cops were having this exchange with us. The crowd was telling the DC cop that they should quit harassing us and he told them that I was a "threat"! In the mean time, my friend from SAS had pulled out her camera and was blatant about recording the encounter. The DHS officer asked her to [sic] get that camera out of his face, which of course she did not comply with. As time progressed, the officer gradually backed down from demanding to requesting that I remove my holster until he was "advising" me that it was in my best interest to comply.
Finally he conceded that he could not make me remove my holster but warned me that if I persisted that I *would* be detained and possibly arrested or shot, that not every LEO was "pro-gun" like he was! I will upload the video when I get it from my friend in SAS. Until then, stay safe!
Please let us know if you were there and what the experience was like for you!
Pat Webb
Virginia Coordinator
Second Amendment Sisters
About:
Second Amendment Sisters. Founded by 5 women from across the country, SAS has now grown to thousands of members across our Great Nation. We have taken on many functions. We teach and advocate for women to have the right to life – that is, we work to protect our basic human right to self-defense. Our members span the ages from the very young to the mature. We are a grassroots national organization with representation in all 50 states. Second Amendment Sisters, also known as SAS, was formed in response to the Million Mom March.